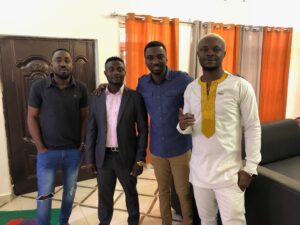 From left: Whidberry, Ahmed, Jay Foley and Topflite Musik
The manager of Fiesta Tv, Jay Foley yesterday paid a courtesy visit to the Avis Entertainment camp.
He toured the whole setting of the camp as he visited the photoshoot studio, music studio, entertainment parlor before finally seating with the management of Avis Entertainment and Africa Aproko Tv.
The decorated presenter who is known for his high business sense mostly will not visit anyone unless it is business oriented, we know that surely, there is something up the sleeves of the two parties that we should watch out for.