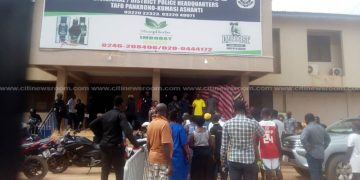 A 35 year old phone repairer residing at Tafo Nhyiaeso in the Tafo Municipality Of Ashanti Region has been brutally assulted by community police officers for breaking traffic regulations which led to his untimely death.
According to eyewitnesses, the deceased Kofi Poku aka Asco, was given a hot chase by community police officers numbering about four after he had knocked a vehicle with his Opel Astra.
The eyewitnesses told journalists that the police officers who later apprehended the deceased gave him a severe beaten which made him fall unconscious.
The eyewitness added that, the police officers who saw that the deceased might loose his life rushed him to the Tafo government hospital where the nurses unattended to him.
Kofi Poku was forcely taken by the area guys to Komfo Anokye Teaching Hospital when the nurses abandoned him but he died on arrival.
Nana Akua, mother of the deceased told news men that she had the shocking and disheartening news of her son's untimely death around 11:30am Sunday morning when she was in church.
Nana Akua who was filled with pain and sorrow appealed to the IGP to bring anyone who has a hand in the untimely demise of her son to book since she believes her son, Asco all of his life has never been involved in any criminals activities or charged as an armed robber.
Latest development reaching journalists indicates that 9 guys living in Tafo Nhyiaeso has been arrested by police officers for storming the Morro market police station premises.
The Assembly member for the area Hon.Bashiru Mohammed also added that intimation by police officers in the area is on the rise in the era of the current commander.
The Assembly member who shared tears attested to the fact that Kofi Poku popularly known as Asco was a noble and respected man in the area who only has time for his work.
According to him, he the Assembly member of the area, the family of the deceased and the entire residents of Nhyiaeso are in a state of shock for loosing their beloved son and that they will never rest until further investigation has been done to fish out those police officers who took the life of Asco.
He therefore assured the youth in the area to stay calm for justice to prevail.