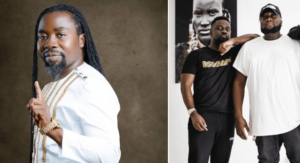 Rapper Sarkodie has revered veteran rapper Obrafour as his idol and godfather. He has on several occasions proclaimed that Obrafour is a major influence when it comes to his music and in fact, he has even touted that the 'Yaanom' hit rapper is his inspiration.
Well, Obrafour is about to celebrate his 20th anniversary and guess what? He was doing a documentary on his career and had invited some musicians and producers to be part of this feature.
According to Obrafour, he invited Sarkodie, Tic Tac, Hammer, M.anifest among others but Sarkodie failed to show up for his shoot on several occasions.
JOY NEWS reached out to Angel, Sarkodie's manager and he explains what exactly happened;
Sarkodie's reaction
When JoyNews reached out Sarkodie's team for an explanation as to why the rapper did not feature in the documentary, Angel, Sarkodie's manager said, they tried their best to be a part of it and will never say "No" to Obrafour.
Angel explained that there were definitely arrangement issues because "Sarkodie was over willing" to feature in the documentary.
According to him, the producer of the documentary called him and communicated that they would like to shoot Sarkodie's bit at 2 pm on an agreed date but unfortunately, the rapper was still at Pastor Brian Amoateng's IYES Conference at the National Theatre as at that time.
Sarkodie's manager further said, Obrafour had later said he was sending the team over to his – Sarkodie – house to shoot the rapper's part, which never happened.
"It's just a matter of miscommunication."
"If right now self if these people want to shoot Sark[odie] a, he go shoot," Angel said in pidgin. He noted that they would not have agreed to shoot if they were not interested.
#Source: ghgossip.com