BoG will shut down authorized forex bureaus soon
BoG will shut down authorized forex bureaus soon
According to the Bank of Ghana, authorized foreign exchange offices that are not abiding by the law will soon be shut down.
After conducting various field exercises to assess the level of compliance with some agencies in the city, Central Bank officials said.
There is a perception that certain operators' actions have aided in currency market speculation, which has a negative impact on the stability of the cedi.
Dr. Joseph France, the Central Bank's head of financial stability, stated that his organization will not hesitate to halt the operations of any currency bureaus proved to be at fault and engaged in illegal activity.
ALSO CHECK:Chief sentenced to death by hanging
He also said that the Central Bank has started looking into complaints about certain forex bureaus that aren't following the rules governing foreign exchange.
Additionally, he said that some foreign exchange bureaus set forward rates incorrectly and fail to give receipts.
"We've started looking into a few complaints. According to what we've heard, some companies don't send out receipts, and others are also setting forward rates, which is awful. We'll make sure they all succeed commercially.
"We will close their bureaus to act as a deterrence to others when we are done with the investigations and it justifies it," he said.
This, according to the Bank of Ghana, is one of the steps being taken to slow the fast depreciation of the cedi.
Therefore, it urged all authorized foreign exchange bureaus in the nation to act in accordance with the applicable legislation.
It expressed confidence in its ability to restore some normalcy to the nation's FX market.
Total Views: 131 ,
Glitz Galleria Launches Maiden Edition Of "Entrepreneurship Made Easy" Successfully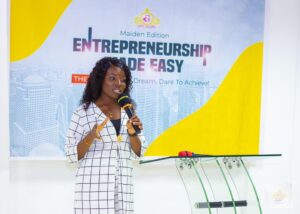 Glitz Galleria a beauty brand which offers services in makeup, hair and nails but has a vision to be a brand that impacts beyond beauty has set its light on startups and young entrepreneurs. The summit "Enterprenuership Made Easy" is a program that seeks to inspire, motivate and encourage every aspiring /rising entrepreneur to take that bold step to achieving his/her dreams. It also seeks to create a network where there'll be opportunities for the startups to excel in what they do.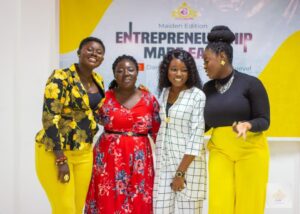 The maiden edition of "entrepreneurship made easy" took place on the 7th November,2022 at the UDS guesthouse, it was well attended with entrepreneurs from different fields ( trades and services), young and old, people traveled as far as Kumasi to attend. It was a very insightful, inspiring session as speakers spoke on the theme " dare to dream,dare to achieve " and share their success stories as well.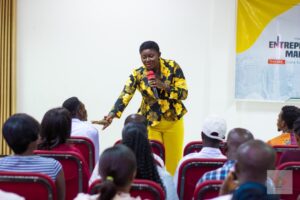 The event hosted by Albertha Bossman felt the honorable presence of special guest speakers such as Media Personality; Maxbel Coleman of Kantanka TV, Maxbel modeling agency, Fashion Fusion Ghana , Madam Afua Asantewaa Aduonum; CEO of Askof Productions, Dr Charity Twumasi Ankrah; CEO of Chartma Herbal Center.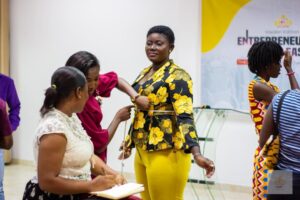 Attendees were very happy and are looking forward to the next edition next year
Connect with Glitz Galleria and "Enterprenuership Made Easy" across all social media platforms.
Facebook: Glitz Galleria
Instagram: glitzgalleria/entrepreneurship made easy
Email:[email protected]
Call/Watsapp : 0208663509.
Total Views: 532 ,
Twitter to charge $20 per month for verification badge
Twitter to charge $20 per month for verification badge
Only a few days after taking over as Twitter's CEO, Elon Musk is apparently working on some significant improvements.
The Twitter Blue membership and even the verification procedure, which awards verified accounts with a "Blue tick," are expected to undergo modifications.
According to reports, the Twitter Blue subscription will be connected to it, and Musk also has big price increases planned for the subscriptions.
ALSO CHECK:Sachet water prices to go up today
The new Twitter Blue subscription will cost customers $19.99, according to a report by The Verge. Additionally, Twitter accounts that already have the blue tick will need to abide by this new system and pay for it.
According to the article, verified users will have a total of 90 days to switch to Twitter Blue before they lose their checkmark.
Employees of Twitter have also been told to resign or move quickly with this new membership plan. According to the article, a deadline of November 7 has been set for the staff.
Blue Twitter Subscription
Twitter Blue, a paid monthly opt-in subscription that grants exclusive access to premium services, was introduced last year.
This, according to Twitter, will allow you to personalize your Twitter experience. In the US, Canada, Australia, and New Zealand, the subscription service is now available.
It will be interesting to see how Musk implements both a global rollout and a complete overhaul of the payment system. Twitter Blue can be bought in-app on iOS and Android in the regions that are eligible.
Elon Musk recently revealed screenshots from internal Twitter communications that proved the board of directors had misled to him before the transaction was finalized.
The security chief mentions "fraudulent metrics" being shown in the screen grab. Bots, however, were not mentioned. According to Musk, he will share additional details in the coming days.
Total Views: 781 ,