Chatty Vee Drops Visuals For 'OverDose' Featuring Atom Reloaded
The music industry seems to be growing at a faster pace and it's creating a larger room for new artiste.
The new songstress to join the list of emerging artiste is young beautiful Chatty Vee. She just released her first official song for the year 2021 and she employs Atom Reloaded on this particular. The new jam is titled OverDose. This is one of the projects to come from an emerging artiste and you are going to love it from the start of the song to the end.
Its quite unusual for new artistes to bring out great projects for the first time but Chatty Vee has has cemented grounds with OverDose. The song talks about two lovers greatly in love and doing their possible best to shower each other with the best of love they can. They both seems greatly in love and pay no mind to outside since they are enjoying to the maximum.
Visuals was directed by Nzemahene and edited by Optic Effect. Enjoy the video below.
Kindly follow Chatty Vee on
Facebook: Chatty Vee Bae
Twitter: @VeeChatty
Instagram: @chattyvee
Youtube: Chatty Vee
Total Views: 384 ,
Jucad Pharmacy Introduces Kidics Syrups To Boost Babies Appetite To Help Them Grow Well And Healthy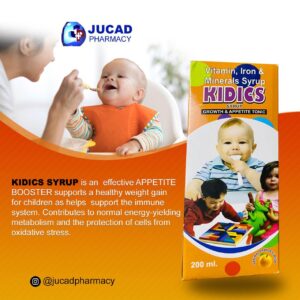 Jucad Pharmacy is one of the trusted registered pharmaceutical companies we have in motherland Ghana, fully registered under the company code 1963 (Act 179) and approved by the Food and Drug Administration (FDA).
Jucad Pharmacy is here again with another quality, affordable, and result-providing pharmaceutical product dubbed 'Kidics Syrup'.
Kidics contains vitamins B and lysine to boost your child's appetite, as well as other multivitamins and minerals that will boost your child's growth and immune system. Babies between the ages of 6 months and 12 years who can't eat well need Kidics Syrup.
For customers in Kumasi, kindly go to Danny Pharma and Osons Chemist; in Accra, distributors should get in touch with Darose Pharmacy, Base Line Pharmacy, & Blepomen Pharmacy. TAKWA: Kekule pharmacy, etc.
KIDICS SYRUP ALSO CONTAINS:
Each 5ml.(One teaspoonful)                                  contains:
Vitamins A palmitate B.P.    1500 IU
Vitamin D3 B.P.          100IU
Vitamin E( Acetate) B.P.     3mg
Vitamin B1 B.P.  1.5mg
Vitamin B2 B.P.   1.5mg
Vitamin B6. B.P.   1mg
Vitamin B12 B.P.   1.5mcg.
Niacinamide B.P.    5mg
Vitamin C B.P.        30mg
D-Panthenol B.P.     2.5mg
L-Lysine Hydrochloride.  U S.P.    40mg
Ferrous Gluconate  B.P.   60mg
eq. to elemental Zinc 5mg.
Magnesium Gluconate U.S.P. 185.41 mg.
eq.to elemental Magnesium 10mg.
Flavored syrupy bas.       q.s.
Overages of vitamins added to compensate loss on storage.
Dosage: As directed by the physician
Storage: Store in a cool,dry place
Protect from light.
Keep all medicines out of reach of children.
SHAKE WELL BEFORE USE.
Total Views: 376 ,
Glitz Galleria Launches Maiden Edition Of "Entrepreneurship Made Easy" Successfully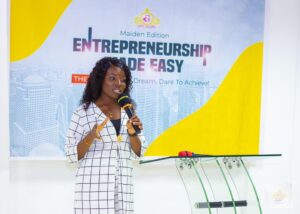 Glitz Galleria a beauty brand which offers services in makeup, hair and nails but has a vision to be a brand that impacts beyond beauty has set its light on startups and young entrepreneurs. The summit "Enterprenuership Made Easy" is a program that seeks to inspire, motivate and encourage every aspiring /rising entrepreneur to take that bold step to achieving his/her dreams. It also seeks to create a network where there'll be opportunities for the startups to excel in what they do.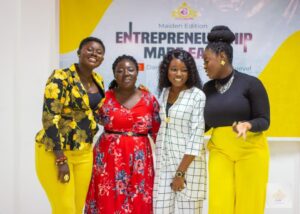 The maiden edition of "entrepreneurship made easy" took place on the 7th November,2022 at the UDS guesthouse, it was well attended with entrepreneurs from different fields ( trades and services), young and old, people traveled as far as Kumasi to attend. It was a very insightful, inspiring session as speakers spoke on the theme " dare to dream,dare to achieve " and share their success stories as well.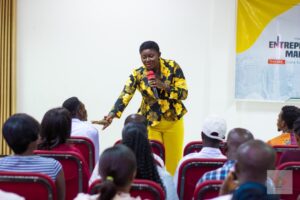 The event hosted by Albertha Bossman felt the honorable presence of special guest speakers such as Media Personality; Maxbel Coleman of Kantanka TV, Maxbel modeling agency, Fashion Fusion Ghana , Madam Afua Asantewaa Aduonum; CEO of Askof Productions, Dr Charity Twumasi Ankrah; CEO of Chartma Herbal Center.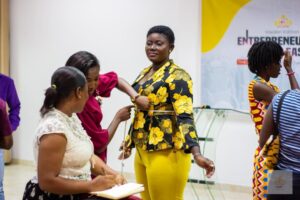 Attendees were very happy and are looking forward to the next edition next year
Connect with Glitz Galleria and "Enterprenuership Made Easy" across all social media platforms.
Facebook: Glitz Galleria
Instagram: glitzgalleria/entrepreneurship made easy
Email:[email protected]
Call/Watsapp : 0208663509.
Total Views: 902 ,