Sachet Water will be sold at 50pesewas from Monday
Sachet Water will be sold at 50pesewas from Monday

The Sachet and Packaged Water Producers association's executive body has announced an increase in the price of their goods starting the following Monday.
The hike will worsen Ghana's existing dire economic circumstances, under which many Ghanaians are currently struggling.
The Sachet and Packaged Water Producers are advising their members to raise the price of their iced sachet water from the current 30 pesewas to 50 pesewas.
Additionally, it has been suggested that iced water bottles larger than 500ml should be sold for 3ghc rather than 2ghc.
The price reviews were required by the rising costs of inputs including fuel and packaging materials, which are primarily IMPORTED, as well as increases in power and water, which became effective on September 1, 2022.
The group is advising all regional associations to follow the price modifications and provide uniformity throughout the nation.
Below is a full statement put out by the association.
Press Release on packaged water price review.
The National Association of Sachet and Packaged Water Producers' (Naspawap) national executive committee has decided to suggest the following pricing reviews for bottled and sachet water after consulting with stakeholders.
These evaluations act as a manual for all regional associations and promote standardization throughout the nation. The NEC also warns that minor discrepancies across regions may exist as a result of haulage to far-off locations.
It is suggested that iced water bottles 500ml and 750ml or medium size be sold for 2ghc and 3ghc, respectively.
It is advised to drink iced sachet water at 50 PESEWAS.
500ml by 30 ml sachet water bags will now be sold from retail trucks for 7ghc each. With immediate effect, a bag of
The price reviews have been necessitated by rising cost of inputs such as fuel and packaging materials which are mainly IMPORTED, increases in electricity and water which took effect from September 1, 2022. At our previous review in March 2022, the dollar was in the region of 8.5ghc. Currently it is inching up to 10ghc. Fuel prices have significantly gone up since our last review. It was 9 and now it is 14.5ghc, which is 61 % change since. March 23, 2022.
The suggested adjustment is to help producers cover their production costs.
We appreciate the difficulties our consumers have to go through to endure these hardships. We appeal to all to bear with us.
Total Views: 189 ,
Jucad Pharmacy Introduces Kidics Syrups To Boost Babies Appetite To Help Them Grow Well And Healthy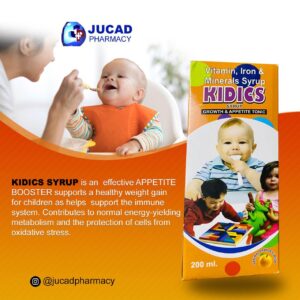 Jucad Pharmacy is one of the trusted registered pharmaceutical companies we have in motherland Ghana, fully registered under the company code 1963 (Act 179) and approved by the Food and Drug Administration (FDA).
Jucad Pharmacy is here again with another quality, affordable, and result-providing pharmaceutical product dubbed 'Kidics Syrup'.
Kidics contains vitamins B and lysine to boost your child's appetite, as well as other multivitamins and minerals that will boost your child's growth and immune system. Babies between the ages of 6 months and 12 years who can't eat well need Kidics Syrup.
For customers in Kumasi, kindly go to Danny Pharma and Osons Chemist; in Accra, distributors should get in touch with Darose Pharmacy, Base Line Pharmacy, & Blepomen Pharmacy. TAKWA: Kekule pharmacy, etc.
KIDICS SYRUP ALSO CONTAINS:
Each 5ml.(One teaspoonful)                                  contains:
Vitamins A palmitate B.P.    1500 IU
Vitamin D3 B.P.          100IU
Vitamin E( Acetate) B.P.     3mg
Vitamin B1 B.P.  1.5mg
Vitamin B2 B.P.   1.5mg
Vitamin B6. B.P.   1mg
Vitamin B12 B.P.   1.5mcg.
Niacinamide B.P.    5mg
Vitamin C B.P.        30mg
D-Panthenol B.P.     2.5mg
L-Lysine Hydrochloride.  U S.P.    40mg
Ferrous Gluconate  B.P.   60mg
eq. to elemental Zinc 5mg.
Magnesium Gluconate U.S.P. 185.41 mg.
eq.to elemental Magnesium 10mg.
Flavored syrupy bas.       q.s.
Overages of vitamins added to compensate loss on storage.
Dosage: As directed by the physician
Storage: Store in a cool,dry place
Protect from light.
Keep all medicines out of reach of children.
SHAKE WELL BEFORE USE.
Total Views: 351 ,
Glitz Galleria Launches Maiden Edition Of "Entrepreneurship Made Easy" Successfully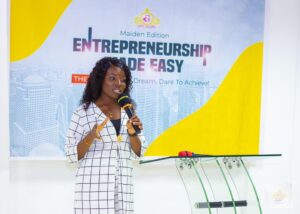 Glitz Galleria a beauty brand which offers services in makeup, hair and nails but has a vision to be a brand that impacts beyond beauty has set its light on startups and young entrepreneurs. The summit "Enterprenuership Made Easy" is a program that seeks to inspire, motivate and encourage every aspiring /rising entrepreneur to take that bold step to achieving his/her dreams. It also seeks to create a network where there'll be opportunities for the startups to excel in what they do.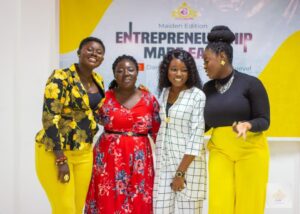 The maiden edition of "entrepreneurship made easy" took place on the 7th November,2022 at the UDS guesthouse, it was well attended with entrepreneurs from different fields ( trades and services), young and old, people traveled as far as Kumasi to attend. It was a very insightful, inspiring session as speakers spoke on the theme " dare to dream,dare to achieve " and share their success stories as well.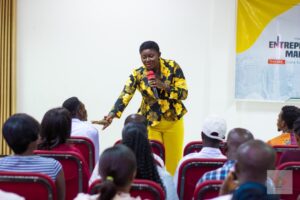 The event hosted by Albertha Bossman felt the honorable presence of special guest speakers such as Media Personality; Maxbel Coleman of Kantanka TV, Maxbel modeling agency, Fashion Fusion Ghana , Madam Afua Asantewaa Aduonum; CEO of Askof Productions, Dr Charity Twumasi Ankrah; CEO of Chartma Herbal Center.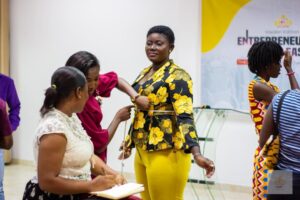 Attendees were very happy and are looking forward to the next edition next year
Connect with Glitz Galleria and "Enterprenuership Made Easy" across all social media platforms.
Facebook: Glitz Galleria
Instagram: glitzgalleria/entrepreneurship made easy
Email:[email protected]
Call/Watsapp : 0208663509.
Total Views: 882 ,