UTAG takes strike actions today
UTAG takes strike actions today
The four public university labor organizations have announced their intent to go on a historic strike starting from today Thursday, October 13, 2022.
In a post made by Professor Rasford Gyampo says that, "
The NEC of UTAG met this evening (11th October 2022) to consider the resolutions from the various public universities on the proposed Joint Industrial Action to commence on 13th October 2022.
ALSO CHECK:FDA warns public against two brands of contaminated sausage
All the 15 (fifteen) public universities supported the strike. Two universities however pleaded to be allowed to write their exams and complete their respective academic calendars. But this was rejected.
All activities are to be withdrawn with the exception of essential services like security services, medical services, payroll services, and the running of basic schools.
The strike is to be sustained until government rescinds its decision that varied the conditions of service of labor without prior engagement and consultations".
See Post: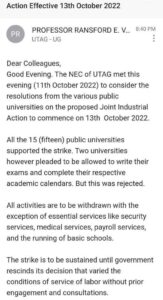 Total Views: 151 ,
Kofi Kingston Puts Up ICT Facility In His Hometown In Ghana
Kofi Kingston Puts Up ICT Facility In His Hometown In Ghana
Ghanaian-born WWE superstar Kofi Kingston, gave back to society by building an information and communications technology (ICT) facility in his hometown of Atwima Takyiman in the Ashanti Region.
Images of the facility from different building eras were posted on Facebook by a user going by the name of Kwabena Nsafoa.
ALSO CHECK:Nigerian cook who survived three days in a shipwreck
Rumor has it that the technology center will provide training in computer literacy, media and information literacy (MIL), critical thinking, and inventive problem-solving methods to the people of Atwima Takyiman and the adjacent communities.
It was also made known that Kofi Kinston plans to build comparable buildings in other underdeveloped areas of the nation in order to promote appropriate information and technology education.
"Kofi Kingston in Kumasi.. WWE professional wrestler, Kofi Kingston, has built a Center that will offer training in computer literacy, media and information literacy (MIL), critical thinking, and creative problem-solving skills, while instilling a love of reading and research in students in his hometown Atwima Takyiman in the Kwadaso Constituency. He intends to build similar projects in other underprivileged communities in the country. Yɛ daase bro," The caption for Kwabena's post read.
Total Views: 538 ,

FUSSAG joins UTAG strike
The University Teachers Association of Ghana (UTAG) is now on strike in support of improved working conditions, and FUSSAG has joined them.
"Our members are also actively involved in the strike in whatever form, shape, or direction it takes," FUSSAG stated in a statement.
The government's decision to pay the 2022 fuel ex-pump allowance rather than the 2021 price, as well as the payment of car maintenance and off-campus allowances, are the subjects of the UTAG strike.
ALSO CHECK:UK prime minister Liz Truss resigns days after sacking Kwasi Kwarteng
Teachers and Educational Workers Union (TEWU), Senior Staff Association of Universities of Ghana (SSA-UoG), and Ghana Association of University Administrators are more labor unions that have joined the strike (GAUA).
The strike was supported by the Technical University Teachers' Association of Ghana (TUTAG).
It threatened to engage in a similar industrial action and stated that it supports the UTAG strike out of "common interest."
The National Labour Commission (NLC) has given the striking unions instructions to end their strike right away.
This decision was made by the NLC following a meeting with UTAG members on October 20, 2022.
The Commission directed as follows:
That the parties engage fitter on the "Terms of Payment and other related matters.

That both parties should bring to the engagement table, people with mandate to take and/or make decisions.

That the engagement should be held in good faith

That UTAG should call off the strike immediately

That the parties are given two weeks to conclude their engagement on report
Total Views: 552 ,