"Any Woman Who Calls Her Fellow Woman Barren Is A Witch" – Shatana Laments
Versatile Afrobeat cum Dancehall songstress, Shatana has made some damning remarks against women who call their fellow women barren.
It is not very long when actress, Afia Schwarzenegger called TV/Radio personality out for being supposedly 'barren' during the heat of a banter they have had some years ago. Afia received heavy trashing and backlashing from most people on social media for such atrocious comment against her former boss and a fellow woman at that.
Amongst them is female musician, Shatana who has called this act atrocious. She voiced that there sometimes may be a divine reason why someone may be barren. " Even in the bible, that is, Genesis Chapter 29, God closed the womb of Rachel for a purpose", she quoted.
She opined that being barren is not a sin but sleeping with a dog and sex working is. She furthered by saying that any woman who calls her fellow woman barren is a witch.
It is a common rumour on the internet that Afia Schwarzenegger is a petty sex worker and she even sleeps with dogs. Afia Schwarzenegger is yet to react to Shatana's nudge.
Watch a video of what Shatana said.
Total Views: 164 ,
Multimedia's Prynce Johnson Bags Nomination At Foklex Media Awards 23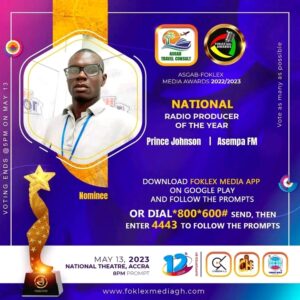 Multimedia's grand radio producer, Prynce Johnson had done his company good as he gets nominated for the "National Radio Producer Of The Year" category at this year's Foklex Media Awards.
Prynce Johnson who produces for the Asempa 94.7 FM's Showbiz Review and Adom 106.3 FM's Entertainment Hall shows got the nomination for Asempa FM, a subsidiary of Multimedia.
The category had greats like, Dr. Shine of Adom FM, Bright Kofi Boakye of Wontumi FM/TV, Mubarak Yakubu of Angel FM, NKG of Onua FM, Obofour Michael of Agyenkwa FM, Godwin Dogbey of Okay FM and Mr. Haglah of Hitz FM.
The show which is scheduled for the 13th of May, 2023 has opened the  voting portal for all and sundry to vote for their favorites.
Total Views: 155 ,
Entertainment in UEW is Boring as compared to Other Universities – Qwabena Pencil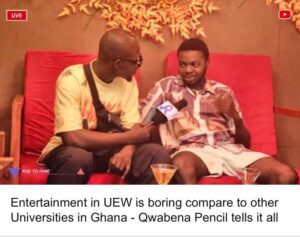 Aboagye Solomon Popularly Known on the internet Space as Qwabena Pencil is a digital Artiste , influencer, Content creator, Musician and a Pencil Artist as is indicated in his name currently a Student of University of Education, Winneba.
Quabena Pencil appeared on Ghana's favorite Entertainment and personality talk show Rise To Fame hosted by Nay Willz on Naymedia Hub on YouTube.
Relating to entertainment activities on UEW campus the presenter asked him how does he see entertainment on campus he being an influencer and his response was " entertainment is very slow".
He went on to say that the administration ought to make investments into entertainment activities and not just invest, but also put things in place which will benefit students.
He also suggested that the SRC should understudy or consult other schools that has excel in campus entertainment and seek ideas from them.
Finally, the influencer urged the SRC to contact campus influencers and bloggers for promotional purposes, as well as campus artists/entertainers for performance.
Watch full video from below.
Total Views: 170 ,