Black Sherif shares his sad story on his latest released song "oh paradise"
Black Sherif shares his sad story on his latest released song "oh paradise"
The newly released album "The Villain I Never Was" contains a song titled "Oh Paradise"which clearly explains the sad story of Black Sherif and how his late girlfriend broke his heart.
Clementina Konadu, a young lady who belonged to Kumasi Academy, was the rapper's high school sweetheart, but she passed away before their romance could develop.
The sad circumstances of Clementina's death were revealed after the song's release. On December 5, 2017, Clementina, also known as Akua Thuglyf to her friends and the girlfriend of Black Sherif, passed away. When Dad died, she was 17 years old.
ALSO CHECK:Porn and betting websites are the most visited in Ghana, says CSA boss
Clementina attended Kumasi Academy and was Black Sherif's classmate. She was beginning the first semester of her sophomore year in high school.
Clementina lost away tragically after a sickness spread across the school. breakout of the KUMACA disease You may remember that Kumasi Academy reported an alarming number of student fatalities in 2017.
11 students lost their lives as a result of the deaths, which began in April and continued for months, while numerous others were hospitalized. Although there were initially several reasons given for the tragic fatalities, later examinations showed that the deaths were caused by an outbreak of the H1N1 flu and meningitis.
Black Sherif's girlfriend happened to be the sole female among the 11 classmates that perished. entombment of Clementina Clementina Konadu was laid to rest a week after passing away. Before her interment, a somber funeral service was held at Krofrom in Kumasi.
Listen to the song:
Total Views: 160 ,
Multimedia's Prynce Johnson Bags Nomination At Foklex Media Awards 23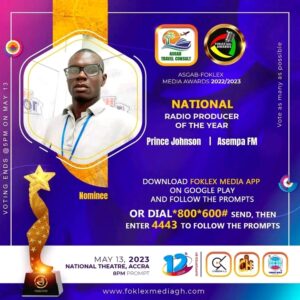 Multimedia's grand radio producer, Prynce Johnson had done his company good as he gets nominated for the "National Radio Producer Of The Year" category at this year's Foklex Media Awards.
Prynce Johnson who produces for the Asempa 94.7 FM's Showbiz Review and Adom 106.3 FM's Entertainment Hall shows got the nomination for Asempa FM, a subsidiary of Multimedia.
The category had greats like, Dr. Shine of Adom FM, Bright Kofi Boakye of Wontumi FM/TV, Mubarak Yakubu of Angel FM, NKG of Onua FM, Obofour Michael of Agyenkwa FM, Godwin Dogbey of Okay FM and Mr. Haglah of Hitz FM.
The show which is scheduled for the 13th of May, 2023 has opened the  voting portal for all and sundry to vote for their favorites.
Total Views: 103 ,
Entertainment in UEW is Boring as compared to Other Universities – Qwabena Pencil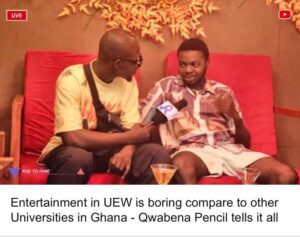 Aboagye Solomon Popularly Known on the internet Space as Qwabena Pencil is a digital Artiste , influencer, Content creator, Musician and a Pencil Artist as is indicated in his name currently a Student of University of Education, Winneba.
Quabena Pencil appeared on Ghana's favorite Entertainment and personality talk show Rise To Fame hosted by Nay Willz on Naymedia Hub on YouTube.
Relating to entertainment activities on UEW campus the presenter asked him how does he see entertainment on campus he being an influencer and his response was " entertainment is very slow".
He went on to say that the administration ought to make investments into entertainment activities and not just invest, but also put things in place which will benefit students.
He also suggested that the SRC should understudy or consult other schools that has excel in campus entertainment and seek ideas from them.
Finally, the influencer urged the SRC to contact campus influencers and bloggers for promotional purposes, as well as campus artists/entertainers for performance.
Watch full video from below.
Total Views: 118 ,