Coachella Files Copyright Infringement Lawsuit Against Afrochella
Coachella Files Copyright Infringement Lawsuit Against Afrochella
Megafest in California claims The Ghana Afrobeats event invaded the American market, attempted to cybersquat on domain names, and tried to patent the song "Chella."
A copyright infringement complaint has been launched against the directors of Afrochella, a Ghanaian music festival that focuses on Afrobeats music, by GOLDENVOICE, THE CONCERT GIGANTIC BEHIND COACHELLA.
Three years after receiving a warning from Goldenvoice owner AEG that the Afrochella festival was violating its trademark, the case was filed on Wednesday in a California district court and obtained by Rolling Stone.
ALSO CHECK:Nigerian former footballer arrested for alleged cocaine trafficking
"We get that you are calling your music and art festival Afrochella. AEG wrote to the Afrochella organizers in 2019 and stated, "We observe that your event is a part of a bigger celebration that is intended to entice Africans living abroad (including those in the United States) to return home to Africa.
Regardless of the occasion or event, it is very likely that using the name Afrochella for a music and arts festival may cause misunderstandings and false impressions about your relationship to AEG and Coachella.
The general public is likely to think, in particular, that you are approved by or associated with AEG or Coachella.
You even acknowledged that Coachella served as the inspiration for both your event's name and its content.
Similar criticisms of having your own Facebook page claim that using the name of your festival to capitalize on the popularity of the Coachella brand is unethical.
Total Views: 94 ,
King Paluta Gifts Himself A Brand New Car On His Birthday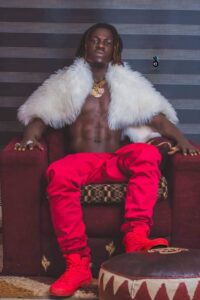 King Paluta, an award – wining musician and 'Yahitte' crooner, is now the newest car owner in town after striking himself with a brand-new car on his birthday.
The year 2023 has been a great start for the young super star as your number one and reliable news portal Dawuroo.net stumbled on a video of the African best lyricist cruising in his 2023 registered saloon car on his birthday.
Close and reliable source confirms that, King Paluta gifted himself the gift as he celebrated his birth on 27th January, 2023.
Keep watch to this space as he will drop his much anticipated 'Yahitte' remix featuring Strongman, Amerado and Quame Stika.
Total Views: 484 ,
Exclusive Interview with Sarkodie | Listen Up
Sarkodie, the Sarkcess Music award-winning artiste, gave his best during the STIR IT UP: VIRTUAL PRESS DAY with Gracey Mae on Tuesday, January 24, 2023 with your favorite host Samuel Ampomah A.K.A (BIG SAMO) from Ghanamusicblog Network 
.
Below is the podcast, which you can listen to by hitting play.
Below is the podcast, which you can listen to by hitting play.
Total Views: 1479 ,