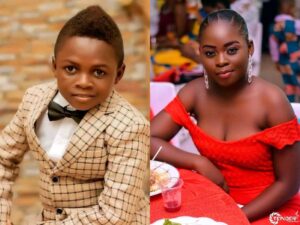 Music songstress Naana Blu who is new in the game has professsed her unflinching love to midget actor, Yaw Dabo and promises to go on a date with him.
Naana Blu who is signed to Quophimens Music, said on Accra FM's Drive Time show with Doctor Kay that he really admire Yaw Dabo. She explained further that she loves him mainly because he is very handsome.
In the interview, she also touched on the fact that although she has a very warm relationship with her manager, they are not having an affair, it's business only.
Watch from below how everything went down.