Meet MC Desaint, The Young Celebrated Event Host Who Has Been Perking Up Events In Ghana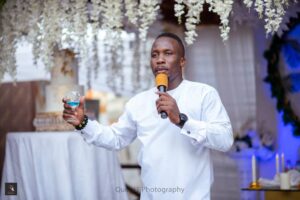 The act of Mcing requires that the Master of Ceremony steers the whole affair into a nice and fruitful sequence. The young sensation, MC Desaint does just that. Let us take a peek into his career and get to understand why he is regarded amongst the best in his line of hustle in Ghana.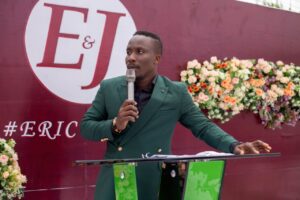 MC Desaint born, Isaac Kwafo Djan hails from the Eastern Region but resides in Labadi in the Greater Accra Region. He had his basic education at La Experimental School, Abeka Motorway 2 Jhs and Aquinas Senior High School for high school.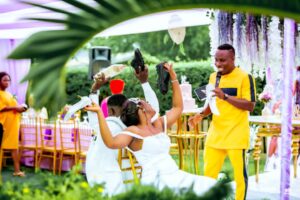 After high school, MC Desaint found it joyous to master ceremonies. He did not know how to begin with until one Mr Prince Owusu Ansah, CEO of Prinlive Fashion School, then his advisor and boss motivated him to start since he finds it in him. He then pushed him to it by giving him the opportunity to host his school's first graduation ceremony (first gig).
MC Desaint has hosted over 600 events, both corporate and social. Amongst them is, "3 Music Abeka Homowo Festival Jam 2022" and several other big stages.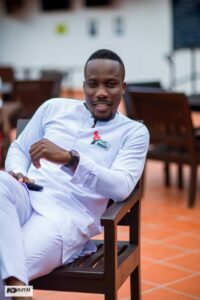 What makes MC Desaint exclusive from all other MCs in Ghana is that he is agile on the microphone, eloquent, articulate, jovial and very passionate about his craft. He makes every event he is on lit because he spits literary flames.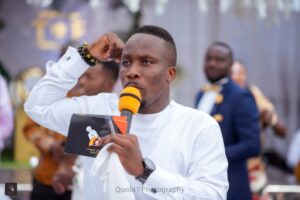 MC Desaint see himself in the near future as as a presidential MC and gearing towards all the big stages both locally and internationally.
Follow or book MC Desaint on the following social media fora;
Instagram: @mcdesaint
Facebook: @Isaac Djan
Facebook Page: MC Desaint
Total Views: 418 ,
Jucad Pharmacy Introduces Kidics Syrups To Boost Babies Appetite To Help Them Grow Well And Healthy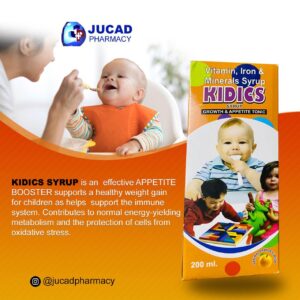 Jucad Pharmacy is one of the trusted registered pharmaceutical companies we have in motherland Ghana, fully registered under the company code 1963 (Act 179) and approved by the Food and Drug Administration (FDA).
Jucad Pharmacy is here again with another quality, affordable, and result-providing pharmaceutical product dubbed 'Kidics Syrup'.
Kidics contains vitamins B and lysine to boost your child's appetite, as well as other multivitamins and minerals that will boost your child's growth and immune system. Babies between the ages of 6 months and 12 years who can't eat well need Kidics Syrup.
For customers in Kumasi, kindly go to Danny Pharma and Osons Chemist; in Accra, distributors should get in touch with Darose Pharmacy, Base Line Pharmacy, & Blepomen Pharmacy. TAKWA: Kekule pharmacy, etc.
KIDICS SYRUP ALSO CONTAINS:
Each 5ml.(One teaspoonful)                                  contains:
Vitamins A palmitate B.P.    1500 IU
Vitamin D3 B.P.          100IU
Vitamin E( Acetate) B.P.     3mg
Vitamin B1 B.P.  1.5mg
Vitamin B2 B.P.   1.5mg
Vitamin B6. B.P.   1mg
Vitamin B12 B.P.   1.5mcg.
Niacinamide B.P.    5mg
Vitamin C B.P.        30mg
D-Panthenol B.P.     2.5mg
L-Lysine Hydrochloride.  U S.P.    40mg
Ferrous Gluconate  B.P.   60mg
eq. to elemental Zinc 5mg.
Magnesium Gluconate U.S.P. 185.41 mg.
eq.to elemental Magnesium 10mg.
Flavored syrupy bas.       q.s.
Overages of vitamins added to compensate loss on storage.
Dosage: As directed by the physician
Storage: Store in a cool,dry place
Protect from light.
Keep all medicines out of reach of children.
SHAKE WELL BEFORE USE.
Total Views: 374 ,
Glitz Galleria Launches Maiden Edition Of "Entrepreneurship Made Easy" Successfully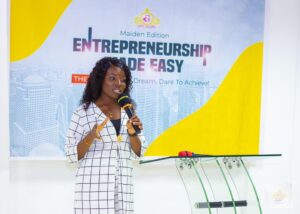 Glitz Galleria a beauty brand which offers services in makeup, hair and nails but has a vision to be a brand that impacts beyond beauty has set its light on startups and young entrepreneurs. The summit "Enterprenuership Made Easy" is a program that seeks to inspire, motivate and encourage every aspiring /rising entrepreneur to take that bold step to achieving his/her dreams. It also seeks to create a network where there'll be opportunities for the startups to excel in what they do.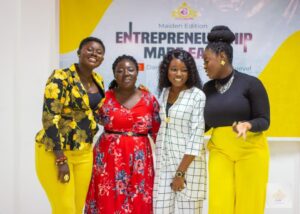 The maiden edition of "entrepreneurship made easy" took place on the 7th November,2022 at the UDS guesthouse, it was well attended with entrepreneurs from different fields ( trades and services), young and old, people traveled as far as Kumasi to attend. It was a very insightful, inspiring session as speakers spoke on the theme " dare to dream,dare to achieve " and share their success stories as well.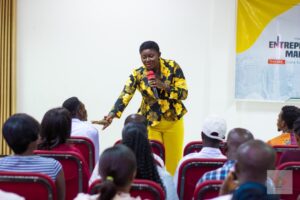 The event hosted by Albertha Bossman felt the honorable presence of special guest speakers such as Media Personality; Maxbel Coleman of Kantanka TV, Maxbel modeling agency, Fashion Fusion Ghana , Madam Afua Asantewaa Aduonum; CEO of Askof Productions, Dr Charity Twumasi Ankrah; CEO of Chartma Herbal Center.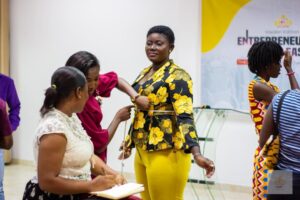 Attendees were very happy and are looking forward to the next edition next year
Connect with Glitz Galleria and "Enterprenuership Made Easy" across all social media platforms.
Facebook: Glitz Galleria
Instagram: glitzgalleria/entrepreneurship made easy
Email:[email protected]
Call/Watsapp : 0208663509.
Total Views: 900 ,