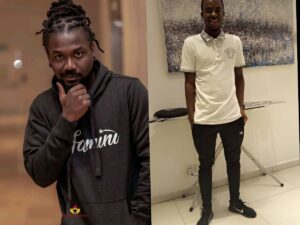 Samini on Facebook some hours ago registered his displeasure for a supposed lyrical banter between Ghanaian dancehall giants, Stonebwoy and Shatta Wale hosted by Asaase radio. He said that since Shatta Wale has been beefing him (Samini) longer than Stonebwoy, it was rather right if the battle was with him and Shatta Wale.
He further explained that since his beef with Wale, the latter has dragged his name in mud upon mud, and although he (Shatta Wale) confessed in an interview with Nana Aba Anamoah that all that he said about Samini were nothing but lies, and he did that only for fame, this banter will be the opportunity for him (Samini) to receive an official apology from Shatta Wale.
Also, he further on spat that Stonebwoy was just a casualty of war and not really the soldier of it. He described the battle as a mismatch and an instance of "putting squares in round holes".
Entertainment critic and blogger Nana Osei Lionel who sits as a panel with Price Fm's Entertainment Agenda regards Samini's rants as uncalled for and unnecessary.
He countered Samini's assertion by a post on his Facebook timeline that said, "Samini, you are a legend and Godfather dancehall-wise  and in Ghanaian music. You have made your mark worthwhile and we respect you for that. It is rather unfortunate to hear your progression on Asaase's Freestyle battle between Stonebwoy and Shatta Wale. Are you that desperate for attention nowadays? What you are suggesting does not even hold any water because you had your chance to reply to Wale's numerous disses but you chose to keep mute at the time, now there is no beef, what do you need a lyrical battle for? Being realistic, you are not trending as you used to so Asaase Radio did what would benefit them.
As for your assertion that Wale has soiled your reputation with purported lies, you should know that whatever goes around comes around. You remember you did same to Yoggie Doggie and the late Ronnie Coaches that angered the latter to the extend that he nearly beat you up on a live TV?
Please let the respect we have for you be valid unsoiled with any brouhahas.
Thank you."