Shatta Wale breaks silence on gun attack
Dancehall artiste, Shatta Wale has broken his silence after rumours went viral that he was shot by some unknown gunmen on Monday, October 18, 2021.
One of his team members called Nana Dope alleged that Wale was ambushed by gunmen but managed to escape and was battling for his life at a health facility.
The police, through their investigations, went to Shatta's house and a number of health facilities but could not find him.
But in a lengthy Facebook post, Shatta Wale apologized to his fans and people who had been affected by the prank.
He said he took the phones of the team members and made the fake post.
He made reference to the prophecy that was made by a man of God recently that he would be shot dead on October 18, 2021.
According to Shatta Wale, he was surprised that the security services could not give him protection after that prophecy came.
Below is the Facebook post
THIS IS WHAT I HAVE TO SAY.
Psychological, or emotional trauma, is damage or injury to the psyche after living through an extremely frightening or distressing event and may result in challenges in functioning or coping normally after the event.
The statement made by this false prophet has gotten me in a mood of violence, since no one in this country cares.
So the police of this country want to tell me none of them saw those threatening statements online to take Action?
This pastor said 18th October Shatta wale will be shot, and you want to tell me you didn't see from your cybercrime department nor did u hear or came across anything like that online?
I won't wait for the Ghana police to call my father and tell my father, his son got shot this afternoon. I won't wait for Ghana stupid media houses to spread the news to my fans about me being shot because all we wish in this country is for dead people and funerals.
If my life can be threatened and there is no law to take action on that, then I guess I will do what is right in the eyes of God.
This is not the first time I have had these threats in this country, am now I am going through this emotional trauma alone.
My dad has even defended me on the radio on this same issue .why? Why? Ghana? Why?
Yes, my life is in Danger, and am on the run till this country shows me there are LAWS.
Deportee, I'm sorry for taking your phone.
Dope sorry for taking your phone.
To my fans I am sorry, but I will have to fight this fight alone and get it done.
To my Dad, I say sorry for putting you through stress
PASTORS ALWAYS SAY THINGS AND LATER PLAN EVIL TO IT, SO THAT I AND YOU WILL BELIEVE THEY ARE POWERFUL MEN OF GOD.
ENOUGH IS ENOUGH
THE YOUTHS OF THIS COUNTRY ARE TIRED OF RELIGIOUSNESS, WE KNOW GOD ALREADY AND THAT IS THAT.
IF THIS WILL MAKE ME STOP MUSIC LIKE HOW MANY WANT ME TO STOP.
THEN SO BE IT
CUZ I AM TIRED OF THE NEGATIVITY IN THIS COUNTRY.
SON OF GHANA
1 DON
(SHATTA WALE)
Total Views: 135 ,
Bisa K'dei's Father Calls Him The "King Of Highlife" In Heartfelt Birthday Message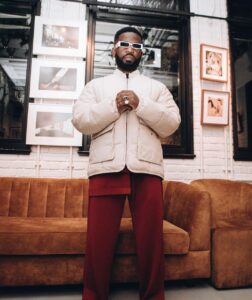 Highlife king Bisa Kdei has been making waves on the Highlife scene for years, but recently he received high praise from someone who has known and supported him for his enter life. In a birthday message he posted on social media, Bisa Kdei's father called his son the king of Highlife music
It's clear that music runs in the family. Bisa Kdei whose real name Ronald Kweku Dei Appiah was born in the Eastern Region of Ghana. Both his mother and father were into authentic Highlife music, and that upbringing made him fall in love with the music genre
Bisa K'dei's father has been his biggest supporter from the start as evidenced by the heart felt message he posted on social media. In his birthday message, Mr Appiah praised his songs talent and hardwork and said that Bisa Kdei is the current musician keeping the genre alive
Over the years Bisa Kdei has released multiple successful albums and singles and has won several awards for his work
Bisa K'dei's fathers message is a testament yo the impact his son has made in the music and society as a whole. With his impressive blend of Highlife music, activism and hardwork, Bisa Kdei is well on his way to living up to his father's claim that he is indeed the king of Highlife music.
Total Views: 251 ,
Multimedia's Prynce Johnson Bags Nomination At Foklex Media Awards 23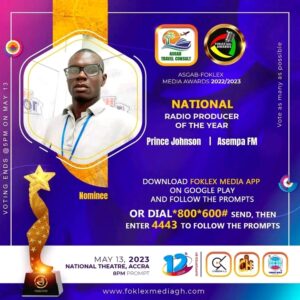 Multimedia's grand radio producer, Prynce Johnson had done his company good as he gets nominated for the "National Radio Producer Of The Year" category at this year's Foklex Media Awards.
Prynce Johnson who produces for the Asempa 94.7 FM's Showbiz Review and Adom 106.3 FM's Entertainment Hall shows got the nomination for Asempa FM, a subsidiary of Multimedia.
The category had greats like, Dr. Shine of Adom FM, Bright Kofi Boakye of Wontumi FM/TV, Mubarak Yakubu of Angel FM, NKG of Onua FM, Obofour Michael of Agyenkwa FM, Godwin Dogbey of Okay FM and Mr. Haglah of Hitz FM.
The show which is scheduled for the 13th of May, 2023 has opened the  voting portal for all and sundry to vote for their favorites.
Total Views: 324 ,