THE FELI NUNA VS A PLUS BANTER – MY TAKE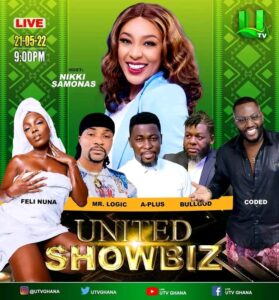 UTV's United Showbiz yesternight had a controversial but nice show. The show which was steered by pretty Nikki Samonas, with Bullgod, A Plus and Mr. Logic serving as pundits. Their guests on the show were Coded of 4×4 and Feli Nuna.
The build up began when A Plus subtly suggested that Feli should not take her boyfriend along on a business deal. In her quest to react, Bullgod chipped it in somewhere that, as a musician or any creative, your partner should be able to support you emotionally and more importantly financially. Energies boiled, then the insults came 😄🤭.
MY TAKE
First of all, A Plus as a professional pundit, though outspoken should find better ways of expressing his thoughts without vexes and insults. His claim (in fact, it was that of the whole punditry board) that one should have a partner who supports one's visions and goals is laudable. What is the essence of a partner who although has the capital and capacity to invest in one goals but refuses to do that? It can only be so, if the person does not believe you have what it takes to thrive to the apex.
Feli Nuna on the other side seemed very edgy that night. Everything the pundits said seemed to put her off. The straw that broke the camel's back was when A Plus dragged his said boyfriend into the convo. She lost her composure and she got angry noticeably. Showbiz is full of inexplicable whims that one cannot control (an example is questions that are asked during an interview). As an artiste, you should learn not to be too emotional and to control your temper on set. On this same day, I met Feli Nuna on radio and I can confidently say she was much composed than she was on United Showbiz yesternight. I may believe fatigue played her so.
Artistes must always note that pundits are pundits and they may have divergent opinions from yours. It does not make them your enemy or something, it's their job. Yours is to keep a clean posture and balance when you are with them.
Total Views: 184 ,
Shatana's Song "Ka Ne Wu" Goes Viral As Fans Jam To It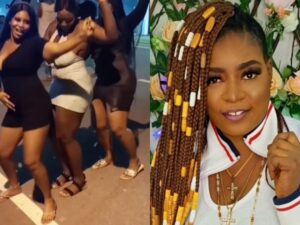 Songstress and queen of conscious music in Ghana, Shatana has entered the trends on social media with her newly released single, "Ka Ne Wu". The song which was released a week ago has appealed to the masses and music lovers. Due to this, many are those who are making videos with it on all media fora.
The masterpiece, "Ka Ne Wu" posits that being truthful always is the key to self actualization and success. Speaking truth  to power without favour is prime in all our endeavors. Also the musician talked about past leaders and influential people who spoke the truth to death but their legacies lives on.
The song which is a mid tempo although didactic will get you grooving owing to the sweet melodies which spices it. This is the more reason, fans could not help but go gaga with the song all over social media. As ladies twerked wildly to the beat and gentlemen danced with their girlfriends with it, another sect also replicated the lyrics with a skit or role play.
Enjoy a compilation of the videos from below.
Also stream, download, listen, enjoy, and share "Ka Ne Wu" by Shatana from below.
Total Views: 849 ,
Bisa K'dei's Father Calls Him The "King Of Highlife" In Heartfelt Birthday Message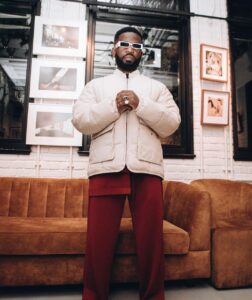 Highlife king Bisa Kdei has been making waves on the Highlife scene for years, but recently he received high praise from someone who has known and supported him for his enter life. In a birthday message he posted on social media, Bisa Kdei's father called his son the king of Highlife music
It's clear that music runs in the family. Bisa Kdei whose real name Ronald Kweku Dei Appiah was born in the Eastern Region of Ghana. Both his mother and father were into authentic Highlife music, and that upbringing made him fall in love with the music genre
Bisa K'dei's father has been his biggest supporter from the start as evidenced by the heart felt message he posted on social media. In his birthday message, Mr Appiah praised his songs talent and hardwork and said that Bisa Kdei is the current musician keeping the genre alive
Over the years Bisa Kdei has released multiple successful albums and singles and has won several awards for his work
Bisa K'dei's fathers message is a testament yo the impact his son has made in the music and society as a whole. With his impressive blend of Highlife music, activism and hardwork, Bisa Kdei is well on his way to living up to his father's claim that he is indeed the king of Highlife music.
Total Views: 704 ,