The Plight Of The Ghanaian Lost Sound And The Bright Way To Make Amends 101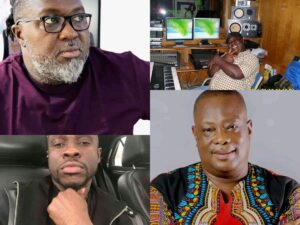 Last Saturday, I was a pundit on Asempa 94.7 FM's 'Showbiz Review' Entertainment show hosted by Obidombie Adu Kumi and produced by Prince Johnson yesterday and amongst the topic dealt, one which was most interesting to me was the, Do we have a unique identifying sound (genre fits in other contexts) that we can easily be identified with in the music world?
The likes of Uncle D'Hammer of Last Two and Uncle Fred Kyei Mensah (who actually mentored both Appietus and Jay Q) have shared their candid opinions on the subject. Producers like Appietus, Jay Q, MOG Beatz, etc have touched on it too. Industry gatekeepers like Abeiku Santana, Andy Dosty can not be left out of the issue.
The Ghanaian Music Industry does not have a unique sound of our own to sell to the world? Hmm…The issue is somehow dicey to attack. But let's take a look at other countries' if they have that? Nigeria's music Industry is famous for Afrobeat which was invented by Fella Kuti (inspired by Ghanaian highlife music, precisely Uncle Ebo Taylor's type of music).
South Africa is known for the current craze genre Amapiano, USA for Hip Hop, and the list goes on and on….What of Ghana? Some will say we are famously known for Highlife music. No it's hiplife, or rather Azonto. Anyway the focus of this piece is to stress on the fact that we have lost our sound (a unique genre that we should be identified by). How did this come by?
Music is dynamic, like they say. South African music changed from Kwaito to Gqom, down to House and to Amapiano. Although there are changes in sound of the above, the core patterns(tempo range, hi hats, kicks, basses, etc) are similar or the same. American Hip Hop metamorphosed into Trap music and infectious drill music now.
The change happened to Ghana too. Our glorious highlife changed to burger highlife, to hiplife, then got infiltrated by foreign genres like crunk, hip hop, etc. Somewhere along the line, we caught up with our uniqueness and birthed Azonto, which short lived. So, what is our general sound/genre the world can easily identify us by? Not long ago Shatta Wale touched on the topic but he was taken out of context. The name of the genre whether highlife or hiplife does not necessarily matter but the ability of our music producers, sound engineers and musicians to roll up their sleeves to give us that unique sound.
Just recently, Hammer shared a song dubbed, "Kate" which he did for Edem featuring Joey B. Damn, that was a banger right there. Jay Q, also shared a track he did for H.E Pascal AB Rois back in the days. Those are the sounds that we want back. No matter what type of musician you were, you would surely fit in the sounds. Appietus also put together highlife and hiplife and gave us good songs all in the array of the 'sound' I am referring to. Most of our producers have lost their touch of the 'sound' and they are pursuing trends instead of setting them through our uniqueness that has been since time immemorial.
Well of course, this may make sense to some people and sound foolish for others.
Total Views: 200 ,
Multimedia's Prynce Johnson Bags Nomination At Foklex Media Awards 23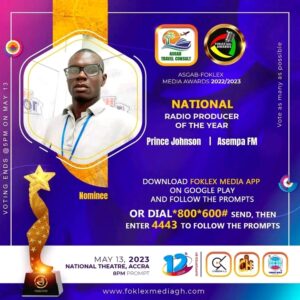 Multimedia's grand radio producer, Prynce Johnson had done his company good as he gets nominated for the "National Radio Producer Of The Year" category at this year's Foklex Media Awards.
Prynce Johnson who produces for the Asempa 94.7 FM's Showbiz Review and Adom 106.3 FM's Entertainment Hall shows got the nomination for Asempa FM, a subsidiary of Multimedia.
The category had greats like, Dr. Shine of Adom FM, Bright Kofi Boakye of Wontumi FM/TV, Mubarak Yakubu of Angel FM, NKG of Onua FM, Obofour Michael of Agyenkwa FM, Godwin Dogbey of Okay FM and Mr. Haglah of Hitz FM.
The show which is scheduled for the 13th of May, 2023 has opened the  voting portal for all and sundry to vote for their favorites.
Total Views: 217 ,
Entertainment in UEW is Boring as compared to Other Universities – Qwabena Pencil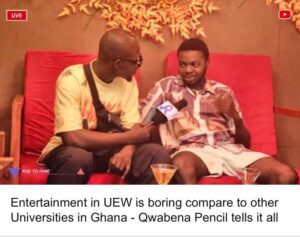 Aboagye Solomon Popularly Known on the internet Space as Qwabena Pencil is a digital Artiste , influencer, Content creator, Musician and a Pencil Artist as is indicated in his name currently a Student of University of Education, Winneba.
Quabena Pencil appeared on Ghana's favorite Entertainment and personality talk show Rise To Fame hosted by Nay Willz on Naymedia Hub on YouTube.
Relating to entertainment activities on UEW campus the presenter asked him how does he see entertainment on campus he being an influencer and his response was " entertainment is very slow".
He went on to say that the administration ought to make investments into entertainment activities and not just invest, but also put things in place which will benefit students.
He also suggested that the SRC should understudy or consult other schools that has excel in campus entertainment and seek ideas from them.
Finally, the influencer urged the SRC to contact campus influencers and bloggers for promotional purposes, as well as campus artists/entertainers for performance.
Watch full video from below.
Total Views: 232 ,