Videos: WhidBerry Found On Set, Shooting The Video For His Song With Samini
Avis Records' very own, WhidBerry was found today on set as he was shooting a visual for his track with Samini which is unreleased.
WhidBerry (CEO of Avis Records) who recently had a baby boy disclosed to ghvibe.com that he is poised for action and his fans should expect nothing but the best from both the song and video of the song.
The scenes of the yet to be released video saw WhidBerry with a bevy of pretty ladies, sensually doing their own thing.
Since WhidBerry is known to produce nothing but quality music videos, surely this will also be a masterpiece.
Watch snippets of the making of the video scenes below.
Total Views: 184 ,
King Paluta Gifts Himself A Brand New Car On His Birthday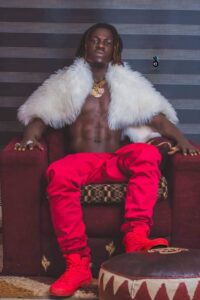 King Paluta, an award – wining musician and 'Yahitte' crooner, is now the newest car owner in town after striking himself with a brand-new car on his birthday.
The year 2023 has been a great start for the young super star as your number one and reliable news portal Dawuroo.net stumbled on a video of the African best lyricist cruising in his 2023 registered saloon car on his birthday.
Close and reliable source confirms that, King Paluta gifted himself the gift as he celebrated his birth on 27th January, 2023.
Keep watch to this space as he will drop his much anticipated 'Yahitte' remix featuring Strongman, Amerado and Quame Stika.
Total Views: 464 ,
Exclusive Interview with Sarkodie | Listen Up
Sarkodie, the Sarkcess Music award-winning artiste, gave his best during the STIR IT UP: VIRTUAL PRESS DAY with Gracey Mae on Tuesday, January 24, 2023 with your favorite host Samuel Ampomah A.K.A (BIG SAMO) from Ghanamusicblog Network 
.
Below is the podcast, which you can listen to by hitting play.
Below is the podcast, which you can listen to by hitting play.
Total Views: 1455 ,