Wicked Queen J And DKB Brawl Over "Ayew" Song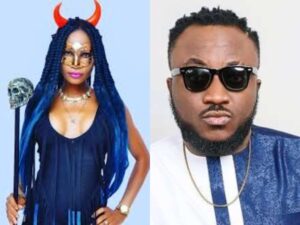 The queen of all satirical music, Wicked Queen J is in a serious banter with comedian, DKB online. This feud started when DKB condemned the musician's new song, "Ayew".
DKB shaded Wicked Queen as being disrespectful to the president. He furthered by venting his spleen on the musician for setting a bad precedence for the youth to follow. He lastly suggested that such songs like, "Ayew" should be banned.
DKB's attack did not sit well with the 'Wicked' musician so she also replied him in equal measure if not more. She retorted to foul and extremely harsh unprintable words against the comedian. She again warned him never to meddle in her business again or he might face dire consequences.
The "Ayew" jam by Wicked Queen is a satirical body of work that criticizes the doings of the present and past governments of Ghana. It emphasizes the antics the politicians use to device the general populace to garner votes into office.
DKB is yet to respond to Wicked Queen J's heavy clapback.
Watch the video of the "Ayew" song from below.
Total Views: 248 ,
Get Acquainted With Cofy Dela; A Blogger, Registered Nurse And Artiste Manager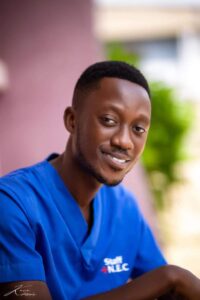 Kofi Delali Hormeku is a vibrant Ghanaian youth who has made a name for himself as a blogger, registered nurse, and artiste manager. Originally from the Volta Region, he draws inspiration from various sources to establish a successful brand and career.
In the entertainment industry, he is widely recognized as Cofy Dela and has undergone significant growth to expand his reach and develop a strong personal brand. One of his notable achievements is the establishment of Dawuroo.net, previously known as Dawuroo.com, an urban entertainment website and blog that focuses on sharing news about both Ghanaian and international celebrities.
Cofy Dela's educational journey began at St. Louis Jubilee in Oduom, Ashanti Region, where his writings were featured in the school's magazine. He continued his secondary education at Konongo Odumase Senior High (Great Koss) in Asante Akyem. After completing high school, he started his blogging career as a contributor to MediaHomeGh, which is now known as TheLivePunch.com⁴. Subsequently, he launched his own website. He also attended the Community Health Nurses and Midwifes Training College in Tanoso, Ahafo Region, where he obtained his certificate as a registered nurse.
Having a passion for both blogging and nursing, Cofy Dela found a way to combine these interests seamlessly. In 2016, he crossed paths with King Paluta, a popular Ghanaian rap artist and esteemed lyricist. Cofy Dela started working as his publicist and PR representative and eventually became his official manager, a role he continues to hold to this day. In addition, he currently contributes to multiple blogs in Ghana, showcasing his expertise and expanding his impact.
Throughout his career, Cofy Dela has collaborated with renowned brands and artists. Notable collaborations include working with Starzee, a dancehall artist from Sierra Leone, Joey CoStar, an American based in Liberia, Elisheba, a Cameroonian based in Canada, TubhaniMuzik, and many others.
Get in touch with Cofy Dela via the link to know more about him
Total Views: 53 ,
Global Music Awards South Africa announce iNMusic Distro as an official media partner 3rd Edition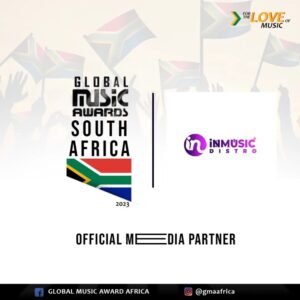 Organizers of the prestigious Global Music Awards South Africa has announced its partnership with iNMusic Distro as the official media partner of the 3rd edition.
This partnership does not only come to provide benefits to iNMusic Distro and the Global Music Awards South Africa , but it also has benefits for the general community of musicians especially music lovers and to help project upcoming musicians from Ghana and Africa as a whole to the globe .
iNMusic Distro is an Africa based music distribution and promotions company that provides affordable packages and quality services for both upcoming musicians and main stream musicians. iNMusic Distro is here to help build great talents in Africa and global .
Sign Up➡️ inmusicdistro.com
Total Views: 114 ,