ALAN KYEREMANTENG RESIGNS AS TRADE MINISTER.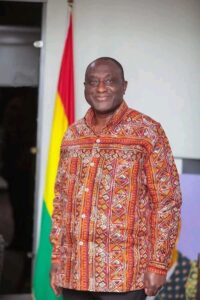 Alan Kwadwo Kyerematen, Minister of Trade and Industry has submitted his resignation from the cabinet according to a source.
According to reports, Mr. Kyerematen submitted his resignation to President Nana Addo Dankwa Akufo-Addo on January 5th. According to information from 3news.com, the President accepted the resignation letter.
Mr. Kyerematen has previously run for the position of New Patriotic Party (NPP) flag bearer, but Nana Akufo-Addo has won every time.
At the University of Ghana, Legon, where the infamous 17 candidates, including the vice president at the time, Alhaji Aliu Mahama, ran for office, he was forced to concede defeat to stop a third round of voting in 2007.
Since then, Mr. Kyerematen's fortunes have declined as his vote share has decreased with each attempt, and he decided not to run when nominations were closed.
Minister of Trade and Industry Alan Kwadwo Kyerematen has submitted his resignation from the cabinet.
According to reports, Mr. Kyerematen submitted his resignation to President Nana Addo Dankwa Akufo-Addo on January 5th.
The ruling party is expected to pick a new candidate for the 2024 elections, therefore it is expected that the former Ghanaian ambassador to the US will return to the race and start his campaign for the primaries later this year. President Akufo-Addo has served out his legally required eight-year tenure.
Alhaji Dr. Mahamudu Bawumia, the vice president, will be his greatest challenger because many influential party figures believe he will replace him as the NPP's candidate on the ballot.
Kennedy Ohene Agyapong and Kwabena Agyei Agyepong, for example, have stated that they plan to run in the 2023 presidential primary elections.
Total Views: 312 ,
Toto ST outdoors New Album Dubbed, "Flavours Of Time"
FLAVORS OF TIME  album of Toto ST, is a blend of vibes. The album which was released in November 2022,
Toto ST composed this album in a month, during the second lockdown, with the desire to uplift everone's daily life. This second confinement has been very
difficult from an economic and social point of view in Angola, further aggravating the already very
complicated situation. "I saw people so sad and so afraid, that they had to rediscover the joy of living at
the same time as the meaning in their daily lives. it was obvious to me that the music of my childhood
and teenage years, which influenced me a lot, would
be my inspiration. .
CONCTAT
Astrid Bailo – 17A7
0033-649 480 005 / [email protected]
I went to the studio in Luanda with Mr Roland, a fabulous young pianist I work with regularly. We
started with some notes, some harmonies. The songs appeared one after the other. With this R'n'B
Soul album, I want to bring you joy and the incredible energy of the 80's and 90's."
FLAVORS OF TIME back to the first soul, funk, loves RnB by Toto ST. It's a flash back to the 80's, 90's
African-American music, years that influenced a lot of his music. The lyrics promote self-love, self-
confidence and self-esteem.
FLAVORS OF TIME : 12 tracks (listen by clicking on the SOUNDCLOUD logo)
Compositions, lyrics, artistic production: Toto ST
Voice, guitar, electric guitar: Toto ST
Keyboards, programming: Mr Roland
Mixing and mastering: Milson Record, Letra e Sons studio, Luanda, Angola
Executive Producer: Astrid Bailo 17A.
Listen.
Total Views: 561 ,
A 21-Year-Old Soldier Man Dies At Ashiaman.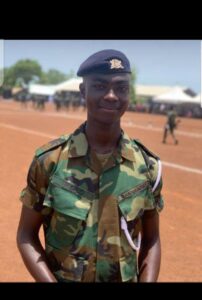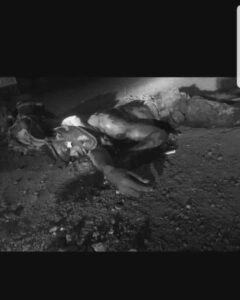 A soldier belonging to the 3rd Battalion Infantry in Sunyani has been murdered in Tafia, a suburb of Ashaiman, in the Greater Accra region, on Friday, 3rd March 2023.
Imoro Sheriff, a 21-year-old boy was allegedly killed by a gang after he visited his girlfriend in the area.
Imoro, whose position could not be immediately verified, was attacked with knives and other weapons, immediately after leaving the girl­friend's home.
It was said that Imoro usually visits his girlfriend anytime he goes to Ashaiman where he was born and raised.
When the Ghanaian Times visited the family home of Imoro, at Zongolika, a suburb of Ashaiman, on Monday, mourners were in a state of shock. The father of the deceased, Asa­nubu Imoro, confirmed the death of his son, saying he heard it via social media.
Asanubu Imoro said the son, who was based in Sunyani, Bono Region, informed him that he was attending a military programme in Accra and will visit family mem­bers on Friday.
"We were expecting him. When we called his number late into the night, there was no response. Somebody showed me a video and asked, do you know this man, that was when I identified my son."
According to Asanubu Imoro, the military and other security agencies have been in close contact with the family as the investigation into the killing was ongoing.
When the Ghanaian Times con­tacted the Ashaiman Divisional Police Command concerning the incident, the authorities declined to speak on the matter, but indi­cated that 13 suspects had been arrested so far.
Source: Ghanaian Times.
Total Views: 2605 ,