Telecom systems to shutdown as telecom workers declare strike
Telecom systems to shutdown as telecom workers declare strike
The telecom industry is set to go on an indefinite statewide strike starting on Monday, September 5, 2022, which will result in a shutdown of Ghana's communications infrastructure.
The Telecom and IT Professionals Union (TIP) executive called for the strike, which is intended to press home demands for a number of service conditions. TIP's members are primarily outsourced engineers, technicians, IT professionals, and other allied workers managing the technical operations of the three major telecom companies, MTN, Vodafone, and Airtel Tigo.
In a statement released on Thursday in Accra and signed by TIP General Secretary Israel Edem Agbegbor, the telecom employees threatened to stop working until their bosses complied with three crucial "non negotiable demands."
ALSO CHECK:A man committed suicide on Temale interchange
In a notice of strike dated August 25, 2022, the union allegedly duly informed the National Labor Commission and their four subcontract employers, Reliance Personnel Services Limited, Reime Ghana Limited, MP Infrastructure Ghana Limited, and Linfra Ghana Limited.
The union is calling for the "immediate recall of all targeted TIP members whose contracts had not been renewed by these firms by simple membership with the union and other Union officials who are part of the current Joint standing negotiation committee and sub committee negotiating the 2022 Collective Agreement and salary increment."
The "immediate payment of Golden Handshake to all our members whose contracts with Reliance have ended and have not been renewed" is also demanded.
Furthermore, the union is requesting that "after over six weeks of declaring a standstill, joint signature and submission of a letter to NLC submitting the salary negotiation and pending items in the 2022 Collective Agreement to obligatory or voluntary arbitration."
According to the statement, the union was compelled to take these actions as a result of an increase in member victimization occurrences and the employers' lack of cooperation and commitment to meeting their unmet requests.
The statement continued, "And because all efforts to obtain these employers' cooperation have failed, we consider it is time for action until the following non-negotiable criteria are met."
According to the union, the action was taken in retaliation for their employers' decision not to extend the contracts of more than 100 targeted members and executives at TIP's national, regional, and branch levels.
These include the members of the current Joint Standing Negotiation Committee or Sub-Committee that is attempting to reach an agreement with the employers on the 2022 CA and wage increase.
The Union claims that from July 2022, the four employers that served as Huawei Technologies' subcontractors and employment agencies on the managed service operations of MTN, Vodafone, and Airtel Tigo have refused to sign an unified document referring impasses to arbitration.
Despite the fact that the union had complained to the Labour Commission about the employers' unfair labor practices, persecution of union members, and lack of cooperation in resolving remaining concerns, it claimed that no action had been taken against the employers.
The statement emphasized that it was "clearly left to us to take the appropriate action to deal with these unfair labor practices and conduct that threatens the very future of the Union."
Total Views: 202 ,
Jucad Pharmacy Introduces Kidics Syrups To Boost Babies Appetite To Help Them Grow Well And Healthy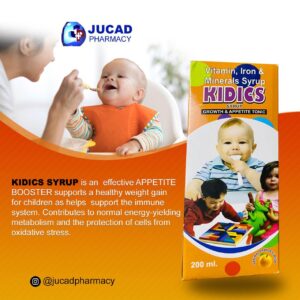 Jucad Pharmacy is one of the trusted registered pharmaceutical companies we have in motherland Ghana, fully registered under the company code 1963 (Act 179) and approved by the Food and Drug Administration (FDA).
Jucad Pharmacy is here again with another quality, affordable, and result-providing pharmaceutical product dubbed 'Kidics Syrup'.
Kidics contains vitamins B and lysine to boost your child's appetite, as well as other multivitamins and minerals that will boost your child's growth and immune system. Babies between the ages of 6 months and 12 years who can't eat well need Kidics Syrup.
For customers in Kumasi, kindly go to Danny Pharma and Osons Chemist; in Accra, distributors should get in touch with Darose Pharmacy, Base Line Pharmacy, & Blepomen Pharmacy. TAKWA: Kekule pharmacy, etc.
KIDICS SYRUP ALSO CONTAINS:
Each 5ml.(One teaspoonful)                                  contains:
Vitamins A palmitate B.P.    1500 IU
Vitamin D3 B.P.          100IU
Vitamin E( Acetate) B.P.     3mg
Vitamin B1 B.P.  1.5mg
Vitamin B2 B.P.   1.5mg
Vitamin B6. B.P.   1mg
Vitamin B12 B.P.   1.5mcg.
Niacinamide B.P.    5mg
Vitamin C B.P.        30mg
D-Panthenol B.P.     2.5mg
L-Lysine Hydrochloride.  U S.P.    40mg
Ferrous Gluconate  B.P.   60mg
eq. to elemental Zinc 5mg.
Magnesium Gluconate U.S.P. 185.41 mg.
eq.to elemental Magnesium 10mg.
Flavored syrupy bas.       q.s.
Overages of vitamins added to compensate loss on storage.
Dosage: As directed by the physician
Storage: Store in a cool,dry place
Protect from light.
Keep all medicines out of reach of children.
SHAKE WELL BEFORE USE.
Total Views: 412 ,
Glitz Galleria Launches Maiden Edition Of "Entrepreneurship Made Easy" Successfully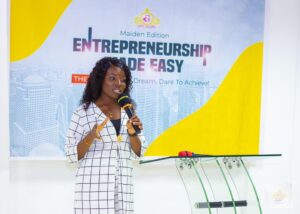 Glitz Galleria a beauty brand which offers services in makeup, hair and nails but has a vision to be a brand that impacts beyond beauty has set its light on startups and young entrepreneurs. The summit "Enterprenuership Made Easy" is a program that seeks to inspire, motivate and encourage every aspiring /rising entrepreneur to take that bold step to achieving his/her dreams. It also seeks to create a network where there'll be opportunities for the startups to excel in what they do.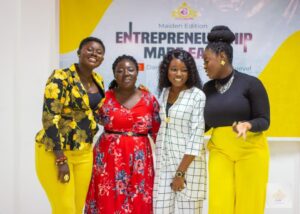 The maiden edition of "entrepreneurship made easy" took place on the 7th November,2022 at the UDS guesthouse, it was well attended with entrepreneurs from different fields ( trades and services), young and old, people traveled as far as Kumasi to attend. It was a very insightful, inspiring session as speakers spoke on the theme " dare to dream,dare to achieve " and share their success stories as well.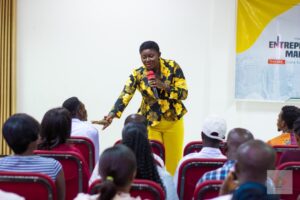 The event hosted by Albertha Bossman felt the honorable presence of special guest speakers such as Media Personality; Maxbel Coleman of Kantanka TV, Maxbel modeling agency, Fashion Fusion Ghana , Madam Afua Asantewaa Aduonum; CEO of Askof Productions, Dr Charity Twumasi Ankrah; CEO of Chartma Herbal Center.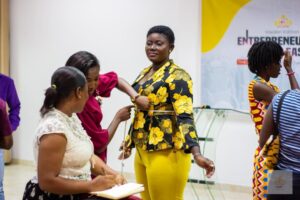 Attendees were very happy and are looking forward to the next edition next year
Connect with Glitz Galleria and "Enterprenuership Made Easy" across all social media platforms.
Facebook: Glitz Galleria
Instagram: glitzgalleria/entrepreneurship made easy
Email:[email protected]
Call/Watsapp : 0208663509.
Total Views: 928 ,