US Ambassador makes first visit to Kumasi
US Ambassador makes first visit to Kumasi
US Ambassador Virginia Palmer met in Kumasi with His Royal Majesty the Asantehene, other traditional leaders, members of civil society, and former US government officials on her first visit to the Ashanti Region.
The visit reaffirmed American commitment to Ghana's economic growth, inclusive prosperity, and transparent governance.
"It is an honor for me to travel to Kumasi, the former capital of the Ashanti Region. Meeting the Asantehene today was an honor. I'm pleased to have met so many Kumasifuo since Kumasi and its people are a top priority for the US. I'll be back soon, U.S. remarked.
Ambassador Palmer while on her journey.
At Manhyia Palace, the Ambassador encountered His Royal Majesty Otumfuo Osei Tutu II.
ALSO CHECK:ECG resolves challenge with purchase of prepaid power
Their conversations emphasized on the ongoing US investment in Ghana's human capital, which is supported by solid bilateral relations built in shared democratic principles and history.
The Ambassador also met with the National House of Chiefs' executive committee to address the crucial role that traditional leaders play in growth, prosperity, and peace.
The U.S. government's support for governance and peacebuilding, as well as its promotion of opportunity and development through inclusive investments in people, were the main topics of discussion during her meeting with the Ashanti Regional Minister, Simon Osei-Mensah.
Ambassador Palmer reaffirmed the United States' commitment to preserving press freedoms and fostering journalistic professional growth to journalists at a media roundtable with Kumasi journalists.
As she spoke with local business owners at the Kumasi Hive, Ambassador Palmer emphasized the value of entrepreneurship in growing Ghana's economy.
One of the U.S.'s primary aims is to encourage commerce, investment, and economic growth.
The government can promote sustainable economic growth by helping entrepreneurs in all areas improve their abilities, according to Ambassador Palmer.
More than 300 Senior High School students in the area received entrepreneurship training from the Kumasi Hive earlier this year with assistance from the U.S. Embassy. This training included design thinking, marketing, and a pitch competition.
In Kumasi, Ambassador Palmer met with former participants in American government exchange programs like the Mandela Washington Fellowship and the Fulbright Program.
Total Views: 153 ,
The family of Kwadwo Opoku Boateng Wishes To Say Thank You To The General Public, Friends,Family And All Sympathisers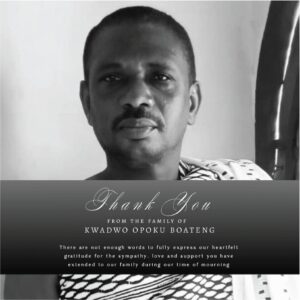 The family, wife, and children of the late Mr.Kwadwo Opoku Boateng extend their profound gratitude to chiefs of the Atonsu-Dompoase community, leadership, and membership of the Freeman Methodist Church, the NPP caucus, Rickens Construction Company, Friends and sympathizers who mourned with our noble family as they laid their beloved son, brother, husband, and father to rest.
"If truly the good deeds of men are to be judged by their deeds and the love showed them during their last days, then the enormous love and emotions showed by you all over the weekend as we laid Mr.Kwadwo Opoku Boateng to a peaceful rest is priceless".
"We appreciate you all and by this medium express our sincere admiration and gratitude for your love, donations, presence, and words of encouragement. May the good lord bless you all bountifully and replace whatever resource you used at our expense".
God bless you all
Total Views: 681 ,
Ghanaian Business Mogul Allegedly M*rdered In South Africa
Intel from a reliable source stated that a 48 year old Ghanaian businessman, Newton Kwaku Boateng, who is based in South Africa has been allegedly poisoned to death by his South African wife in SA a week ago.
Mr. Newton who recently had scuffles with his wife had reported her to his family in Ghana, and even threatened divorce. Suspecting foul play, Boateng's family have expressed their displeasure and despair at the death of their relative. They believe without doubt that indeed, their relative was poisoned by his wife.
Mr. Godwin Attipoe who spoke on behalf of Newton's Family in Ghana said "We are so devastated. We are so angry. We are so heartbroken."
He hinted that after the death of the beloved brother, a case of inquest was opened in Kempton Park, South African Police Service in Gauteng Province, South Africa, adding that "Kempton Park is a City which is based in Gauteng Province".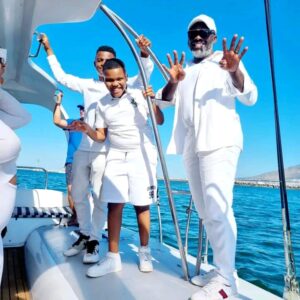 Godwin Attipoe claimed they suspect corruption and cover up of the murder of Newton Kwaku Boateng by Kempton Park police station which he claimed is working closely with the wife of the deceased Alinah Mahlangu. Why? Their inquest for an autopsy be done on the victim is being denied by the police service in SA.
An emotional Godwin had to pause speaking as he started weeping, triggering cries among his other family members who were with him.
He further revealed that South African police say they are investigating and awaiting autopsy results after the body with foam in his mouth was found.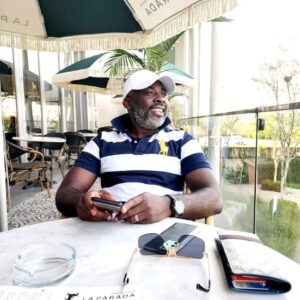 He however said "We are giving the South Africa police the authority and power of attorney to order an autopsy on Newton Boateng who died on March 2, 2023".
He appealed to the Ghana Embassy in South Africa to assist the family to supervise the autopsy on the deceased, which his wife is resisting, adding that the wife of the deceased has not been authorized to represent the family on the issue.
More developing on the issue. Watch this space.
Total Views: 1261 ,