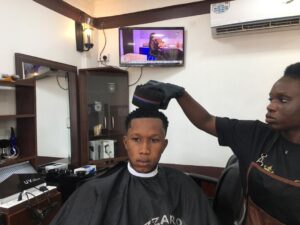 In this our part of the world, it is sometimes rare to see women in certain line of hustle.
Some of these works ranging from commercial driving, fitting, barbering and a host of others are mainly male dominated, so it feels weird when some women pursue and thrive in some of such ventures.
One bold and talented hair trimmer who has defied all odds and pursued her dream of barbering is Nana Akua Hardcastle, who is swaging up barbering in Kumerica.
Nana Akuah Hardcastle, born Eugenia Acquah, completed Kofiase Adventist Senior High School. She developed her passion for barbering when she used to visit a friend who owned a barbering shop in her school. She said she  observed keenly every move of shaving  whenever she had the chance to visit her friend in the Barbering Salon.
One day, Hardcastle got the chance to let out her talent when a challenge was thrown to her to shave the head of security in her school. Though it was her first, she did amazingly well. It was then she realised she had it.
She then began shaving her colleagues till she completed. After school, it was at first difficult for people around her, especially her parents to come to terms with what she has chosen as a profession but it didn't deter her from pursuing her goal.
Nana Ama Hardcastle now has a Barbering Salon located at Oforikrom inside Top Oil Station, Kumerica where she does her magic.
It is Eugenia's dream and aspiration to own a fleet of barbering salons that will train females who have the passion for barbering.
Below are some videos of Nana Akua Hardcastle at work.