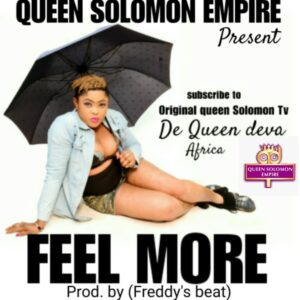 The Queen Solomon Empire's founder, De Queen Deva Africa presents us with a new thirst quenching Dancehall she titles 'Feel More'.
The song as produced by Freddy's Beat talks about the experience of love in sensual dimensions.
Are you planning a night stand with your partner, I bet you will need this song the most.
Without much ado, I present to you 'Feel More' by De Queen Deva Africa. Enjoy….
De Queen Diva Africa – Feel More (Prod. By Freddy's Beat)