Ezadus Teams Up With Josh On New "My Lane" Banger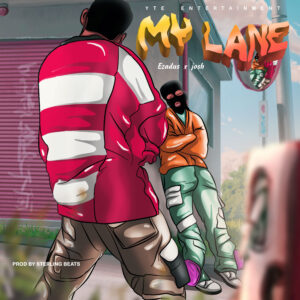 Fast emerging young rapper and trapper, Ezadus teams up with Josh on this super trap song dubbed, "My Lane".
As you are on the hustle, you should always know you should not supplant the street code or commit against a brother but always be in your lane and go hard on the hustle.
Stream, download, enjoy and share "My Lane" from below.
Ezadus x Josh – My Lane (Prod. By Sterling Beatz)
Total Views: 993 ,
Songstress, Naja Steals Show At "Onua Showtime With Mcbrown"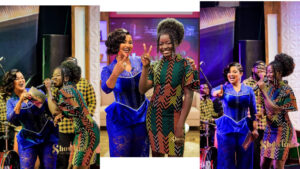 Empress Nana Ama Mcbrown Endorses Rising Female Singer NAJA After showcasing her enormous and enviable talent with a performance on Onua Tv's 'Showtime With Mcbrown', rising Ghanaian singer and number one hitmaker Naja has been endorsed by the eloquent Nana Ama Mcbrown as the next big female act to come from the shores of Ghana.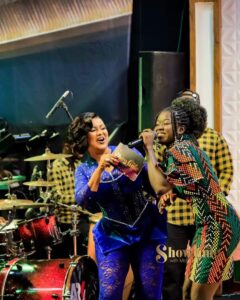 The young singer partnered with the Ark Band to give a stellar performance commencing last Sunday's edition of 'Onua Showtime With Mcbrown'.The show which is growing to become one of the biggest to be aired on national television served its audience with great music and intellectual conversation and had Naja and the legendary Ofori Amponsah as special guests.
Introducing the young artiste on the show, Nana Ama Mcbrown indicated her love for the young musician and conferred on the young musician that her silky melodious output, coupled with talent and unaltered black beauty will shoot her to become 'number 1' in the music scene.Naja has attained features with avts like Akwaboah, Strongman and Obibini, all whose songs she performed on the night.She also did a special rendition of her hit 'Number One' for Mcbrown.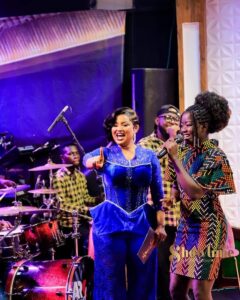 Born Henrietta Marfowaa, the Brong Ahafo-based singer shot into fame after emerging winner of Joyprime's reality talent show Prime Studios. Her magnificent talent over the years has propelled her to perform at the GUBA awards in Rwanda where she met the Grammy CEO courtesy Dentaa. Naja has released her maiden musical EP dubbed "Taste Of Love" .
See Link Below
https://yve.fanlink.to/TasteOfLove
Total Views: 141 ,
Nigerian songwriter and musician "Inkboy" continues to rise as a global music star with his exceptional talent and infectious passion for music.
Simon Sunday Igoche, better known in the music scene as "Inkboy," is a highly skilled Nigerian songwriter and musician who has been making significant waves in the music industry for over a decade. Born and raised in Jos, a city in the North-central region of the Federal Republic of Nigeria, Inkboy's passion for music began at a young age. As a teenager, he started writing songs and continued honing his craft over the years, eventually becoming one of the most sought-after songwriters in Nigeria.
Inkboy also known as the singing bear, has penned songs for some of the biggest names in Nigerian music, including Olakira , Masterkraft and Falz. His exceptional talent for songwriting has earned him a reputation as a masterful wordsmith capable of crafting lyrics that resonate with audiences across genres.
His songs often delve into themes of love, and his ability to capture the essence of these emotions in his lyrics distinguishes him from other songwriters.
In addition to his work as a songwriter, Inkboy is also a musician in his own right. He began performing in his early twenties and quickly garnered a following for his unique sound and infectious energy on stage.
His music falls within the Afro-fusion genre, with a focus on storytelling and catchy melodies that linger in listeners' minds long after the song has ended.
One of Inkboy's most notable collaborations was with Ghanaian rapper Sarkodie on the song "One Million Cedis." The track swiftly became a hit across West Africa, thanks to its catchy hook and infectious beat. Inkboy's contribution to the track, particularly his clever and smooth flow on the hook, earned him high praise.
Inkboy remains humble and dedicated to his craft. He continues to write and perform music that resonates with his fans, and his passion for music shines through in everything he does. As he looks to the future, he plans to push the boundaries of his art, exploring new sounds and collaborations that will elevate his music to new heights.
With several songs already released, including "Dress To Kill" and "Let Me Know", Inkboy is poised to unveil more in the near future.
In conclusion, Inkboy is an incredibly talented Nigerian songwriter and musician who has earned a reputation for his exceptional talent and unwavering dedication to his craft.
With over a decade of experience, he remains one of Nigeria's most sought-after songwriters and a rising star in the global music scene. Whether writing for others or performing his own music, Inkboy's infectious passion for music is inspiring, and his future in the industry looks exceedingly bright.
Total Views: 122 ,