Get Familiar With Rapper, Singer And Music Producer; King Paluta
Rapper and singer, King Paluta, born Thomas Adjei Wireko and raised in Atonsu Bokuro, a suburb of Kumasi is a proud product of single parenting with a strong backbone of a motivated mother.
With too many ups and downs in his career, there is no sign this young man is giving up on his dreams till its accomplished.
The year 2004 witnessed his first shot at music with a prepping demo and continually building his game with street battles. With a winning mindset, he knocked down every opposition for the ultimate and gaining their fans as a bonus.
The dream for the multi-talented musician has subsequently been on course for the excellence being shared across the world today.
With a dream and an inherent desire to make his talent appreciated worldwide, he took off in 2004 as an independent artiste and it hasn't been a smooth sail.He studied production concurrently and is notable for the production of majority of his works.
In 2017 he witnessed the most anticipated giant step into his career after signing on to Guru's NKZ Music but the memory was short lived. King Paluta has used several interview platforms to drum home a call on investors to support his music journey, despite the many interests shown it has only been lip service. Motivated by his strong mental fortitude and enviable talent, life goes on regardless has been his hallmark. He has since been back to his feet as an independent artiste and currently breaking barriers as a young achiever.
King Paluta's shot to limelight, arguably within the Kumasi enclave began on the back of "Marriage Counseling" and moved on a fast lane to register his name in various Ghanaian campuses and households with "Xmas Fiesta". It has been a path a of relentlessness as he keeps getting better with time like fine wine. His ability to create something out of nothing as exhibited in KingSize Volume I, II, III Tapes expanded his reach and propelled him to many platforms, and has since been a talent to look out for with many celebrating his witty, humour-filled and gritty lyricism.
Singles including Boobie, Ayamamatanga, My Lord, and Prayer was the favourite of many until the Kumerica reign saw a new dispensation with the release of the breakthrough WAAWAANE, YAHITTE, CHAPLIN', ALLEGATION, keeping his name on the lips of Ghanaian pundits and music lovers across the world.
Socials
Fb: King Paluta Music
Twitter: @KingPalutaMusic
IG: @KingPalutaMusic
Management Info
+233 (0) 246074607
Total Views: 582 ,
Multimedia's Prynce Johnson Bags Nomination At Foklex Media Awards 23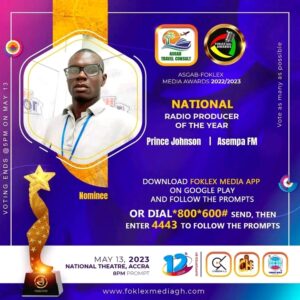 Multimedia's grand radio producer, Prynce Johnson had done his company good as he gets nominated for the "National Radio Producer Of The Year" category at this year's Foklex Media Awards.
Prynce Johnson who produces for the Asempa 94.7 FM's Showbiz Review and Adom 106.3 FM's Entertainment Hall shows got the nomination for Asempa FM, a subsidiary of Multimedia.
The category had greats like, Dr. Shine of Adom FM, Bright Kofi Boakye of Wontumi FM/TV, Mubarak Yakubu of Angel FM, NKG of Onua FM, Obofour Michael of Agyenkwa FM, Godwin Dogbey of Okay FM and Mr. Haglah of Hitz FM.
The show which is scheduled for the 13th of May, 2023 has opened the  voting portal for all and sundry to vote for their favorites.
Total Views: 193 ,
Entertainment in UEW is Boring as compared to Other Universities – Qwabena Pencil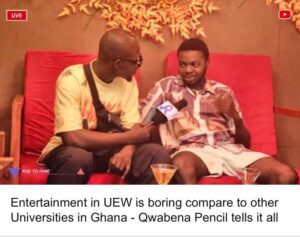 Aboagye Solomon Popularly Known on the internet Space as Qwabena Pencil is a digital Artiste , influencer, Content creator, Musician and a Pencil Artist as is indicated in his name currently a Student of University of Education, Winneba.
Quabena Pencil appeared on Ghana's favorite Entertainment and personality talk show Rise To Fame hosted by Nay Willz on Naymedia Hub on YouTube.
Relating to entertainment activities on UEW campus the presenter asked him how does he see entertainment on campus he being an influencer and his response was " entertainment is very slow".
He went on to say that the administration ought to make investments into entertainment activities and not just invest, but also put things in place which will benefit students.
He also suggested that the SRC should understudy or consult other schools that has excel in campus entertainment and seek ideas from them.
Finally, the influencer urged the SRC to contact campus influencers and bloggers for promotional purposes, as well as campus artists/entertainers for performance.
Watch full video from below.
Total Views: 208 ,