Ghana Reggae Dancehall Awards (GRDA) Announces The First Edition
The Board of the Ghana Reggae Dancehall Awards is thrilled to announce its maiden edition for Reggae and Dancehall musicians and industry players to have their own awards to celebrate their works.
The Ghana Reggae Dancehall Awards (GRDAs) is a platform to celebrate and honor past and present contributions to the development of reggae and dancehall music in Ghana. The GRDAs among other things aims at rewarding excellence by celebrating deserving artistes through a credible, homegrown awards scheme. The Ghana Reggae Dancehall Awards will commence with a call for entries in April and climax with the awards night in early August.
The GRDAs has over twenty categories which include Best Reggae Song, Best Dancehall Song, Best International Collaboration, and Lifetime Achievement Award. Other categories include Best International Artiste, Best MC, and Best Mixtape. Other activities which will herald the awards night include an international launch in the United Kingdom, a nominees' jam, and a symposium on the music industry.
Reggae and dancehall lovers and aficionados in Ghana have long bemoaned the fact that although Ghanaians love reggae and dancehall music, the genre is not adequately celebrated in existing awards schemes. As a result, news that an awards scheme devoted exclusively to reggae and dancehall is cause for celebration.
Total Views: 640 ,
King Paluta Gifts Himself A Brand New Car On His Birthday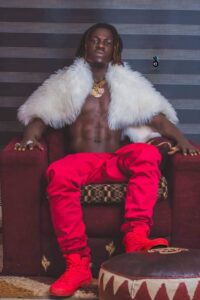 King Paluta, an award – wining musician and 'Yahitte' crooner, is now the newest car owner in town after striking himself with a brand-new car on his birthday.
The year 2023 has been a great start for the young super star as your number one and reliable news portal Dawuroo.net stumbled on a video of the African best lyricist cruising in his 2023 registered saloon car on his birthday.
Close and reliable source confirms that, King Paluta gifted himself the gift as he celebrated his birth on 27th January, 2023.
Keep watch to this space as he will drop his much anticipated 'Yahitte' remix featuring Strongman, Amerado and Quame Stika.
Total Views: 486 ,
Exclusive Interview with Sarkodie | Listen Up
Sarkodie, the Sarkcess Music award-winning artiste, gave his best during the STIR IT UP: VIRTUAL PRESS DAY with Gracey Mae on Tuesday, January 24, 2023 with your favorite host Samuel Ampomah A.K.A (BIG SAMO) from Ghanamusicblog Network 
.
Below is the podcast, which you can listen to by hitting play.
Below is the podcast, which you can listen to by hitting play.
Total Views: 1482 ,