Kumerica's Lil Fyve Gets Featured On France's Top Media Brand, Le Monde's Website
Artistes from Kumerica seem not to be slowing down soon in their quest of putting their city on the map. Lil Fyve, a rapper from the city has gotten his newest drill jam  (popularly referred to as, Asakaa in Kumerica) dubbed, 'Hey Wait' featured on one of France's Media Networks, 'Le Monde'.
The video of the song, 'Hey Wait' was posted on Le Monde's official website www.lemonde.fr with the caption, "This is Kumerica » : la sélection musicale du « Monde Afrique » #70" .
The article talked about the origin of drill music; from and how it became popularized in America by Pop Smoke, then to the point Kumasi musicians took it's culture and made it their own and are taking it to the world now.
The article also zoomed in on Lil Fyve's track, 'Hey Wait' and explained the explicity of his lyrics and how it is affected by the culture of the Asakaa genre in Kumerica. They also validated the representation of red bandanas and white tank tops in Hey Wait's video and the importance it posseses.
The article does not only feature Lil Fyve's , 'Hey Wait' song but also include Jay Bahd's 'Y3 Y3 Dom' and Kweku Smoke's 'Do Or Die'.
Check out the original post from www.lemonade.fr from below;
https://www.lemonde.fr/afrique/article/2021/09/08/this-is-kumerica-la-selection-musicale-du-monde-afrique-70_6093941_3212.html?fbclid=IwAR3gJFQ2EHXExQdhIpvky6RcCY3z3QauTEt4AHE1qM38MGczE6ddaGvK7rQ
This is not just the first time Lil Fyve has entered the French media space. The first was a feature on another big French media wig, www.pan-African-music.com for his song, 'Live And Colored'. Watch the post from below.
https://pan-african-music.com/en/welcome-to-kumerica/
Watch Lil Fyve's 'Hey Wait' video from below.
Total Views: 148 ,
King Paluta Gifts Himself A Brand New Car On His Birthday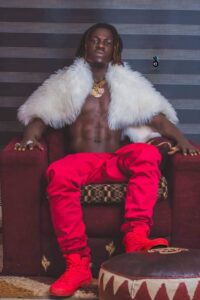 King Paluta, an award – wining musician and 'Yahitte' crooner, is now the newest car owner in town after striking himself with a brand-new car on his birthday.
The year 2023 has been a great start for the young super star as your number one and reliable news portal Dawuroo.net stumbled on a video of the African best lyricist cruising in his 2023 registered saloon car on his birthday.
Close and reliable source confirms that, King Paluta gifted himself the gift as he celebrated his birth on 27th January, 2023.
Keep watch to this space as he will drop his much anticipated 'Yahitte' remix featuring Strongman, Amerado and Quame Stika.
Total Views: 478 ,
Exclusive Interview with Sarkodie | Listen Up
Sarkodie, the Sarkcess Music award-winning artiste, gave his best during the STIR IT UP: VIRTUAL PRESS DAY with Gracey Mae on Tuesday, January 24, 2023 with your favorite host Samuel Ampomah A.K.A (BIG SAMO) from Ghanamusicblog Network 
.
Below is the podcast, which you can listen to by hitting play.
Below is the podcast, which you can listen to by hitting play.
Total Views: 1472 ,