Nana Fynn, Now 2 Lock Readies Fresh Reggae Tune
Peerless highlife legend and music  producer, Nana Fynn has had a change of brand to mark the new sphere of music journey he is exploring presently.
The super ace musician who is best known for hits like, "Menkoaaa", "Odo Handkerchief", "Odo Enduro", "I  do", etc was away for some time from the music scene composing himself for the new task in music he is pursuing.
The virtuoso musician wishes all and sundry to now know and refer to him him as "2 Lock", a reggae musician instead of the old Nana Fynn, a highlife artiste he went by.
He asserts that the change of brand name is symbolic and appropriate for the new tangent he is on.  He explained that the new name, "2 Lock" is a representation of the two facets of life which are, "the reality part", which is the actual realm we are living and the "imaginative part", which is how we imagine we should live. The merge between the two to find a perfect balance of life is where he moulded his new name, "2 Lock" from.
Nana Fynn always had music in him since his whole family was into music. His mother had been a choirister from her teen age. His father, whom he learnt to play most music instruments from, was the first black man at the Royal Marine School of Music in the UK, and at a point became the Dean Of Music Department in Lagos State University.
Nana Fynn during his long hiatus off releasing songs produced songs for music greats like Sarkodie, Becca, Yaa Pono, Danso Abbeam, Shasha Marley, Black Rasta, Sammy B, Anita Obeng et al.
Nana Fynn, now 2 Lock, is back into the music locale solely as a reggae artiste. He released a full reggae EP to mark this feet in 2023. The EP, "On Lockdown" had five reggae songs.
Check out the "On  Lockdown" from below.
2 Lock now working with Brand Africa Group management and publishing company, is set to release a fresh reggae tune dubbed, "Sweet Time Lover" early next month. He entreats all his music lovers and fans to anticipate the new single.
Follow 2 Lock on the following social media fora.
Facebook – 2 Lock
Twitter – @NanaFynnGh
Story: ghvibe.com
Total Views: 216 ,
Multimedia's Prynce Johnson Bags Nomination At Foklex Media Awards 23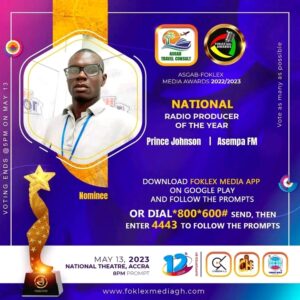 Multimedia's grand radio producer, Prynce Johnson had done his company good as he gets nominated for the "National Radio Producer Of The Year" category at this year's Foklex Media Awards.
Prynce Johnson who produces for the Asempa 94.7 FM's Showbiz Review and Adom 106.3 FM's Entertainment Hall shows got the nomination for Asempa FM, a subsidiary of Multimedia.
The category had greats like, Dr. Shine of Adom FM, Bright Kofi Boakye of Wontumi FM/TV, Mubarak Yakubu of Angel FM, NKG of Onua FM, Obofour Michael of Agyenkwa FM, Godwin Dogbey of Okay FM and Mr. Haglah of Hitz FM.
The show which is scheduled for the 13th of May, 2023 has opened the  voting portal for all and sundry to vote for their favorites.
Total Views: 88 ,
Entertainment in UEW is Boring as compared to Other Universities – Qwabena Pencil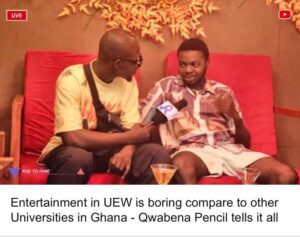 Aboagye Solomon Popularly Known on the internet Space as Qwabena Pencil is a digital Artiste , influencer, Content creator, Musician and a Pencil Artist as is indicated in his name currently a Student of University of Education, Winneba.
Quabena Pencil appeared on Ghana's favorite Entertainment and personality talk show Rise To Fame hosted by Nay Willz on Naymedia Hub on YouTube.
Relating to entertainment activities on UEW campus the presenter asked him how does he see entertainment on campus he being an influencer and his response was " entertainment is very slow".
He went on to say that the administration ought to make investments into entertainment activities and not just invest, but also put things in place which will benefit students.
He also suggested that the SRC should understudy or consult other schools that has excel in campus entertainment and seek ideas from them.
Finally, the influencer urged the SRC to contact campus influencers and bloggers for promotional purposes, as well as campus artists/entertainers for performance.
Watch full video from below.
Total Views: 103 ,