Adwoa Safo Officially Responded To Akufo-Addo After Removal From Office
Adwoa Safo Officially Responded To Akufo-Addo After Removal From Office
Sarah Adwoa Safo, an Ex-Minister of gender, children, and social protection and a Dome-Kwabenya MP, has formally reacted to the president's letter dismissing her from her position.
Adwoa Safo claimed that the president's decision to revoke her appointment as a minister has given her a good opportunity to better serve her constituency.
In a statement released on Thursday, July 28, 2022, Akufo-Addo announced that she had been removed from her position as the minister of gender, children, and social protection last month.
ALSO CHECK:Three shot dead at Bawku
According to a statement released by the Presidency, the Sanitation and Water Resources Minister, Madam Cecilia Abena Dapaah, who had previously served as the caretaker Gender Minister, will continue to work in that capacity.
According to the declaration, the gender ministry will soon have a substantive minister. Nearly a year has passed since Adwoa Safo last left the nation.
Total Views: 314 ,
Known NPP man behind killings – Ken Agyapong reveals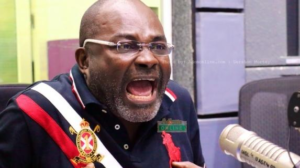 Kennedy Agyapong has disclosed that a "big man" in the NPP is behind the killing of an unknown man. According to him, the man supported a "land guard," Alhaji, to perpetrate the crime. He has therefore advised the NPP man to put a stop to that or else he would expose him The Member of Parliament (MP) for Assin Central, Kennedy Agyapong, in an appearance on Asempa TV, has alleged that a known big man in the ruling New Patriotic Party (NPP) was behind the murder and beheading of an unknown man whose body has been deposited at the morgue. According to him, one Kwesi Alhaji, a popular land guard, has the support and protection of the NPP man. He said law enforcement bodies could not take action against the gruesome murders committed with impunity by Alhaji because he is shielded by the NPP man.
According to MyNewshGh.com, Agyapong revealed that this Alhaji's actions were getting out of hand, as he wasted no time in killing unsuspecting people who dared to resist his activities."The activities of the 'deadly' land guard are quite distressing as he could just move into a house, show interest in the place, move all its occupants, demolish the structure, and take possession of the land," he said. He added that the country needed to rise up because it was heading to a rather dead end as a result of happenings within it. However, Agyapong stated that during his meeting with some chiefs, the chiefs told him how close top police officials were to Alhaji.
He further disclosed he could sense fear in a policeman he called to talk about the issue, but he blatantly refused as he was afraid to lose his job if he meddled in the affairs of the "deadly" land guard. "Despite giving me assurance that nothing of that sort could happen, he still refused to talk to me," Agyapong said. He therefore cautioned the "NPP man" to put an end to the support he was giving Alhaji or else he would expose him. He also added that his actions could bring stain to the NPP party and that the President, Nana Akufo-Addo, and other party stalwarts had really gone through a lot to get the party to where it is currently positioned.
Source: 247onlinewide.com
Total Views: 1233 ,
Prophet Kumchacha Towers Towards Jubilee House
The founder and leader of the Heaven's Gate Ministries,  Prophet Nicholas Osei mostly known as Kumchacha, has formally declared his intent to contest in the 2024 presidential election on the ticket of the Kum People's Party (KPP).
According to information gathered from close sources and his team, Prophet
Kumchacha did not just wake up to this fate but has thoroughly thought through it before moving into motion. Kumchacha who is known for his aggressive outbursts on social and political issues in the country deems himself fit for presidency because he believes he being a man of God with thousands of people under his care knows how best to manage the nation.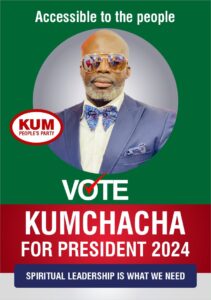 The man of God is said to have already assembled a team of able bodied men with intellect and drive who are ready to serve the country Ghana. Prophet Kumchacha promises a government that prioritizes the needs of the needy and less privileged.
His team furthered that, the prophet realising the fact that all past governments having abused the rule of law, and lying to power by playing with the intelligence of Ghanaians, he sees himself as the saviour to correct all the wrongs of the country now because he has all the clues and policies needed to reconstruct the nation.
His team also projected that team KPP led by Prophet Kumchacha believes partisanship is the major contributing factor of our woes as a country and the faster we ditch it, the better. They indicated that Ghana is underdeveloped because of bad leadership. They urged Ghanaians to do away with the politics of "NPP and NDC" and see their leader, Prophet Kumchacha as the alternative.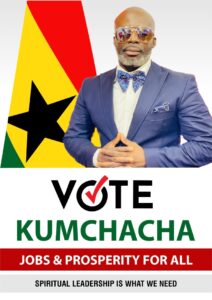 Kumchacha and his "Kum People's Party" in their manifesto spelt out ten core objectives of revamping Ghana's economy. Starting by focusing on unemployment, health, and women empowerment. They will then zoom into  the education, infrastructure and  sports sectors. Lastly they will hurdle the affairs of tourism and agriculture into betterness.
The source also mentioned that the "KPP" administration will work vigorously to implement policies that will take care of Ghanaians by creating employment for the youth.
Also, providing the health needs of the people would also be their outmost priority. He said if Prophet Kumchacha is elected president, his government will build well equipped general hospitals in all the 16 regions of Ghana to support the existing ones which are at times chocked.
The source, however, appealed to the people to consider him for the coveted office of the president based on his experiences and commitment to democratic norms.
The team then has assured Ghanaians that they are going to see more of KPP as they have readied their campaign song and fliers which they will release soon.
Watch this space for more updates on this story.
Total Views: 1490 ,