Gospel Musician, Joseph Matthew Has Shown How Ghana Can Easily Win The World Cup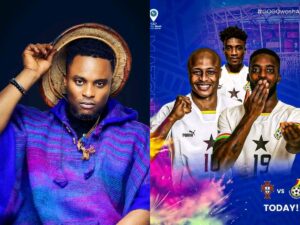 The world cup is here once again  and the quest for an African team or specifically team Ghana to win this world cup in Qatar is dire than ever.
Ghana together with Senegal, Morocco, Tunisia and Cameroon are the nations representing Africa at this year's World Cup.
It's extremely disheartening that upon all the legendary footballers like Ghana's Abedi Pele, Liberia's current President George Opong-Weah, Ivory Coast's Didier Drogba and Samuel Eto'o from Cameroon, who are Africans, the continent is yet to win the most prestigious football tournament in the world.
The highest stage an African country has ever gotten to is the quarter finals. The first African country to achieve such a feat is Senegal in 2002, followed by Ghana at the 2010 mundial in South Africa.
At the 2010 World Cup which was the first to be staged in Africa, Ghana became the closest African team that was inches away from making history as the first to qualify into the semi finals.
The Black Stars reached the last-eight stage in what was just their second World Cup campaign, were on the verge of becoming the first African team to reach a World Cup semi-final but the dream was short-lived when Uruguay trashed them in a penalty shoot out.
However, the question that football enthusiasts and connoisseurs keep asking is, "Can an African team ever win the World Cup?" Even if it's a "yes", "when will that happen?".
Well, once a footballer, UK-based Ghanaian Afro-gospel musician, Joseph Matthew has prophessed that an African team can surely win the World Cup if they adequately prepare.
Speaking to hotfmghana.com , the 'Blessed' Hitmaker outlined what most african teams, especifically, Ghana's team, the  'Black Stars', must do in order to win the Cup. He said,
"Why not! An African team can win …Ghana Black Stars can surely win …But in Africa, we don't like to take strides in long-term planning.

A coach would be hired and before the world cup he would be sacked then another coach takes over with a different philosophy and different players… We lack sustainability", he added.
The award-winning Afro-gospel musician stated that another horrendous contrivance hindering our chances of winning the world cup is the interference from our football governing bodies and process of selecting players.
The 'Nyame Ye' crooner advised that,
"The Ghana football Association must adopt a long-term strategy that would propel the Black Stars to win her first World Cup".
In this, he asserted that grooming players from the get go till they grow into the national team is ideal to our success.
Ever since Joseph Matthew surfaced in the Ghanaian Gospel Music scene in 2019, he has released impressively produced songs such as 'Nyame Ye', 'My Story' 'The Name' and 'Blessed'
'Blessed', which was released in May this year, has been heavily tipped by entertainment pundits to win 'Record of the Year' award at the 2023 Ghana Music Awards.
Have a feel of Joseph Matthew's "Blessed" from below.
Source: hotfmghana.com
Total Views: 485 ,
Naf Kassi ft Prince Bright (Buk Bak) – Dadie Anoma (Prod by DDT)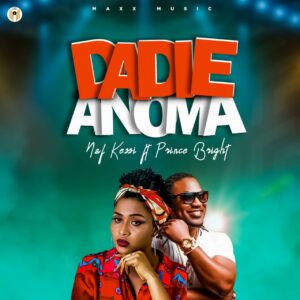 Award winning multifaceted Ghanaian songstress Naf Kassi unlocks another dazzling and excellent audio labeled, "Dadie Anoma" with legendary Ghanaian artist Prince Bright of the famous group Buk Bak, to give his listeners different melodies to listen to.
Naf Kassi and Prince Bright really put in their best efforts into this wonderful harmony titled, 'Dadie Anoma' which is a mind-blowing and stunning euphony, sure to serenade your minds and earbuds.
"Dadie Anoma" is a mordern day Highlife fused with a lil bit of Afrobeat with Production credit to DDT.
Stream, Download and party with this potential club banger now! Enjoy.
noma" is a mordern day Highlife fused with a lil bit of Afrobeat with Production credit to DDT.
Stream, Download and party with this potential club banger now! Enjoy
Total Views: 144 ,
Rap Fada's New Single Enjoys Massive Recognition After Release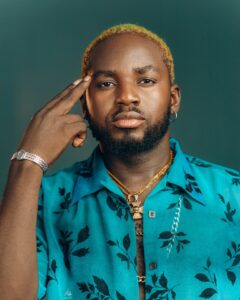 Rap Fada, real name David Annan, a Ghanaian rapper born and raised in Asafo, was spotted in boxers years ago, which became his trademark. He stated that he wants to be an original and not a copy of any other artist, thus the birth of that brand.
Listen to the song Here: https://audiomack.com/rapfada/song/u-go-chop-slap-1
Rap Fada, after rebranding and taking Ghanaian singer and songwriter, Gladstorm Kwabena Akwaboah Junior's advice, released 'Style Biaa Bi', which became a street anthem and is still the talk of the day.
The rap sensation has released his first single of 2023, titled 'You Go Slap', which is receiving massive airplay and amassing impressive numbers shortly after its release.
He is currently on a tour to promote his new single, and he is been warmly welcomed by all media outlets.
Enjoy the official video below
Total Views: 163 ,