Greatness Productions Outdoors New Movie 'Room 406'
Greatness Productions, a Ghanaian video production house known for directing the visuals for various profiled music artists, has officially announced the release date of their first feature film, titled 'Room 406'.
Kobbyshots, Founder of Greatness Productions, announced the news on his Instagram page on August 7, 2022.
About The Movie
Room 406 is a masterpiece horror thriller that sheds light on the responsibilities that can befall us without warning, as well as how the actions of others can have a an effect on us.
The whole film's production, that is from pre-production to post-production was a total of 7 months, including 3 months for location scouting, grants and rehearsals. 2 months filming and 2 months editing (post production). The film's locations are all in Kumasi.
Kobbyshots produced and directed the film, with Casty Dampson serving as assistant director.
Tickets & Premiere Date
Room 406 will premiere on the 24th and 25th of February, 2023 at the Royal View Cinema and Sports Lounge (SG Mall), Kumasi. Official premiere tickets are currently on sale Royal View Cinema (SG Mall), Kumasi. To get your tickets kindly contact 0540821352 / 0241915226 / 0542236420 / 0207206562 / 0548958001.
Cast
Strongman, Louis Lamis of Kejetia vs Makola fame, Tessy Lawson, Sani Enchill, Maxi Made, Esther Nyarko,
and many more amazing characters gave their all to bring this story to light, according to the director, Kobbyshots.
Source: Dawuroo.net
Total Views: 392 ,
King Paluta Gifts Himself A Brand New Car On His Birthday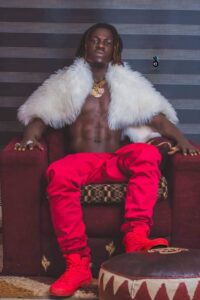 King Paluta, an award – wining musician and 'Yahitte' crooner, is now the newest car owner in town after striking himself with a brand-new car on his birthday.
The year 2023 has been a great start for the young super star as your number one and reliable news portal Dawuroo.net stumbled on a video of the African best lyricist cruising in his 2023 registered saloon car on his birthday.
Close and reliable source confirms that, King Paluta gifted himself the gift as he celebrated his birth on 27th January, 2023.
Keep watch to this space as he will drop his much anticipated 'Yahitte' remix featuring Strongman, Amerado and Quame Stika.
Total Views: 490 ,
Exclusive Interview with Sarkodie | Listen Up
Sarkodie, the Sarkcess Music award-winning artiste, gave his best during the STIR IT UP: VIRTUAL PRESS DAY with Gracey Mae on Tuesday, January 24, 2023 with your favorite host Samuel Ampomah A.K.A (BIG SAMO) from Ghanamusicblog Network 
.
Below is the podcast, which you can listen to by hitting play.
Below is the podcast, which you can listen to by hitting play.
Total Views: 1486 ,