Meet Zenock, The Young Ghanaian Animator Who Is Taking Over Already
Young and talented animation music video producer and director, Zenock Gyimah-Amponsah, has always mentioned that he wants many Ghanaian creatives to invest more in the country's animation industry.
As the years go by, he looks forward to having an all-star animation team in Ghana that will produce many animation music videos and movies.
Known as ZENKS, Zenock Gyimah-Amponsah is a graduate of the National Film and Television Institute of Ghana (NAFTI) who majored in Animation.
Following his love for video production, Zenock soon after he graduated from NAFTI ventured into the production of music animation videos for artistes in the country.
The animator for the past seven year has been involved in the production of animation videos for local artistes, helping to boost the animation industry in Ghana.
"I have been working in animation field for the past 7 years now. I have collaborated with various individuals in the animation and multimedia field of which some of the works gained international recognition and awards. I currently run an animation studio name ANIMATE 24".
A few weeks ago, the chief executive officer of US-based Gavali Music contacted Zenock to produce animation video Charles Fanti, artiste on the record label to promote his song titled "Sake Of Love".
Some of my notable works include EDEM (animated short which gained 10 international nominations), Tales of Nazir and We do Som (animated some of the characters), Blakk Rasta's Mallam Tonga Animated music video and a host of others.
Today in Ghana, there are very few animation studios, but the country's animation industry is beginning to grow gradually, with a subtle increase in the number of animators and animated music video. Zenock is one of the animators setting the pace for a greater animation industry in Ghana.
Zenock Gyimah-Amponsah has promised to lead a campaign which targets youths or the younger generation to take up animation.
For him, the dream is to see Ghana where there are many young creatives passionate about the art and producing animation music videos and films to promote Ghanaian music and culture.
Total Views: 204 ,
Songstress, Naja Steals Show At "Onua Showtime With Mcbrown"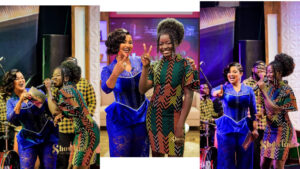 Empress Nana Ama Mcbrown Endorses Rising Female Singer NAJA After showcasing her enormous and enviable talent with a performance on Onua Tv's 'Showtime With Mcbrown', rising Ghanaian singer and number one hitmaker Naja has been endorsed by the eloquent Nana Ama Mcbrown as the next big female act to come from the shores of Ghana.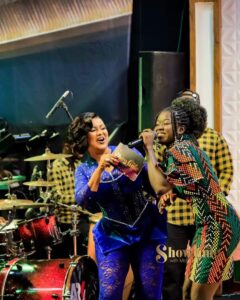 The young singer partnered with the Ark Band to give a stellar performance commencing last Sunday's edition of 'Onua Showtime With Mcbrown'.The show which is growing to become one of the biggest to be aired on national television served its audience with great music and intellectual conversation and had Naja and the legendary Ofori Amponsah as special guests.
Introducing the young artiste on the show, Nana Ama Mcbrown indicated her love for the young musician and conferred on the young musician that her silky melodious output, coupled with talent and unaltered black beauty will shoot her to become 'number 1' in the music scene.Naja has attained features with avts like Akwaboah, Strongman and Obibini, all whose songs she performed on the night.She also did a special rendition of her hit 'Number One' for Mcbrown.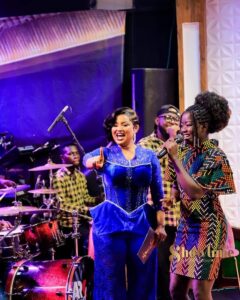 Born Henrietta Marfowaa, the Brong Ahafo-based singer shot into fame after emerging winner of Joyprime's reality talent show Prime Studios. Her magnificent talent over the years has propelled her to perform at the GUBA awards in Rwanda where she met the Grammy CEO courtesy Dentaa. Naja has released her maiden musical EP dubbed "Taste Of Love" .
See Link Below
https://yve.fanlink.to/TasteOfLove
Total Views: 427 ,
"If You Want Good Husbands Fix Your Brains Not Your Body" – Shatana Fires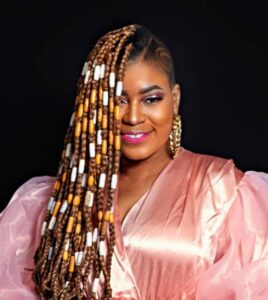 Firebrand, Shatana has vented her spleen on "slay queens" who have developed the habit of enhancing their bodies to attract men to do their biddings. Shatana explained that although men may seem to be in tune with such ladies, it is mostly for a moment when these men see that such ladies bring nothing to the table.
She advised that it will be in their own interest if they invest those huge monies spent on enhancing their bodies to "fix their brains" to gain knowledge instead. She quizzed that after all the liposuctions, artificial implants yo enlarge breasts, tummy trimming and tucking, why are these ladies still single? The irony!
Checkout the video of what she projected in it's entirety from below.
The vociferous songstress, Shatana has a new jam out titled, "Dem No Reach" which features Kiaani. The song's subject matter is akin to the power of God working over principalilties and making one utterly prosperous. Checkout the record from below.
Total Views: 1524 ,