Cynthia Basinet Outdoors "If Everday Was Like Christmas"
"If Everyday Was Like Christmas" by Cynthia Basinet is out now and available to stream on all major streaming
platforms.
The new single, with its soothing
three-minute runtime and a tempo of 62 bpm, starts with a seven-second intro, instantly setting a tranquil tone.
Cynthia Basinet's velvety vocals perfectly match the melodious rhythm of the instrumentation. Subtly layered harmonized backing vocals enrich the
main vocal line, enhancing its resonance without overshadowing the lyrics' importance.
The seamless integration of melodic strings, foundational piano, subtle guitar, and steady percussion sets an ideal backdrop for the vocals. The exquisite interplay between the lead and backing vocals adds the perfect degree of dynamic variation, keeping listeners engaged throughout the song.
Positioned to be a modern Christmas classic, this release elegantly blends the nostalgia of the holiday season with
a beautiful melody and stunning vocal performance. It encourages listeners to carry the holiday spirit throughout the year and to "spread joy to those you
love". "If Everyday Was Like Christmas"  leaves you humming the catchy hook and reaching for that replay button.
From the well-balanced production and impressive instrumentation to the authentic vocal performance, fans of Cynthia Basinet and new listeners will be eager to hear this single.
Enjoy this nice song from below. Do not forget to share as well.
Be sure to follow Cynthia Basinet on social media to stay up-to-date with future releases and performances.
Instagram – Cynthia Basinet
Twitter – Cynthia Basinet
Facebook – Cynthia Basinet
About Author
Ade3f3 Kwakye – Give Me Chance (Ma Me Kwan) Ft Mr Willy (Prod by Wapicolo)
Ghanaian based in USA Highlife musician, Ade3f3 Kwakye has finally bounced in the music industry with his new awesome tune which he captioned as Give Me Chance, which literally means (Ma Me Kwan).
Ade3f3 Kwakye has a unique style which makes him extraordinary and has pledged with all music lovers to keep toes with him as he began his music journey.
On this new masterpiece produced by Wapicolo, he featured on Mr Willy to deliver a love message through their lyrics.
Kindly listen to the song below and share as well
Stream on BOOMPLAY
Download mp3 below
About Author
Lord Phylo Releases New Jam Dubbed "Amen"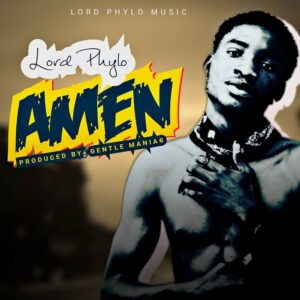 Young emerging music artiste, Lord Phylo has released a fresh song he titles, "Amen". Lord Phylo prays in for God's favor and grace for a breakthrough because he as a breadwinner has suffered although he is putting in his all.
The song as produced by Gentle Maniac is an Afrobeats cum hiplife sound that will get you motivated.
Without much ado, I present to you, "Amen"  by Lord Phylo. Stream, enjoy and share from below.
About Author