First-class degree student of University Of Education, Winneba selling on street
 First-class degree student of University Of Education, Winneba selling on street after national service
After completing her national service, Priscilla Akwagu, a single mother from Ghana, who overcame numerous obstacles—including selling buffloaf, also called as "bofrot"—to earn a university degree, has returned to street marketing.
Despite the challenges she faced in paying for her school while also taking care of her child, she graduated with honors from the University of Education, Winneba (UEW), an accomplishment that was warmly praised.
ALSO CHECK:Bush road Bridge has been renovated by Benedict Lucky Ahiati
However, it appears that despite having completed her one-year mandatory national service and holding a first-class degree from one of the nation's top universities, Akwagu was unable to find a better job. As a result, she made the difficult decision to put her shyness aside and resume her hawking business in order to survive.
She posted a message on the popular Ghanaian Facebook group Tell It All, where she shared photos of herself going about her street hawking.
She claimed that the purpose of the post was to motivate readers to start taking care of themselves and to stop being passive.
"We don't post our stories to show off but to motivate others that they can equally make it with determination. Back to my hawking business after national service and hoping for the best to come.
"Life is how you mold with your own hands like molded flour. Let's keep our hopes up and trust in ourselves always," she wrote on Tell It All.
Many people praised her and stated that she is certainly an inspiration to other women in response to the countless responses to her article.
Priscilla struggled to balance her employment and school while taking care of her motherly duties by herself.
Her goal in attending the UEW in the Central Region was to better her life and the lives of her children, but after earning a first-class degree, she is still forced to work because there aren't any immediate job options for her.
But she's not giving up just yet. She expressed optimism that she will soon have greater prospects.
Total Views: 198 ,
SHS Student Changes The Narrative Against Fashion In Central Region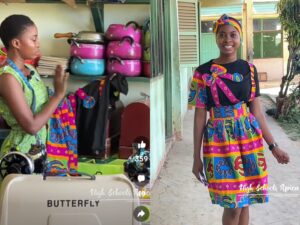 In this era of enterprenuership, it is a blessing to find Ghana endowed with so much talented younglings who will affect the economic society with so much financial exploits in the nearest future through their intrinsic abilities.
One fine young student of Kwegyir Aggrey Senior Technical High School, Muniratu Jibril is fast gaining popularity as one of the best student designers in Central Region. As a Home Science student, her expertise in fashion is unpaired. From creating complex but nice designs and slaying on the runway during fairs is something that wows even her tutors. Her savoir faire abilities can also not be left out.
Although a student, Muniratu is said to be designing clothes for people for functions like weddings, engagements, graduations, et all.
It is due to her prowess that drove High Schools Youtuber, Goshers of High Schools Africa on youtube to do a documentary of Muniratu's creative process and her dreams and aspirations in the future.
Watch from below her conversation with the team of High Schools Africa.
Also checkout the video on Facebook;
https://www.facebook.com/gosherspost/videos/270553301985097/?mibextid=FG1OuXcoECp1WxxK
Total Views: 108 ,
Kofi Kingston Puts Up ICT Facility In His Hometown In Ghana
Kofi Kingston Puts Up ICT Facility In His Hometown In Ghana
Ghanaian-born WWE superstar Kofi Kingston, gave back to society by building an information and communications technology (ICT) facility in his hometown of Atwima Takyiman in the Ashanti Region.
Images of the facility from different building eras were posted on Facebook by a user going by the name of Kwabena Nsafoa.
ALSO CHECK:Nigerian cook who survived three days in a shipwreck
Rumor has it that the technology center will provide training in computer literacy, media and information literacy (MIL), critical thinking, and inventive problem-solving methods to the people of Atwima Takyiman and the adjacent communities.
It was also made known that Kofi Kinston plans to build comparable buildings in other underdeveloped areas of the nation in order to promote appropriate information and technology education.
"Kofi Kingston in Kumasi.. WWE professional wrestler, Kofi Kingston, has built a Center that will offer training in computer literacy, media and information literacy (MIL), critical thinking, and creative problem-solving skills, while instilling a love of reading and research in students in his hometown Atwima Takyiman in the Kwadaso Constituency. He intends to build similar projects in other underprivileged communities in the country. Yɛ daase bro," The caption for Kwabena's post read.
Total Views: 718 ,