Amerado v Lyrical Joe: Keep families out of this – Da' Hammer
Amerado v Lyrical Joe: Keep families out of this – Da' Hammer
Da' Hammer, a music producer and businessman, has urged the rival Ghanaian rappers Amerado and Lyrical Joe to avoid involving their families in their verbal altercation.
On Thursday, August 11, 2022, the venerable musician posted this on social media and identified his current favorite artist from the pair.
But the boys do rap, oo," he cried.
"But thus far, I'm on Amerado's side. The moment further notice. Lol," he revealed.
According to the CEO of The Last Two Music Group, "Occasional conflicts in rap is undoubtedly fine as long as no one hits below the belt," such lyrical bouts are beneficial for the the rap music industry.
ALSO CHECK:Tiktok contracts Ghana's FirstLady for an official commercial jingle
"Keep families out guys," he pleaded, finishing off with the words 'for the culture' with a hashtag.
Meanwhile, well-known media figure Nana Aba Anamoah tweeted what appears to be her opinion of what hip-hop and hip-life culture refer to as a "fight."
She simply stated, "Lyrical Joe is very lethal."
In other tweets, "I love the morphology in his rap." And "Wo ni suban @_Lyricaljoe."
Broadcaster Delay, who Lyrical Joe, also known as LJ, has referred to in his diss songs, had already requested a cease-fire from her friend and rumored lover Amerado. He agreed, but later disregarded the directive.
The cause of the Beef
The feud between the two rap acts, which has resulted in unprintable remarks and the disclosure of purported secrets, is believed to have begun as a result of disappointments at this year's 3Music Awards and Vodafone Ghana Music Awards, respectively.
Lyrical Joe had complained that Amerado had won Best Rapper of the Year at 3Music instead of him, and Amerado had complained that Lyrical Joe had won Best Rap Performer at the VGMAS instead of him.
Additionally, Lyrical Joe disclosed in a Twitter chat organized by Kalyjay that he felt assaulted by Amerado because of some lyrics he "spewed" on an Eno Barony song in which he was featured.
ALSO CHECK:Musician C.I.C Buys An Expensive Mansion In Ghana
He then described how when he was interviewed by YouTuber Kwadwo Sheldon and responded to the song in question, his rival Amerado, who was releasing a song on the same day, interpreted it as a cunning attempt to detract attention from the song "Obia Boa."
On Joe's birthday, August 5, 2022, Amerado responded by releasing a song called "Kyibom," which is a diss track.
Lyrical Offended, Joe responded in kind. Since then, each of them has written about four songs that are verbally abusive and challenging.
Unexpectedly, Amerado announced his new album today, Friday, August 12, 2022, with a video titled "GINA: God is Not Asleep," seemingly oblivious of LJ's most recent diss, "Abaduaba Ameliar."
Do you think the beef is over?
Source: Classfmonline.com
About Author
"It's Impossible For Shatta Wale To Cater For Bonchaka's Mum When His Own Mother Is In Need" – Shatana Rebuts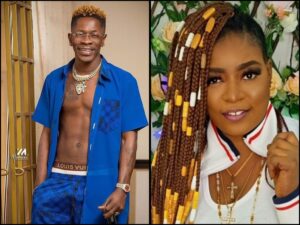 The hubbub surrounding Terry Bonchaka is now ripe and incessant than twenty years ago when he passed. It is public knowledge that decorated Ghanaian musician Shatta Wale was under Terry's coaching in musical art. Many thoughts were that, as he learnt from Terry, it was just prudent enough to help Terry's mother, or visit her intermittently on the regular.
Just a week ago, Doreen Avio in an interview with Mrs. Charlotte Adjetey, Terry's mother on Daybreak Hitz expounded that she has been going through a lot since his son's demise. She said most of the musicians and friends of Terry has neither helped or visited her. She however said although Shatta Wale has not come to to visit her, he sent his father over to visit her with a token.
The twist comes when Mrs. Adjetey in a new video rants that Shatta Wale has not been visiting or taking care of her but it was just a one time thing. She feared that how some news outlets are reporting that Shatta Wale has abandoned her mother and taking care of her is distasteful and denting her image.
Female artiste and family member of the family, Shatana has also invalidated these outrageous claims against Terry's mother. She exclaimed that those rumours are driving people who want to help Mrs. Adjetey away because they think she is being catered for by Shatta Wale. " It is impossible to take care of Terry Bonchaka's mom when you can't take care of your own", Shatana quizzed.
About Author
Shatta Wale's Father Came To See Me Just Once" – Bonchaka's Mother Clarifies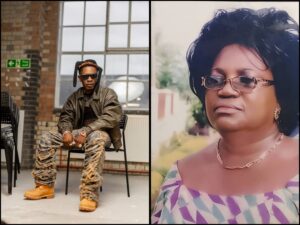 The controversies surrounding Terry Bonchaka nowadays are jaw dropping and seemingly unending. From the fracas with his family versus his earlier manager, Reagan Mends to the recent one with Terry's mate, King Ayisoba.
The latest of all is a video of Terry's mother insinuating that she has never seen Shatta Wale since his son died twenty years ago.
In an interview on Hitz FM, it was cited that Mrs. Charlotte Adjetey said Shatta Wale had done her well by sending over his father to see her.
In the new video, Mrs. Charlotte explained that it was only once that Shatta sent over his father to visit her. She further expressed her worry in how several news portals have taken the case out of context, and reported that Shatta Wale is allegedly taking care of her while his biological mother wallows in abject poverty.
Mrs. Adjetey also worriedly said that if reports like that are made, it does not help because she is not in the best of state but people may think she is good. In that, it will deter helpers from lending a hand.
Watch exactly what she said in the video below.
About Author