Amerado v Lyrical Joe: Keep families out of this – Da' Hammer
Amerado v Lyrical Joe: Keep families out of this – Da' Hammer
Da' Hammer, a music producer and businessman, has urged the rival Ghanaian rappers Amerado and Lyrical Joe to avoid involving their families in their verbal altercation.
On Thursday, August 11, 2022, the venerable musician posted this on social media and identified his current favorite artist from the pair.
But the boys do rap, oo," he cried.
"But thus far, I'm on Amerado's side. The moment further notice. Lol," he revealed.
According to the CEO of The Last Two Music Group, "Occasional conflicts in rap is undoubtedly fine as long as no one hits below the belt," such lyrical bouts are beneficial for the the rap music industry.
ALSO CHECK:Tiktok contracts Ghana's FirstLady for an official commercial jingle
"Keep families out guys," he pleaded, finishing off with the words 'for the culture' with a hashtag.
Meanwhile, well-known media figure Nana Aba Anamoah tweeted what appears to be her opinion of what hip-hop and hip-life culture refer to as a "fight."
She simply stated, "Lyrical Joe is very lethal."
In other tweets, "I love the morphology in his rap." And "Wo ni suban @_Lyricaljoe."
Broadcaster Delay, who Lyrical Joe, also known as LJ, has referred to in his diss songs, had already requested a cease-fire from her friend and rumored lover Amerado. He agreed, but later disregarded the directive.
The cause of the Beef
The feud between the two rap acts, which has resulted in unprintable remarks and the disclosure of purported secrets, is believed to have begun as a result of disappointments at this year's 3Music Awards and Vodafone Ghana Music Awards, respectively.
Lyrical Joe had complained that Amerado had won Best Rapper of the Year at 3Music instead of him, and Amerado had complained that Lyrical Joe had won Best Rap Performer at the VGMAS instead of him.
Additionally, Lyrical Joe disclosed in a Twitter chat organized by Kalyjay that he felt assaulted by Amerado because of some lyrics he "spewed" on an Eno Barony song in which he was featured.
ALSO CHECK:Musician C.I.C Buys An Expensive Mansion In Ghana
He then described how when he was interviewed by YouTuber Kwadwo Sheldon and responded to the song in question, his rival Amerado, who was releasing a song on the same day, interpreted it as a cunning attempt to detract attention from the song "Obia Boa."
On Joe's birthday, August 5, 2022, Amerado responded by releasing a song called "Kyibom," which is a diss track.
Lyrical Offended, Joe responded in kind. Since then, each of them has written about four songs that are verbally abusive and challenging.
Unexpectedly, Amerado announced his new album today, Friday, August 12, 2022, with a video titled "GINA: God is Not Asleep," seemingly oblivious of LJ's most recent diss, "Abaduaba Ameliar."
Do you think the beef is over?
Source: Classfmonline.com
About Author
"Prove To Me If The Prostitutes Are Staying In My Apartment" – Bishop Daniel Obinim Dares Shatana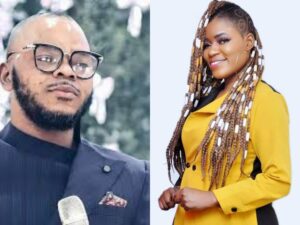 These couple of weeks have seen musician Shatana, go back and forth with leader of International God's Way Church, Bishop Daniel Obinim over a video that surfaced around the same time.
The video which was taken by Shatana saw some alleged number of prostitutes plying their trade in front of Bishop's church. To add salt to injury, these alleged prostitutes purported that they lived in one of Obinim's apartment s which were a few blocks from the church's premises.
They also claimed, they had to pay 2,000cedis to foot the rent fee of the room. Shatana explained this situation in an interview on Kingdom FM last week.
Bishop Obinim who saw this as demeaning has rebutted the allegations fiercely with explanations. At a church sermon last week in his church, he expressed that the stories are all untrue and cooked. He further dared Shatana to provide evidence if she thinks her story is true.
This is the third time Angel Obinim has responded to the story. Well, Shatana is yet to counter what Bishop has said.
Watch exactly what Bishop Daniel Obinim said in the video below.
About Author
"People Even Have Sex On Atwea Mountains", Angel Obinim Replies Shatana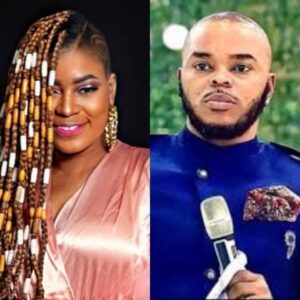 The internet has been full of banters these couple of weeks. One which is fast gaining roots is that of artiste, Shatana and Bishop Obinim's. It has sparked serious concerns outrages on the information super highway.
It has been a week when Shatana alleged that there has been a couple of sex workers plying their trade in front of the House of the Lord, where Bishop Angel Obinim sheperds. When Shatana decided to drive them away from the premises because it is blasphemous, she was met with a mouth gaping  revelation. That Bishop Obinim owned the apartments that housed them (prostitutes), and they had to pay 2000cedis every month or face eviction.
This got to Shatana so much that she released the video and called the Ghanaian christiandom to be up and doing. The video then sparked heavy appeal and reaction.
Bishop Obinim who saw the need to explain the situation because it tarnished his image has responded to the claims made by Shatana. He said indeed he owned the apartments and he has rented it out to girls, some of which are Nigerians, Kenyans, Ghanaians, etc
Bishop Obinim further said although he owned the apartments, he has not given any tenant the power to use it as a brothel. Nonetheless, he explained that he could not control a tenant who decides to use her body for material gains. He also expressed that he has gone to the house to preach to them and pray on countless occasions but to no avail. He further said, people have been desecrating business areas, official and public places, and many more since time immemorial. He gave an example of how once he saw a pastor and his singer having intercourse on Atwea Mountain's Prayer Camp. Lastly, he stated that the said apartments of his was not near the church premises.
Shatana is yet to rebut what Bishop Angel Obinim has said.
Watch the video of what Obinim said and the interview of Shatana explaining how she saw the place.
About Author