Nimako Collaborates With High T on 'My Dear Lady'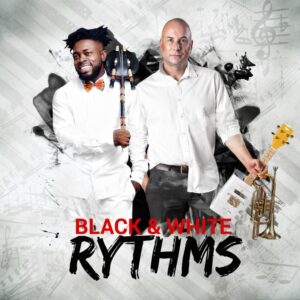 From the shores of Africa comes a brand new mind blowing music collaboration,
between BLACK UNIT ENTERTAINMENT based in Ghana and TRIPPLE X ENTERTAINMENT in Europe, Finland.
This masterpiece tittled "My Dear Lady" was composed by Nimako of B.U.E. and High T of Triple X fame, Finland.
'My Dear Lady' has feeling of the modern Afro vibe with an European touch. The song, 'My Dear' which is off their Black and White Rhythms album talks about a love story where the persona is showering unending praises unto his lover. Nimako and High T's 'My Dear' is currently trending on all  social media fora. It has tremendously gained grounds and seems to be the new love anthem on the streets for music lovers across the globe.
My Dear lady is one of the hits on the
(BLACK N WHITE RYTHMS ALBUM). An album that seeks to promote oneness,hope,love,peace and equality among all races.
After recent hullabaloo across the globe (THE BLACK AND WHITE RYTHMS ALBUM) sets the pace to tone
down the recent struggles of the world today. The lyrics,the beats,the originality and uniqueness of the songs communicates volumes.
The Album has a touch of the famous "Ukulele" of Hawaiian origin and other special African/European musical instruments. The Album was produced by Black Unit Records (Ghana), High-T Records (Finland),Noise Camp Studio (Finland) and Moshe And Sons in Israel!
Nimako who is the leading artist of Black Unit records and Co CEO  has worked with numerous
finest producer's like Hammer, Zap Mallet, King D, Fimfim, and
other top international producers. He released his latest solo Extended Play, entittled (AKOMA EP) which literally means 'Heart' in a Ghanaian local dialect. The Akoma EP is curently enjoying massive airplay on all music platforms, with constantly increasing views on Youtube. The talented musician is currently working in the studios with High T of Tripple X fame. Tripple X is a well known Scandinavian record label that has over the years produced hits and one of its leading musician High T is now the talk of town in Finland.
The songs made from this collaboration tickle the ear drums of many music lovers across the globe, and they are a must listen.
The black and white Rhythms album so far has two music videos and more are expected to be shot in Ghana and other European countries.
Black and White Rhythms has two versions, an international version for all and a Finnish version in which Nimako fully sings in Finnish.
Kindly check out "My Dear Lady" song and official music video in links below. Music video was directed and edited by Black Unit Concepts and shot by LexFilms.
About Author
Slow Down by Fina Gh is finally out
Ghanaian multitalented songstress well known in showbiz as Fina Gh has finally come through with her debut single dubbed Slow Down.
Fina Gh is known to be one of the greatest female songwriters and singers who deliver awesome lyrics. Fina Gh's song is about a young woman facing depression but determined to overcome it. The lyrics explore the challenges of mental health, highlighting the protagonist's resilience.
With emotive lyrics and Fina Gh's soulful vocals, the song delivers a powerful message of hope and perseverance in the face of adversity.
Stream S0ng Here
About Author
Ibien Jah releases Audio and Visuals for "Call Me Oga"
King of asafo music, Ibien Jah has proved another versatility in a brand new Afrocentric single titled "Call Me Oga"
The Africa-traditional sounds blended masterpiece was released on November 12, 2023 together with the visuals on all Digital platforms.
In an exclusive interview with Ras General on RG Exclusive, the 'Mama Cry' hitmaker gave detailed information about the song.
"Call Me Oga identifies the true me moving from grass to grace and blowing my own horns to glorified God. We are in a society where negativity has become the order of the day and good things don't sell so you have to find your own way to show your positive works to the world and the best way to do mine is through music" Ibien Said.
"I know this is very unusual of me because the fans know me for Dancehall, but I realized it's time to project my rich traditional Africa instruments through my music for the other parts of the world to see what we have and this is just one of it" He added.
'Call Me Oga' is currently on all Digital platforms and music outlets.
kindly stream from the links below
Listen to Call Me Oga by IbienJah on Boomplay
About Author