Things To Look Out For Before Investing In Bitcoin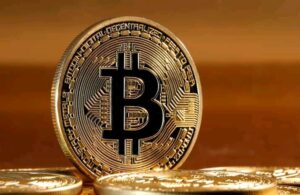 Cryptocurrency, 
like 
any 
other 
investment, 
has 
risks 
and 
rewards. 
Cryptocurrency 
is 
extremely 
dangerous 
when 
compared 
to 
other 
sorts 
of 
investments.
Before 
you 
invest, 
consider 
the 
following 
points:
We 
strongly 
advise 
against 
investing 
your 
entire 
life 
resources 
in 
cryptocurrency 
marketplaces.
2. 
It's 
best 
to 
think 
of 
it 
as 
a 
form 
of 
gambling, 
so 
only 
invest 
a 
small 
portion 
of 
your 
disposable 
income 
and 
expect 
to 
lose 
everything.
3. 
Never 
put 
more 
money 
into 
something 
than 
you 
can 
afford 
to 
lose.
4. 
If 
you 
don't 
have 
much 
money 
left 
at 
the 
end 
of 
each 
month, 
it's 
best 
to 
avoid 
crypto 
and 
instead 
focus 
on 
saving.
5. 
Treat 
cryptocurrency 
as 
a 
long-term 
investment, 
just 
like 
traditional 
assets, 
for 
the 
best 
results.
6. Cryptocurrencies are extremely volatile, subject to bull runs and market crashes.
It is hailed by fans as a market-disrupting liberation and demonised by many personal finance experts as a dangerous creation. One things for sure is that bitcoin is volatile.
Since December 2020, bitcoin has enjoyed a theatre of dramatic ups and downs. We outline some of these here: is a bitcoin crash coming?
The problem is that the price of cryptocurrencies is not underpinned by any intrinsic value. It is determined by one thing: confidence, says Mark Northway, investment manager at Sparrows Capital.
So if you decide to invest, be prepared for a bumpy ride.
Yes you certainly can. Crypto is very risky and not like conventional investing in the stock market.
Bitcoin's value is based purely on speculation. This is different to company stocks where the share price will move depending on how the business is performing.
Important: cryptocurrencies are unregulated by the UK watchdog, the Financial Conduct Authority. Crypto platforms are only regulated for anti-money laundering purposes.
There are three main ways to lose all you money with bitcoin:
The value plummets and you sell: crypto is volatile with its price determined by sentiment. Though technically you only lose money if you sell an investment for less than you bought it for. This is known as "crystallising your losses".
Your memory: experts estimate 20 per cent of all cryptocurrency has either been forgotten about or lost with a current value of around $140billion, according to Crypto data firm Chainalysis.
Cyber crime: hackers and scammers are thought to steal around $10million worth of cryptocurrency every day, according to Atlas VPN.
Some people choose to take their holdings offline and store it in a physical device called a cold wallet, otherwise known as a hardware wallet or cold storage that is similar to a USB stick. While this protects from online attacks you risk losing your holdings.
As with any investment, do your due diligence and don't pin all your hopes on one company or one cryptocurrency.
Spread your money around so you spread the risk and only invest what you can afford to lose.
About Author
Entrepreneur Cum Hairstylist, Millicent Tetteh Starts "Mimi De Hairdresser" In Accra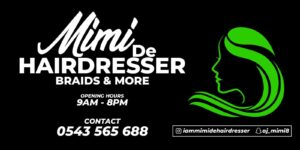 Entrepreneur and professional hairstylist, Millicent Tetteh has commissioned her new office, "Mimi De Hairdresser" in Accra yesterday in a grand style.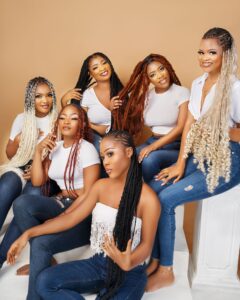 The event which was held on 25th November, 2023 saw bloggers and influencers gracing the occasion. It was indeed a spectacle to behold as many a man were treated with a gracious reception. As for ladies who needed braids and special hair treatment, they were treated pleasingly by the order of the Peaky Blinders on a softer note.
"Mimi De Hairdresser" located in Madina Estate near "Bag  and Save"  supermarket offer the following hair services; extensions, braid caps, installations, braids, nails, pedicure, manicure, piercing, salon services, et al. In fact, they offer all services as far as hair is concerned. They also are available for home services. They open every day from 9AM to 8pm.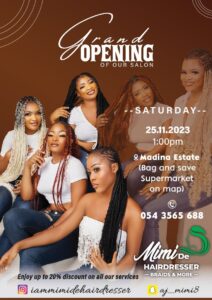 Connect with "Mimi De Hairdresser" on the following social media fora;
Instagram: @iammimidehairdresser
Snapchat: aj_mimi8
Also contact Mimi on 0543565688.
Have a glimpse of the opening event and venue from below.
About Author
Jucad Pharmacy Introduces Kidics Syrups To Boost Babies Appetite To Help Them Grow Well And Healthy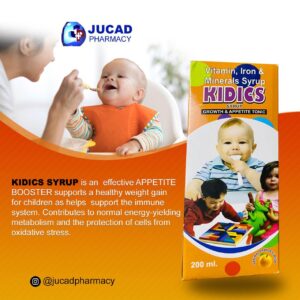 Jucad Pharmacy is one of the trusted registered pharmaceutical companies we have in motherland Ghana, fully registered under the company code 1963 (Act 179) and approved by the Food and Drug Administration (FDA).
Jucad Pharmacy is here again with another quality, affordable, and result-providing pharmaceutical product dubbed 'Kidics Syrup'.
Kidics contains vitamins B and lysine to boost your child's appetite, as well as other multivitamins and minerals that will boost your child's growth and immune system. Babies between the ages of 6 months and 12 years who can't eat well need Kidics Syrup.
For customers in Kumasi, kindly go to Danny Pharma and Osons Chemist; in Accra, distributors should get in touch with Darose Pharmacy, Base Line Pharmacy, & Blepomen Pharmacy. TAKWA: Kekule pharmacy, etc.
KIDICS SYRUP ALSO CONTAINS:
Each 5ml.(One teaspoonful)                                  contains:
Vitamins A palmitate B.P.    1500 IU
Vitamin D3 B.P.          100IU
Vitamin E( Acetate) B.P.     3mg
Vitamin B1 B.P.  1.5mg
Vitamin B2 B.P.   1.5mg
Vitamin B6. B.P.   1mg
Vitamin B12 B.P.   1.5mcg.
Niacinamide B.P.    5mg
Vitamin C B.P.        30mg
D-Panthenol B.P.     2.5mg
L-Lysine Hydrochloride.  U S.P.    40mg
Ferrous Gluconate  B.P.   60mg
eq. to elemental Zinc 5mg.
Magnesium Gluconate U.S.P. 185.41 mg.
eq.to elemental Magnesium 10mg.
Flavored syrupy bas.       q.s.
Overages of vitamins added to compensate loss on storage.
Dosage: As directed by the physician
Storage: Store in a cool,dry place
Protect from light.
Keep all medicines out of reach of children.
SHAKE WELL BEFORE USE.
About Author