Creative Director Of Akoma Scrubs Unveils New Collection On His Birthday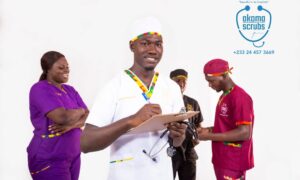 From June 2021, Lynks Klodin has experienced sixteen months of significant progress as the number one trendy medical Scrubs brand, supplying Akoma Scrubs within Ghana, America and the European market.
Akoma scrub draws inspiration from the Ghanaian kente that represents royalty. We create unique unisex designs, and are packaged with a top (name and other details embroidered), one pair of pants (2 side pocket) and a matching hair cover. We however make productions to suit the customer's taste.
Various color options available in different sizes. If your color choice is not in our catalogues, message us to find out if it's available.
The data on sales has grown steadily by forty-five percent monthly, with amazing customer reviews.
The brand is aware of our challenges and opportunities for further development and is committed to making a difference and expanding our market.
We would like to congratulate our hardworking staff for the success chalked so far. To our clients, partners and allies, we say thank you for your valued business and referrals. We value your trust and confidence in us and sincerely appreciate you.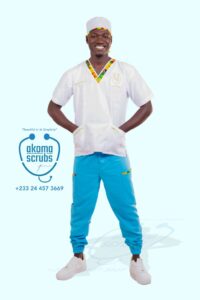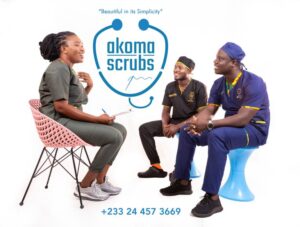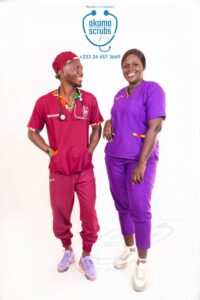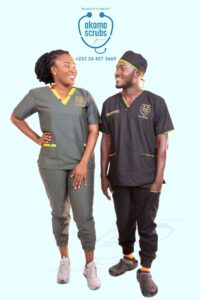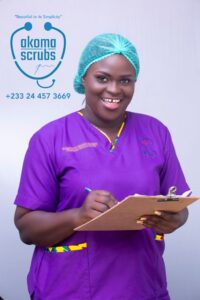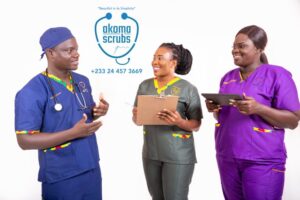 Order Akoma Scrubs from Lynksklodin
Call/ WhatsApp: +233 244 573 669
Email: lynks_klodin@gmail.com.
Facebook Link: https://www.facebook.com/profile.php?id=100068943729998
About Author
SHS Student Changes The Narrative Against Fashion In Central Region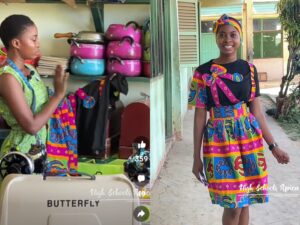 In this era of enterprenuership, it is a blessing to find Ghana endowed with so much talented younglings who will affect the economic society with so much financial exploits in the nearest future through their intrinsic abilities.
One fine young student of Kwegyir Aggrey Senior Technical High School, Muniratu Jibril is fast gaining popularity as one of the best student designers in Central Region. As a Home Science student, her expertise in fashion is unpaired. From creating complex but nice designs and slaying on the runway during fairs is something that wows even her tutors. Her savoir faire abilities can also not be left out.
Although a student, Muniratu is said to be designing clothes for people for functions like weddings, engagements, graduations, et all.
It is due to her prowess that drove High Schools Youtuber, Goshers of High Schools Africa on youtube to do a documentary of Muniratu's creative process and her dreams and aspirations in the future.
Watch from below her conversation with the team of High Schools Africa.
Also checkout the video on Facebook;
https://www.facebook.com/gosherspost/videos/270553301985097/?mibextid=FG1OuXcoECp1WxxK
About Author
Jucad Pharmacy Introduces Kidics Syrups To Boost Babies Appetite To Help Them Grow Well And Healthy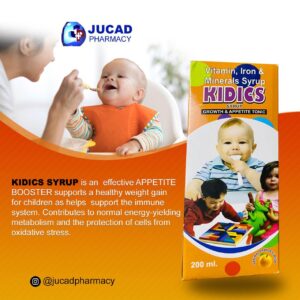 Jucad Pharmacy is one of the trusted registered pharmaceutical companies we have in motherland Ghana, fully registered under the company code 1963 (Act 179) and approved by the Food and Drug Administration (FDA).
Jucad Pharmacy is here again with another quality, affordable, and result-providing pharmaceutical product dubbed 'Kidics Syrup'.
Kidics contains vitamins B and lysine to boost your child's appetite, as well as other multivitamins and minerals that will boost your child's growth and immune system. Babies between the ages of 6 months and 12 years who can't eat well need Kidics Syrup.
For customers in Kumasi, kindly go to Danny Pharma and Osons Chemist; in Accra, distributors should get in touch with Darose Pharmacy, Base Line Pharmacy, & Blepomen Pharmacy. TAKWA: Kekule pharmacy, etc.
KIDICS SYRUP ALSO CONTAINS:
Each 5ml.(One teaspoonful)                                  contains:
Vitamins A palmitate B.P.    1500 IU
Vitamin D3 B.P.          100IU
Vitamin E( Acetate) B.P.     3mg
Vitamin B1 B.P.  1.5mg
Vitamin B2 B.P.   1.5mg
Vitamin B6. B.P.   1mg
Vitamin B12 B.P.   1.5mcg.
Niacinamide B.P.    5mg
Vitamin C B.P.        30mg
D-Panthenol B.P.     2.5mg
L-Lysine Hydrochloride.  U S.P.    40mg
Ferrous Gluconate  B.P.   60mg
eq. to elemental Zinc 5mg.
Magnesium Gluconate U.S.P. 185.41 mg.
eq.to elemental Magnesium 10mg.
Flavored syrupy bas.       q.s.
Overages of vitamins added to compensate loss on storage.
Dosage: As directed by the physician
Storage: Store in a cool,dry place
Protect from light.
Keep all medicines out of reach of children.
SHAKE WELL BEFORE USE.
About Author