Final funeral rites for Nana Ampadu should be held at Kwahu -Obo chief
Kwahu NifaHene and Chief of Obo in Kwahu South Municipal Assembly of the Eastern Region Osabarimah Yeboah Afari-Buagyan is pushing for the final funeral rites for the legendary musician, Nana Kwame Ampadu to be held in his home town Obo.
Speaking in an exclusive interview with Agoo news Ebenezer Kojo Nyavor (K-Lover), the 91yr old Chief said Kwahu and Ghana have lost a great icon that shall forever be remembered as a man of good music.
He, therefore, called on President Nana Addo Dankwah Akufo Addo to make it necessary for the funeral rites to be held in Kwahu adding that, "I will also suggest to the family to hold 40days remembrance instead of the one-week celebration''.
He described the highlife king Nana Kwame Ampadu as a unifier and was popular in Ghana and Nigeria.
Other family members who expressed worry over the news were Abusuapanyin Nana Yaw Boateng and Obo Kyeamen Nana Yeboah Asiamah.
Meanwhile, President Akufo-Addo on his facebook page wrote: "I have learnt, with great sadness, of the death of one of Ghana's musical icons, the legendary high-life artiste, Nana Ampadu.
The outpouring of grief by many Ghanaians, following the news of his death, is an appreciation of the impact his music had on successive generations of Ghanaians. Nana Ampadu believed in my vision for the transformation of Ghana and assisted me tremendously on the campaign trail in the run-up to my victory in the elections of 2016, for which I remain eternally grateful. His was a life well-lived, and he will be sorely missed. My deep condolences to his widow, children and family. Rest in perfect peace, Nana, and may the Almighty keep you in His Bosom until the Last Day of the Resurrection when we shall all meet again. Amen.
Nana Ampadu, da yie, Nyame nfa wo kra nsie."
Nana Kwame Ampadu died on Tuesday 28th September 2021 after a short illness.
About Author
This project is a combination of full fledged vibes. It  talks about feeling a girl's presence but also recognizing that she is trouble. Wanting her to be yours but all she wants is a "la vida loca"  lifestyle.
This track, "Badder Than" tries to send a message across that although the girl portrayed is  is bad but I am badder than. I hope we correlate that this song/track deserves to be heard not by ourselves alone but also by the rest of the world.
Adefila Oluwatimilehin Emmanuel (a.k.a Timmy Vibez) is a DIY
Nigerian Afro-fusion Artist and a Music Producer based in New
York City. This gifted Singer/Rapper stitched from a mixture of R&
B, Afro-beats, Reggae, Hip-Hop, Pop and Dancehall music,
Started his music "professionally" in 2020 performing in shows,
Dropping is first single titled "Flow" in May of 2023, Followed
by
two singles the same year "Brazy" and "Feelings", With his
new song titled "Badder Than" dropping Aug 2, 2023. Timmy
Vibez have build something of worth through self promotion and
hard work.
by Timmy Vibe
About Author
"People Even Have Sex On Atwea Mountains", Angel Obinim Replies Shatana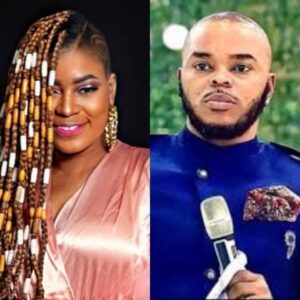 The internet has been full of banters these couple of weeks. One which is fast gaining roots is that of artiste, Shatana and Bishop Obinim's. It has sparked serious concerns outrages on the information super highway.
It has been a week when Shatana alleged that there has been a couple of sex workers plying their trade in front of the House of the Lord, where Bishop Angel Obinim sheperds. When Shatana decided to drive them away from the premises because it is blasphemous, she was met with a mouth gaping  revelation. That Bishop Obinim owned the apartments that housed them (prostitutes), and they had to pay 2000cedis every month or face eviction.
This got to Shatana so much that she released the video and called the Ghanaian christiandom to be up and doing. The video then sparked heavy appeal and reaction.
Bishop Obinim who saw the need to explain the situation because it tarnished his image has responded to the claims made by Shatana. He said indeed he owned the apartments and he has rented it out to girls, some of which are Nigerians, Kenyans, Ghanaians, etc
Bishop Obinim further said although he owned the apartments, he has not given any tenant the power to use it as a brothel. Nonetheless, he explained that he could not control a tenant who decides to use her body for material gains. He also expressed that he has gone to the house to preach to them and pray on countless occasions but to no avail. He further said, people have been desecrating business areas, official and public places, and many more since time immemorial. He gave an example of how once he saw a pastor and his singer having intercourse on Atwea Mountain's Prayer Camp. Lastly, he stated that the said apartments of his was not near the church premises.
Shatana is yet to rebut what Bishop Angel Obinim has said.
Watch the video of what Obinim said and the interview of Shatana explaining how she saw the place.
About Author