Meet "Joseph Ofori Ampomah" The CEO Of Ghanamusicblog Network
Born: AccraJoseph Ofori Ampomah, known professionally as Joseph Ampomah, is a Ghanaian celebrity blogger, Musician and reporter. He founded Ghanamusicblog.net, an entertainment website and blog that primarily publishes Music, Videos, News about Ghanaian celebrities.
CEO: Ghanamusicblog Network (Ghanamusicblog.net)
Education: Stanford University, Springboard College
Nominations: Brong Ahafo Music Awards (Blogger of the Year) / Central Media Awards (Blogger Of The Year)
He is Currently studying web security at the Stanford University – California (USA) [Online]
Joseph Ampomah has worked with bigger Event houses like: Afronation Ghana, Ghana Music Awards USA & S-concert.
He has made significant contributions to several pan-African websites, including Kumikasa.com, exposeafricalive.net, kobiyekanent.com, and Oyinbonaija.com.ng
About Author
SHS Student Changes The Narrative Against Fashion In Central Region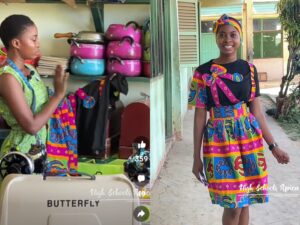 In this era of enterprenuership, it is a blessing to find Ghana endowed with so much talented younglings who will affect the economic society with so much financial exploits in the nearest future through their intrinsic abilities.
One fine young student of Kwegyir Aggrey Senior Technical High School, Muniratu Jibril is fast gaining popularity as one of the best student designers in Central Region. As a Home Science student, her expertise in fashion is unpaired. From creating complex but nice designs and slaying on the runway during fairs is something that wows even her tutors. Her savoir faire abilities can also not be left out.
Although a student, Muniratu is said to be designing clothes for people for functions like weddings, engagements, graduations, et all.
It is due to her prowess that drove High Schools Youtuber, Goshers of High Schools Africa on youtube to do a documentary of Muniratu's creative process and her dreams and aspirations in the future.
Watch from below her conversation with the team of High Schools Africa.
Also checkout the video on Facebook;
https://www.facebook.com/gosherspost/videos/270553301985097/?mibextid=FG1OuXcoECp1WxxK
About Author
Jucad Pharmacy Introduces Kidics Syrups To Boost Babies Appetite To Help Them Grow Well And Healthy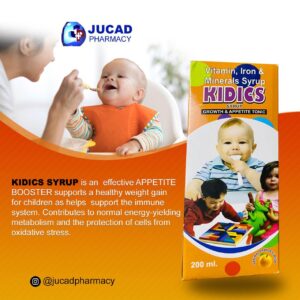 Jucad Pharmacy is one of the trusted registered pharmaceutical companies we have in motherland Ghana, fully registered under the company code 1963 (Act 179) and approved by the Food and Drug Administration (FDA).
Jucad Pharmacy is here again with another quality, affordable, and result-providing pharmaceutical product dubbed 'Kidics Syrup'.
Kidics contains vitamins B and lysine to boost your child's appetite, as well as other multivitamins and minerals that will boost your child's growth and immune system. Babies between the ages of 6 months and 12 years who can't eat well need Kidics Syrup.
For customers in Kumasi, kindly go to Danny Pharma and Osons Chemist; in Accra, distributors should get in touch with Darose Pharmacy, Base Line Pharmacy, & Blepomen Pharmacy. TAKWA: Kekule pharmacy, etc.
KIDICS SYRUP ALSO CONTAINS:
Each 5ml.(One teaspoonful)                                  contains:
Vitamins A palmitate B.P.    1500 IU
Vitamin D3 B.P.          100IU
Vitamin E( Acetate) B.P.     3mg
Vitamin B1 B.P.  1.5mg
Vitamin B2 B.P.   1.5mg
Vitamin B6. B.P.   1mg
Vitamin B12 B.P.   1.5mcg.
Niacinamide B.P.    5mg
Vitamin C B.P.        30mg
D-Panthenol B.P.     2.5mg
L-Lysine Hydrochloride.  U S.P.    40mg
Ferrous Gluconate  B.P.   60mg
eq. to elemental Zinc 5mg.
Magnesium Gluconate U.S.P. 185.41 mg.
eq.to elemental Magnesium 10mg.
Flavored syrupy bas.       q.s.
Overages of vitamins added to compensate loss on storage.
Dosage: As directed by the physician
Storage: Store in a cool,dry place
Protect from light.
Keep all medicines out of reach of children.
SHAKE WELL BEFORE USE.
About Author