"My Voice Is Nicer And I Do Better Gospel Music Than Joe Mettle" – Ras Kuuku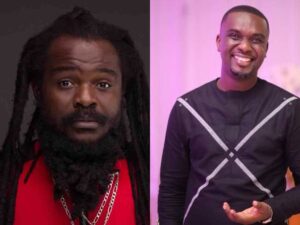 Multiple award winning reggae/ dancehall artiste, Ras Kuuku has stated emphatically that he does better Gospel music more than Joe Mettle, who is a seasoned gospel artiste. He made this  assertion on the "Showbiz Review Show" with Obidombie Adu Kumi on Multimedia's Asempa 94.7 FM last Saturday.
Obidombie had called Ras Kuuku on air to get his reaction on a statement that Gospel Musician, Joe Mettle had made about him (Ras Kuuku) in another interview on Hitz FM. Joe had alleged he did not know Ras Kuuku until he lost his VGMA Award.
Ras Kuuku who came out to debunk Joe's claim said it was rather himself who made that statement some years back when Joe Mettle won the VGMA's "Artiste Of The Year" for 2017. He explained that his utterance which was of no malice then and actually most Ghanaians reiterated the same at the time, might have gotten to the gospel artiste, hence the clap back.
He further geared up to say Joe Mettle should not be feeling full of himself because he Ras Kuuku had a better vocal dexterity than him, knew the life band craft better than him and also did better Gospel songs more than he did, though he is not a Christian.
He even challenged Joe Mettle to a live band performance battle between them for music lovers to adjudge the best one of them. Joe Mettle is yet to reply to Ras Kuuku's wild contentions.
Listen to a snippet of the account from below.
About Author
Slow Down by Fina Gh is finally out
Ghanaian multitalented songstress well known in showbiz as Fina Gh has finally come through with her debut single dubbed Slow Down.
Fina Gh is known to be one of the greatest female songwriters and singers who deliver awesome lyrics. Fina Gh's song is about a young woman facing depression but determined to overcome it. The lyrics explore the challenges of mental health, highlighting the protagonist's resilience.
With emotive lyrics and Fina Gh's soulful vocals, the song delivers a powerful message of hope and perseverance in the face of adversity.
Stream S0ng Here
About Author
Ibien Jah releases Audio and Visuals for "Call Me Oga"
King of asafo music, Ibien Jah has proved another versatility in a brand new Afrocentric single titled "Call Me Oga"
The Africa-traditional sounds blended masterpiece was released on November 12, 2023 together with the visuals on all Digital platforms.
In an exclusive interview with Ras General on RG Exclusive, the 'Mama Cry' hitmaker gave detailed information about the song.
"Call Me Oga identifies the true me moving from grass to grace and blowing my own horns to glorified God. We are in a society where negativity has become the order of the day and good things don't sell so you have to find your own way to show your positive works to the world and the best way to do mine is through music" Ibien Said.
"I know this is very unusual of me because the fans know me for Dancehall, but I realized it's time to project my rich traditional Africa instruments through my music for the other parts of the world to see what we have and this is just one of it" He added.
'Call Me Oga' is currently on all Digital platforms and music outlets.
kindly stream from the links below
Listen to Call Me Oga by IbienJah on Boomplay
About Author