Nana Ama McBrown jealously Speaks About Okyeame Kwame Her Ex
Nana Ama McBrown jealously Speaks About Okyeame Kwame Her Ex, Says She's Proud Of Him
Nana Ama McBrown, a media personality and actress from Kumawood, has intimated that she is comfortable being around her ex-lover Okyeame Kwame.
The Empress made a suggestion that she and the rapper formerly dated before splitting up in an interview with Hammer Nti on Pure FM's Hammer Time.
She pointed out that despite being ex-partners, they are close friends.
She reflected on the good times she had with Okyeame Kwame and said that they accomplished a lot together. She also said that she is extremely proud of him given how far he has come in life.
"We accomplished a lot together, and I'm glad that we both made it out alive. I'm pleased with him and myself. I believe that is how things ought to be. She said to Hammer Nti, "Things shouldn't be messy between people just because a relationship didn't go as planned.
Hammer played an older song by Okyeame Kwame prior to the conversation regarding her former relationship. Te M'ase, the song's title, is from Okyeame Kwame's masterful debut solo album "Bohyeba," which he created in honor of the renowned Kumawood actress.
Mrs. McBrown Mensah and Okyeame Kwame were one of Ghana's most desirable and desirable celebrity couples before they split up in 2004.
ALSO CHECK:Katanga clashes with Conti during their Hall Week Celebration
She spoke candidly about her connection with the 'Woso' hitmaker, pointing out that they simply ever say hello when they meet.
The only time they interact is probably when he watches her on television or maybe when she hears one of his songs, she said, adding that they never actually meet.
There is no animosity between us, and I'm glad he's in my life. He isn't that awful.
Right now, Okyeame Kwame and Annica Nsiah-Apau are blessed with two gorgeous children: a son named Sir Kwame Bota and a daughter named Sante Nsiah Appau.
Maxin Mawushie Mensah, a.k.a. Baby Maxin, is a stunning daughter of The Empress and Maxwell Mensah, whom she is also married to.
About Author
Próstitute Exposes Angel Obinim – Shatana Releases Evidence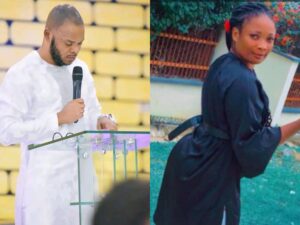 Just a few weeks ago, news came out that popular man of God, Angel Obinim has allowed prostitutes to hawk infront of his church. It was also alleged that these prostitutes rented apartments owned by the man of God, and that the said building was a stone's throw from his church, International God's Way Church, East Legon branch close to School Junction.
The reporter of the story, Shatana, a musician shared a video where she was at the premises, angrily sacking these purported prostitutes from the place of God because it was not right. Upon further probing into the case, Shatana alleged that the prostitutes confessed that they paid a rent fee of 2,000 cedis every month to their landlord, Bishop Daniel Obinim, and that gave them every right and effrontery to ply their trade in front of the church.
Replying to the news, Angel Obinim refuted all the above claims, and rendered them null and void. He even dared Shatana to provide evidence to that effect.
Shatana who seemed not ready to back down from the case took it to another level. She said in an interview on Kingdom FM, monitored by ghvibe.com that all that she said in the video regarding the case was nothing but the truth and she had substantial evidences to buttress it. She further threatened that she was going to drop the evidence she gathered on the case since Angel Obinim has dared her.
True to her word, Shatana has released the said evidence in a form of video on her Instagram page today. In the video, an alleged prostitute who claims to be a tenant in one of the apartments owned by Angel Obinim, and hawks in front of the church's premises is seen confirming the wild claims laid by Shatana.
Watch the video from below.
About Author
S3x shame hits Benkum SHS as video leaks
S3x shame hits Benkum SHS as video leaks
Some students have accused some teachers at Benkum Senior High School (SHS) in the Eastern Region of engaging in sexual activity with them.
The sexual encounter between a student and one of the teachers was captured on camera, and it has already leaked, creating stress in the typically tranquil school setting.
Others involved in the affair have begun speaking out due to mistrust and displays of power. Three teachers were allegedly implicated in the scandal.
ALSO CHECK:Lil Wayne bought his mum a brand new car
The Akropong Police Command has been notified of the incident, and an investigation is proceeding.
The English teacher, one of the teachers implicated, had his or her income stopped when the Akuapem North District and Eastern Regional Education Office formed a committee to look into the situation.
When approached, Isaac Bannie, one of the professors who was reportedly engaged, denied any involvement. He said that he was actually the student's family and not a buddy.
Officials at the Police command and the Office of Education verified the scandal.
Mr. Nyarkoh, the school's headmaster, disclosed that an investigation is being conducted.
The English instructor, Emmanuel Darkoh Mensah, is rumored to have expressed regret to the authorities for the scandal at this time. He is now concerned about death threats after the incident.
My apology
I acknowledge my cowardice. Yes, my actions were motivated by cowardice. The fact that my income was blocked in this extremely challenging economic climate we are currently experiencing, along with the subsequent loss of my work, made me feel insecure and made me waspish, which led me to behave in that way.
In my opinion, the girl destroyed me, so I wanted to make amends. However, my retaliation was excessive and even brought the school's name, teachers, and even students into disrepute. I pray to God to obliterate every painful indelible memory my action has caused everyone involved in this mess.
Yes, I let a schoolgirl drag me down, and now I take every insult and slur that is thrown my way because that is just how life is.
No, I'm not doing this to appease the authorities so they may help me get my job back—highly that's unlikely—but rather to let everyone know how sorry I am for my absolutely absurd behavior.
I'm sorry. I'm sorry for what I've done. I feel worthless right now, like my life isn't worth even a broken kitchen pot.
I made a mistake, so I humbly ask for everyone's pardon, especially the teachers involved. I've behaved in a childish manner and tarnished the school's reputation.
The Adwoa family (not real name) are threatening to kill me, which is, of course the bitterest punishment because I think even incarceration isn't enough for me, death is.
And I really apologize to Mr. Nyarkoh, the headmaster, for creating this mess. I apologize for acting so foolishly after allowing my emotions to make my judgment faulty.
Finally, I want to state once more that my behavior is awful, deplorable, untenable, unethical, absurd, and unfitting, and it merits all criticism and censure.
About Author