Oil prices edge up ahead of OPEC+ meeting to discuss supply cuts
Oil prices edge up ahead of OPEC+ meeting to discuss supply cuts
Tuesday saw a little increase in oil prices as hopes that OPEC+ may agree to a significant reduction in petroleum output when it meets on Wednesday helped to allay concerns about the state of the world economy.
By 0629 GMT, Brent crude futures had increased by more than 4% from the previous day, up 46 cents, or 0.5%, to US$89.32 per barrel.
The price of US crude futures increased by 30 cents, or 0.4%, to US$83.93 per barrel. The benchmark experienced its greatest daily increase since May last session, rising more than 5%.
ALSO CHECK:Asantehene intervenes in Bawku conflict
On Monday, oil prices increased as supply fears resurfaced. Investors anticipate that OPEC and its partners, collectively known as OPEC+, will reduce output by more than 1 million barrels per day (bpd) on Wednesday at their first in-person meeting since 2020.
According to OPEC sources, this could be followed by more voluntary cutbacks made by individual members, making it the biggest reduction since the COVID-19 outbreak began.
OPEC+ has never been this strong and will do all it takes to ensure that prices are supported in this market, according to Edward Moya, a senior analyst with OANDA, in a note.
Following unprecedented production cuts implemented in 2020 as a result of demand damage brought on by the COVID-19 pandemic, OPEC+ has increased output this year.
But the organization has recently fallen short of its targets for output growth, missing in August by 3.6 million bpd. "While OPEC+ may declare a significant cut (over 1 million bpd), the actual cut may be substantially smaller. This is because most OPEC+ members produce far less than their desired levels of output, "In a note, analysts at ING stated.
According to Goldman Sachs, the sudden drop in oil prices from recent highs justified the production cut that was being discussed, reinforcing its optimistic oil outlook.
According to Tina Teng, an analyst at CMC Markets, worries over the global economy could limit the upside as investors try to cash in on gains from the previous session.
Teng stated that there are still "uncertainties in the world markets, such as the volatility in the bond market, the sell-off in risk assets, and a surging U.S. currency."
Oil prices have fallen for four months in a row as COVID-19 lockdowns in the world's biggest oil consumer China restrained consumption and pressure from rising interest rates and a strong currency on international financial markets. The most aggressive wave of rate increases by major central banks in decades has begun, raising concerns about a slowdown in the world economy.
According to a preliminary Reuters poll released on Monday, the amount of U.S. crude oil stocks rose by almost 2 million barrels in the week leading up to September 30.
About Author
Entrepreneur Cum Hairstylist, Millicent Tetteh Starts "Mimi De Hairdresser" In Accra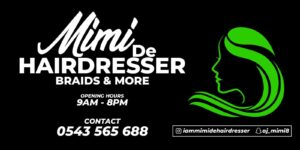 Entrepreneur and professional hairstylist, Millicent Tetteh has commissioned her new office, "Mimi De Hairdresser" in Accra yesterday in a grand style.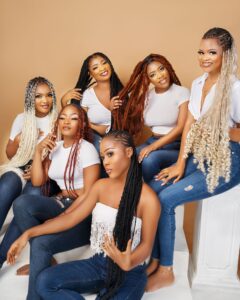 The event which was held on 25th November, 2023 saw bloggers and influencers gracing the occasion. It was indeed a spectacle to behold as many a man were treated with a gracious reception. As for ladies who needed braids and special hair treatment, they were treated pleasingly by the order of the Peaky Blinders on a softer note.
"Mimi De Hairdresser" located in Madina Estate near "Bag  and Save"  supermarket offer the following hair services; extensions, braid caps, installations, braids, nails, pedicure, manicure, piercing, salon services, et al. In fact, they offer all services as far as hair is concerned. They also are available for home services. They open every day from 9AM to 8pm.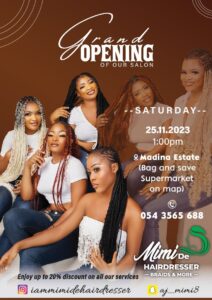 Connect with "Mimi De Hairdresser" on the following social media fora;
Instagram: @iammimidehairdresser
Snapchat: aj_mimi8
Also contact Mimi on 0543565688.
Have a glimpse of the opening event and venue from below.
About Author
Jucad Pharmacy Introduces Kidics Syrups To Boost Babies Appetite To Help Them Grow Well And Healthy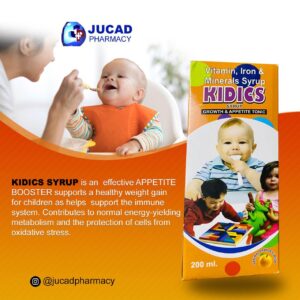 Jucad Pharmacy is one of the trusted registered pharmaceutical companies we have in motherland Ghana, fully registered under the company code 1963 (Act 179) and approved by the Food and Drug Administration (FDA).
Jucad Pharmacy is here again with another quality, affordable, and result-providing pharmaceutical product dubbed 'Kidics Syrup'.
Kidics contains vitamins B and lysine to boost your child's appetite, as well as other multivitamins and minerals that will boost your child's growth and immune system. Babies between the ages of 6 months and 12 years who can't eat well need Kidics Syrup.
For customers in Kumasi, kindly go to Danny Pharma and Osons Chemist; in Accra, distributors should get in touch with Darose Pharmacy, Base Line Pharmacy, & Blepomen Pharmacy. TAKWA: Kekule pharmacy, etc.
KIDICS SYRUP ALSO CONTAINS:
Each 5ml.(One teaspoonful)                                  contains:
Vitamins A palmitate B.P.    1500 IU
Vitamin D3 B.P.          100IU
Vitamin E( Acetate) B.P.     3mg
Vitamin B1 B.P.  1.5mg
Vitamin B2 B.P.   1.5mg
Vitamin B6. B.P.   1mg
Vitamin B12 B.P.   1.5mcg.
Niacinamide B.P.    5mg
Vitamin C B.P.        30mg
D-Panthenol B.P.     2.5mg
L-Lysine Hydrochloride.  U S.P.    40mg
Ferrous Gluconate  B.P.   60mg
eq. to elemental Zinc 5mg.
Magnesium Gluconate U.S.P. 185.41 mg.
eq.to elemental Magnesium 10mg.
Flavored syrupy bas.       q.s.
Overages of vitamins added to compensate loss on storage.
Dosage: As directed by the physician
Storage: Store in a cool,dry place
Protect from light.
Keep all medicines out of reach of children.
SHAKE WELL BEFORE USE.
About Author