Popular Kumawood Actress goes mad
Popular Kumawood Actress goes mad
Kumawood actress Bernice Asare has been spotted in a new video, losing her mind as she describes her ordeal.
After being posted on TikTok, the video was then shared on her other social media channels.
Her admirers and bloggers have also reposted the video.
ALSO CHECK:J Lo and Ben Affleck hold a luxurious estate wedding
She had been done up for a role in a future project because the particles on her face looked like makeup art.
The actress was seen singing and dancing while wearing filthy white clothing while in an exuberant mindset.
When asked how she became angry, she responded that she had taken someone's lover and deserved it.
About Author
"Prove To Me If The Prostitutes Are Staying In My Apartment" – Bishop Daniel Obinim Dares Shatana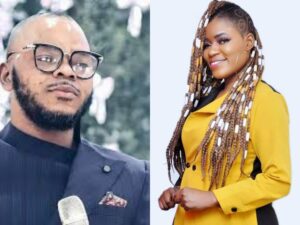 These couple of weeks have seen musician Shatana, go back and forth with leader of International God's Way Church, Bishop Daniel Obinim over a video that surfaced around the same time.
The video which was taken by Shatana saw some alleged number of prostitutes plying their trade in front of Bishop's church. To add salt to injury, these alleged prostitutes purported that they lived in one of Obinim's apartment s which were a few blocks from the church's premises.
They also claimed, they had to pay 2,000cedis to foot the rent fee of the room. Shatana explained this situation in an interview on Kingdom FM last week.
Bishop Obinim who saw this as demeaning has rebutted the allegations fiercely with explanations. At a church sermon last week in his church, he expressed that the stories are all untrue and cooked. He further dared Shatana to provide evidence if she thinks her story is true.
This is the third time Angel Obinim has responded to the story. Well, Shatana is yet to counter what Bishop has said.
Watch exactly what Bishop Daniel Obinim said in the video below.
About Author
"People Even Have Sex On Atwea Mountains", Angel Obinim Replies Shatana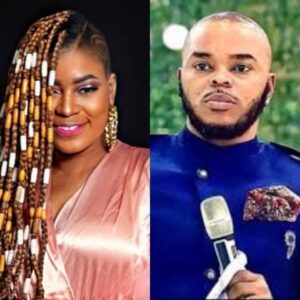 The internet has been full of banters these couple of weeks. One which is fast gaining roots is that of artiste, Shatana and Bishop Obinim's. It has sparked serious concerns outrages on the information super highway.
It has been a week when Shatana alleged that there has been a couple of sex workers plying their trade in front of the House of the Lord, where Bishop Angel Obinim sheperds. When Shatana decided to drive them away from the premises because it is blasphemous, she was met with a mouth gaping  revelation. That Bishop Obinim owned the apartments that housed them (prostitutes), and they had to pay 2000cedis every month or face eviction.
This got to Shatana so much that she released the video and called the Ghanaian christiandom to be up and doing. The video then sparked heavy appeal and reaction.
Bishop Obinim who saw the need to explain the situation because it tarnished his image has responded to the claims made by Shatana. He said indeed he owned the apartments and he has rented it out to girls, some of which are Nigerians, Kenyans, Ghanaians, etc
Bishop Obinim further said although he owned the apartments, he has not given any tenant the power to use it as a brothel. Nonetheless, he explained that he could not control a tenant who decides to use her body for material gains. He also expressed that he has gone to the house to preach to them and pray on countless occasions but to no avail. He further said, people have been desecrating business areas, official and public places, and many more since time immemorial. He gave an example of how once he saw a pastor and his singer having intercourse on Atwea Mountain's Prayer Camp. Lastly, he stated that the said apartments of his was not near the church premises.
Shatana is yet to rebut what Bishop Angel Obinim has said.
Watch the video of what Obinim said and the interview of Shatana explaining how she saw the place.
About Author