Rany Dopesongz Strikes Gold Again With 'Sad People' Release
Ghanaian artiste Rany Dopesongz has recently unveiled his latest track, 'Sad People,' further solidifying his reputation as a multi-award-winning and exceptionally versatile rising star. With previous chart-toppers like 'Badgyal' and 'Sika Ye Abrantie,' which earned him the coveted Eastside song of the year award in both 2021 and 2023, Rany Dopesongz has proven his musical prowess time and again.
As a gifted singer, Rany Dopesongz possesses a remarkable ability to adapt his vocal style to suit various genres, making him a standout talent in the music industry. 'Sad People' showcases his silky vocals, combined with the modern HipHop style, delivering a message about the struggles faced by ordinary Ghanaians and the failures of the political system. The song raises important questions about the prospects of a better tomorrow, resonating deeply with listeners and compelling them to reflect on the current state of affairs.
The captivating composition of 'Sad People' makes it an instant favorite, drawing listeners in with its thought-provoking lyrics and engaging melody. Rany Dopesongz's ability to blend powerful storytelling with his versatile vocal cords results in an unforgettable piece that listeners will want to replay over and over again. With this latest release, Rany Dopesongz continues to impress and leave an indelible mark on the Ghanaian music scene. Check out this new song below.
About Author
Ade3f3 Kwakye – Give Me Chance (Ma Me Kwan) Ft Mr Willy (Prod by Wapicolo)
Ghanaian based in USA Highlife musician, Ade3f3 Kwakye has finally bounced in the music industry with his new awesome tune which he captioned as Give Me Chance, which literally means (Ma Me Kwan).
Ade3f3 Kwakye has a unique style which makes him extraordinary and has pledged with all music lovers to keep toes with him as he began his music journey.
On this new masterpiece produced by Wapicolo, he featured on Mr Willy to deliver a love message through their lyrics.
Kindly listen to the song below and share as well
Stream on BOOMPLAY
Download mp3 below
About Author
Lord Phylo Releases New Jam Dubbed "Amen"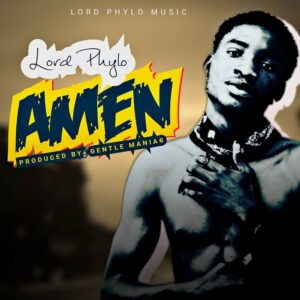 Young emerging music artiste, Lord Phylo has released a fresh song he titles, "Amen". Lord Phylo prays in for God's favor and grace for a breakthrough because he as a breadwinner has suffered although he is putting in his all.
The song as produced by Gentle Maniac is an Afrobeats cum hiplife sound that will get you motivated.
Without much ado, I present to you, "Amen"  by Lord Phylo. Stream, enjoy and share from below.
About Author