Sachet water prices to go up today
Sachet water prices to go up today
Sachet and bottled water prices in Ghana will increase starting today, Monday, October 31, 2022.
This is in response to the National Association of Sachet and Packaged Water Producers' request that sachet water prices increase by 60 pesewas.
ALSO CHECK:South Korea Halloween stampede: Seoul crush killed at least 151 lives. (video)
Additionally, it was suggested that 500 ml bottles of water be sold for GHC 2.50, 750 ml bottles of water or medium-sized bottles for GHC 3.50, and 1.5 l bottles of water for GHC 5.
The Association attributed the hike to growing fuel costs and other input costs.
For instance, it stated that the Ghana Plastic Manufacturers Association (GPMA) has announced new costs for the plastic films and preforms used in the packaging of sachets and bottles of water.
Prior to today, prices last increased on September 19.
Businesses have had a lot of trouble with the cedi's devaluation, and several sachet and packaged water makers threatened to stop making and distributing water if the government didn't do anything to stop the currency's wild slide.
About Author
Poor Sanitation In Winneba Calls For Major Concern
In recent times, a significant health risk has emerged in Winneba due to inadequate sanitation practices. Winneba, a town and the capital of the Efutu Municipality in the Central Region of Ghana, is home to a population of 55,331 individuals who are grappling with the adverse effects of subpar sanitation conditions. The availability of safe drinking water and proper sanitation facilities have become a pressing concern. Presently, Winneba is contending with a marked decline in environmental sanitation, notably in areas like Akosua village, Eyipey, Sankor, and Sekegyano.
The poor state of sanitation in Winneba can be attributed to several underlying factors. Firstly, the absence of adequate sanitation facilities, including proper toilets and latrines, in both rural and urban areas is a matter of significant concern that requires immediate attention and resolution. The dearth of toilet facilities in Winneba has precipitated open defecation practices and contributed to substandard environmental hygiene. The consequences of open defecation, when combined with soil, lead to environmental pollution, water contamination, and, consequently, an elevated risk of diseases and fatalities.
Economically, the annual losses incurred due to poor sanitation amount to a range between 1% and 2.5% of the Gross Domestic Product (GDP). It is essential to recognize that the actual cost could potentially surpass these estimates, as they encompass only the losses linked to premature mortality, healthcare expenditures, diminished productivity, and time wasted due to the practice of open defecation.
Secondly, the improper disposal of solid waste has inflicted severe damage on the local environment. The littering of materials in the streets, lanes, and gutters has precipitated a sanitation crisis in Winneba. This habit of indiscriminate littering have adversely impacted the lives of the residents. The absence of effective waste disposal planning at the grassroots level, the inadequacy of policy implementation, and the lack of awareness are formidable obstacles to the improvement of sanitation standards.
Furthermore, the rapid surge in Winneba's population has placed an overwhelming strain on the existing sanitation infrastructure. The increasing number of households and schools lack the necessary facilities to manage their sanitation needs. Consequently, both adults and children endure the consequences of inadequate sanitation provisions.
To address these challenges, a multifaceted approach is imperative. Initiatives must be launched to stimulate the demand for sanitation services. This entails the implementation of measures by those in authority to employ individuals tasked with cleaning the environment to foster a healthy and hygienic sanitation ecosystem. Additionally, the adoption of pit latrines, where human waste is collected in pits beneath toilets and left to decompose, along with the utilization of bio-toilets or waterless toilets, offers sustainable solutions that conserve water resources while advancing sanitation objectives.
Moreover, the provision of strategically placed dustbins in various towns and beaches, such as Eyipey, Sekegyano, Akosua Village, Sankor, Sir Charles Beach, Royal Beach, and Warabeba Beach, is crucial for effective waste management.
In conclusion, the promotion of sound sanitation behavior is paramount to ensuring the well-being of Winneba's residents. Nevertheless, it is essential to emphasize the importance of consistently practicing good sanitation principles and policies to effect lasting change and safeguard public health.
About Author
The family of Kwadwo Opoku Boateng Wishes To Say Thank You To The General Public, Friends,Family And All Sympathisers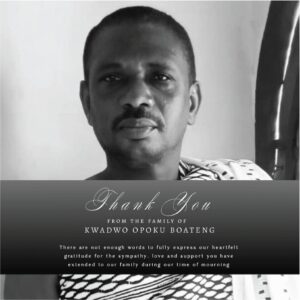 The family, wife, and children of the late Mr.Kwadwo Opoku Boateng extend their profound gratitude to chiefs of the Atonsu-Dompoase community, leadership, and membership of the Freeman Methodist Church, the NPP caucus, Rickens Construction Company, Friends and sympathizers who mourned with our noble family as they laid their beloved son, brother, husband, and father to rest.
"If truly the good deeds of men are to be judged by their deeds and the love showed them during their last days, then the enormous love and emotions showed by you all over the weekend as we laid Mr.Kwadwo Opoku Boateng to a peaceful rest is priceless".
"We appreciate you all and by this medium express our sincere admiration and gratitude for your love, donations, presence, and words of encouragement. May the good lord bless you all bountifully and replace whatever resource you used at our expense".
God bless you all
About Author