"Sake Of Love" Attains Yet Another Milestone As It Features On Multiple Music Charts
"Sake Of Love", a contemporary highlife song from versatile Highlife cum Afrobeat artiste, Charles Fanti is gradually taking the music scene in Ghana by storm.
The song which was released just a few months ago has since been granted massive airplay on both radio and in the streets. It was of no wonder when it featured and climbed to the number 3 spot on Ark FM's music countdown chart some few days ago.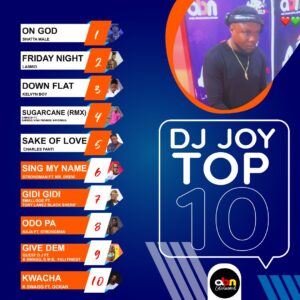 As if that was not enough, " Sake Of Love" has made it to DJ Joy's top 10 music countdown show on ABN radio. It peaked number five on the chart.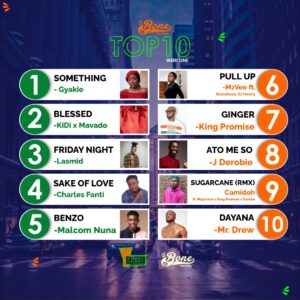 At the same time it has also been featured on DJ Bone's top ten trending songs in Ghana on Y FM 107.9 Mhz . It also has the fourth position on this chart.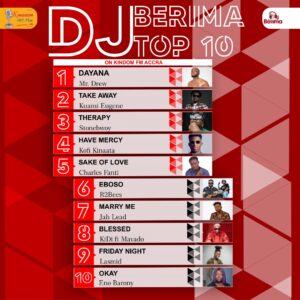 Lastly, the song has again found it's way on DJ Berima's top ten music chart on Kingdom 107.7 Fm, Accra. The song chalked the number five position on this chart too.
With the fast pace Charles Fanti's "Sake Of Love" is surging, it will be no wonder when it becomes one of the best songs in and outside Ghana soon.
Download, listen, enjoy and share the song from below.
About Author
Chancellor 1 Of Global Home Entertainment Donates To Kumasi Children's Home
Global Home Entertainment's signee Mr Raphael Lawson popularly known as Chancellor 1 has visited and donated to the Kumasi Children's Home in the Ashanti region, last Tuesday, September 5, 2023.
The items he gave to the orphanage included bags of rice, bags of sachet water, tins of milk, soft drinks, gallons of oil, Indomie noodles, soaps, washing powder, and many more.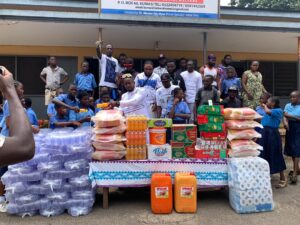 Speaking to Opemsuo Radio's Kwame Owusu Achiaw, the artiste said the gesture was part of his Corporate Social Responsibility (CSR).
"This is not my first time donating to the needy. I have been doing it in various regions like the Greater Accra, Eastern, Central and among others."
The items were received by Madam Mabel Boamah, the manageress of the Kumasi Children's Home who showed gratitude and appreciation to artiste and his institution.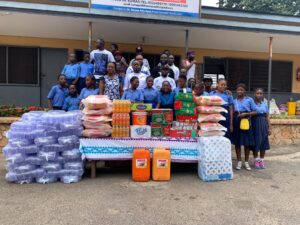 She encouraged the public to make it a point to embark on such ventures to compliment the government's effort. "You can even pass by and say hello to the children." This, she said, will help put a smile on the children's face.
Chancellor 1 opens up his 2023 discography with his emphatic debut anthem 'don't go there,' – a modern reggae dancehall track which is enveloped in all the suited elements of an incessantly catchy Afro dancehall track.
Featuring the esteemed fellow artiste, Owura Kwaku, 'Don't Go There,' is a predominantly solo project featuring production from the prestigious KE Beatz. With the intention to 'portray old African culture game and mix it with
amapiano music & dance,' 'Don't Go There,' is the ideal single to soundtrack the end of summer.
Checkout the song from below.
Also follow Chancellor 1 on the following social media fora;
Instagram – @chancellormasha
Facebook – Badu Agyemang Lawson
Story: Hajara Fuseini
About Author
Meet Ideas Mufasa, An Afable Upcoming Music Who Doubles As A Nurse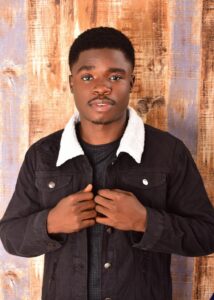 Fast emerging rap artiste, Ideas is the next big thing to come out of Ghana. The young rapper specializes in trap and drill cultures, although his versatility is up the roof.
Born on the 24th of August 1992, Ideas, christened Isaac Oppong Agyare hails from Kintampo in the Bono East Region of Ghana. Born to Mrs. Ophelia Sarkodie and Mr. Michael Oppong Agyare, Ideas has always loved music, even in infancy.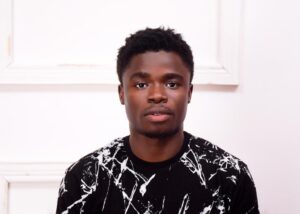 Ideas had his basic education in Kings and Queens International School, which is located in Buokrom, Kumasi. He furthered on for his high school education at Kings College, around the same town. He then continued at Community Health Nursing and Midwifery Training, Sunyani Tanoso, where he had his nursing diploma. Ideas works as a professional nurse and a musician now.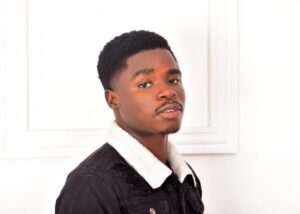 Ideas started his music journey from church  where he was a member of his church's choir. He was also much inspired by highlife and reggae music because his father who is an ardent listener of these two genres blasted them always at home. Also, his biggest influence is from his grandfather, Nana Tufffour, a renowned highlife music veteran.
Ideas got into music professionally in 2021 when he recorded his first song, "Abo Ano" which featured, young dancehall art, Lewa. The song which enjoyed massive playtime on music outlets in and around Kumasi was alarming for a first timer. He has since then worked on so many amazing songs that also cut the mark.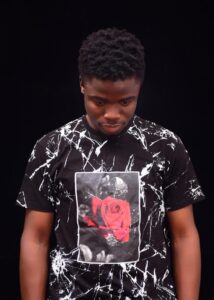 Ideas aspires to become as enlightened, well patronized and bright like American rapper, Roddy Ricch. He is then working hard to achieve this great feat. Although self funded for now, Ideas sees himself becoming the next big thing from Ghana in a couple of years to come.
Follow, get in touch and react with Ideas on the following social media fora.
Facebook – Ideas Mufasa
 Instagram – Ideas_Mufasa
Twitter – Ideas Mufasa
Tik Tok – Ideas Mufasa
YouTube – Ideas Mufasa
About Author