Shatana Is The Queen Of Conscious Music – Air Commander Opines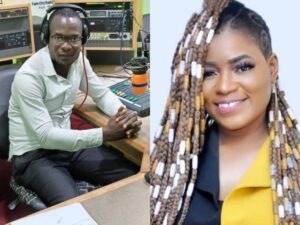 Talented songstress Ranaya Pappoe, known in the showbiz circles as Shatana has been declared as the queen of conscious music in Ghana.
Shatana is one of Ghana's most iconic and beloved figures whose song preaches peace, unity and women empowerment.
According to broadcast journalist , Stephen Gidimajor affectionately called Air Commander, Shatana is the Queen of Conscious music in Ghana.
Air Commander speaking on his drive-time show aired on Ghana Broadcasting Corporation's Twin City Radio in Takoradi, asserted that Shatana's style of music is unique and carries wisdom blended with authentic melodies therefore she deserves to be crowned the queen of conscious music in Ghana.
Shatana's music transcends just merely being entertaining but fast becoming a vehicle for many Ghanaian societies to confront the harsh realities of life and overcome different challenges faced in the country.
Throughout Shatana's career, her positive and uplifting attitude toward life highly reflects in her music.
In addition to Shatana's involvement in music, she has also used her platform as a powerful voice to empower women and create the much needed change.
As a result of her work, Shatana is gradually becoming a household name in Ghana and an icon of conscious music. Her music is a beacon of light, illuminating mindsets and inspiring the youth to take up beneficial tasks and overcome the challenges they are facing in life.
Checkout Shatana's newest visuals of her viral song "Lipo Lipo " from below.
Source : Christopher Agbodo Ranson /Virgin Blogger /www.modernafricaonline.com
About Author
Slow Down by Fina Gh is finally out
Ghanaian multitalented songstress well known in showbiz as Fina Gh has finally come through with her debut single dubbed Slow Down.
Fina Gh is known to be one of the greatest female songwriters and singers who deliver awesome lyrics. Fina Gh's song is about a young woman facing depression but determined to overcome it. The lyrics explore the challenges of mental health, highlighting the protagonist's resilience.
With emotive lyrics and Fina Gh's soulful vocals, the song delivers a powerful message of hope and perseverance in the face of adversity.
Stream S0ng Here
About Author
Ibien Jah releases Audio and Visuals for "Call Me Oga"
King of asafo music, Ibien Jah has proved another versatility in a brand new Afrocentric single titled "Call Me Oga"
The Africa-traditional sounds blended masterpiece was released on November 12, 2023 together with the visuals on all Digital platforms.
In an exclusive interview with Ras General on RG Exclusive, the 'Mama Cry' hitmaker gave detailed information about the song.
"Call Me Oga identifies the true me moving from grass to grace and blowing my own horns to glorified God. We are in a society where negativity has become the order of the day and good things don't sell so you have to find your own way to show your positive works to the world and the best way to do mine is through music" Ibien Said.
"I know this is very unusual of me because the fans know me for Dancehall, but I realized it's time to project my rich traditional Africa instruments through my music for the other parts of the world to see what we have and this is just one of it" He added.
'Call Me Oga' is currently on all Digital platforms and music outlets.
kindly stream from the links below
Listen to Call Me Oga by IbienJah on Boomplay
About Author