SIM Card re-registration ends today
SIM Card re-registration ends today
Millions of Ghanaians could have their SIM cards disconnected by mobile network operators starting on Saturday, October 1, 2022, unless the National Communications Authority steps in at the last minute (NCA).
This is due to the fact that the deadline extension for the SIM card re-registration exercise expires today, Friday, September 30, 2022.
This implies that as of today, no SIM cards that have not been registered can be used to make calls or access internet data services.
The election, which started in October 2021, has had a number of difficulties, including low turnout, broken registration equipment, and applicants' failure to obtain the Ghana card.
ALSO CHECK:Nana Aboagye – Ayeyi
The re-registration exercise was initially supposed to expire on March 31, 2022, however it was later postponed by four months, ending in September.
There have been requests from both people and organizations for the registration process to continue or the deadline to be further extended.
To ensure compliance, the NCA introduced a number of punitive measures against subscribers who had neglected to register their SIM cards by September 5, 2022.
A sequential batch of numbers' outgoing calls and data services were, on a rotating basis, restricted for two days each week.
However, the directive faced opposition from individuals, organizations, and political parties. The opposition National Democratic Congress (NDC) referred to the directive as illegal.
Many subscribers are likely to lose service as they struggle to obtain the Ghana Card, which is the only form of identification required to reregister SIM cards.
The National Identification Authority reported that as of early this month (September), over two million eligible Ghanaians had not yet registered for their Ghana cards.
The NIA further stated that it would not be able to register every eligible person in time for the SIM card re-registration deadline.
"NIA cannot register those folks in any way. Physically speaking, it is not conceivable.
"We had stated that it was not doable back in March. I have compared it to expecting a maiden to give birth to a child every three months.
The physical and logistical infrastructure was not intended to react in that way. At a press conference, NIA Executive Secretary Professor Kenneth Attafuah stated, "We cannot do that.
The destiny of individuals who have failed to re-register their SIM cards appears to be in jeopardy given the NCA's adamant refusal to extend the deadline.
Nine people have, in the meantime, filed lawsuits against the NCA about its instructions on SIM card re-registration.
About Author
This project is a combination of full fledged vibes. It  talks about feeling a girl's presence but also recognizing that she is trouble. Wanting her to be yours but all she wants is a "la vida loca"  lifestyle.
This track, "Badder Than" tries to send a message across that although the girl portrayed is  is bad but I am badder than. I hope we correlate that this song/track deserves to be heard not by ourselves alone but also by the rest of the world.
Adefila Oluwatimilehin Emmanuel (a.k.a Timmy Vibez) is a DIY
Nigerian Afro-fusion Artist and a Music Producer based in New
York City. This gifted Singer/Rapper stitched from a mixture of R&
B, Afro-beats, Reggae, Hip-Hop, Pop and Dancehall music,
Started his music "professionally" in 2020 performing in shows,
Dropping is first single titled "Flow" in May of 2023, Followed
by
two singles the same year "Brazy" and "Feelings", With his
new song titled "Badder Than" dropping Aug 2, 2023. Timmy
Vibez have build something of worth through self promotion and
hard work.
by Timmy Vibe
About Author
"People Even Have Sex On Atwea Mountains", Angel Obinim Replies Shatana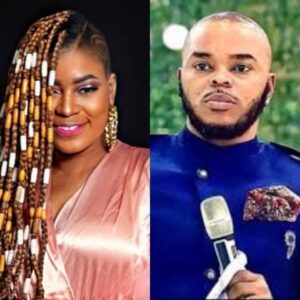 The internet has been full of banters these couple of weeks. One which is fast gaining roots is that of artiste, Shatana and Bishop Obinim's. It has sparked serious concerns outrages on the information super highway.
It has been a week when Shatana alleged that there has been a couple of sex workers plying their trade in front of the House of the Lord, where Bishop Angel Obinim sheperds. When Shatana decided to drive them away from the premises because it is blasphemous, she was met with a mouth gaping  revelation. That Bishop Obinim owned the apartments that housed them (prostitutes), and they had to pay 2000cedis every month or face eviction.
This got to Shatana so much that she released the video and called the Ghanaian christiandom to be up and doing. The video then sparked heavy appeal and reaction.
Bishop Obinim who saw the need to explain the situation because it tarnished his image has responded to the claims made by Shatana. He said indeed he owned the apartments and he has rented it out to girls, some of which are Nigerians, Kenyans, Ghanaians, etc
Bishop Obinim further said although he owned the apartments, he has not given any tenant the power to use it as a brothel. Nonetheless, he explained that he could not control a tenant who decides to use her body for material gains. He also expressed that he has gone to the house to preach to them and pray on countless occasions but to no avail. He further said, people have been desecrating business areas, official and public places, and many more since time immemorial. He gave an example of how once he saw a pastor and his singer having intercourse on Atwea Mountain's Prayer Camp. Lastly, he stated that the said apartments of his was not near the church premises.
Shatana is yet to rebut what Bishop Angel Obinim has said.
Watch the video of what Obinim said and the interview of Shatana explaining how she saw the place.
About Author