Twins born with same sex organs drops out of school,hides in bush due to stigma
They were born in 1993 at a village in Yilo Kobo Municipality in the Eastern Region with a rare disorder of sexual differentiation that is; they have both female and male reproductive organs.
Due to the condition of the twins, their parents were thrown into a state of confusion over their gender but upon advice, gave the twins feminine names – Akweley and Akorkor, pierced their ears to wear earrings and wore female attires.
However, as they grow up with their hormones and biological make-up developing, these twins feel and physically appear to be male than females hence opted for a change of gender, names and the dress they wear.
But they faced resistance from both family and teachers. The situation coupled with stigma forced them to drop out of school at class six.
"Our Parents say they discovered that we have female and a bit of male organs. But we were declared females and were named Akweley and Akorkor. But when we grew up we saw ourselves as males. So we were reluctant to wear female uniforms to school, we insisted they wear us male uniforms but the school authorities too resisted. So we dropped out of school at class 6".
Akweley and Akorkor have lived with the condition and stigma without any clinical support.
The psychological stress, however, didn't deter them from pursuing their football career. One of the twins had a call up to join the Black Queens of Ghana, under 20 team, however was dropped after his condition was detected by a medical doctor assigned to declare the gender.
"We were very good footballers so we relocated and joined a football club at Sekesua. I got a call up to Black Queens under 20. They called a doctor and the doctor came to the camp and examined us and said I am a male so they dropped me from the squad".
The twins have since been striving to learn a vocation to make a living, however, quit due to stigmatization.
Unable to bear the stigma of relatives and neighbours they continue to relocate from one village to another to hide and farm for a living.
The only person who gave them hope was their father but his death on July 20, 2018, has left them hopeless.
These intersex twins say they continue to have suicidal thoughts.
"We are suffering from stigma so unable to live in one community. People pointing their fingers at us. Our family too is stigmatizing against us. So now we are hiding in villages. We don't stay in one place for long. We even ditched learning driving because of the stigma. Sometimes suicide thoughts come to our minds. Sometimes they call as evil Children," the twins told Starr FM's Eastern regional correspondent Kojo Ansah.
The twins want the sexual disorders corrected but cannot afford the medical process hence appealing for public Support to undergo the necessary medical procedures.
"We sometimes feel pains below our abdomen. We see ourselves as men now we want our names changed from females to males. We also want public support and NGOs to help us undergo the necessary surgical procedures"
Statement by Dr.Yirenky a Urologist
Dr Frank Yirenkyi, a healthcare practitioner and Urologist at the Eastern Regional Hospital, Koforidua who examined the condition of the twins said they have rare congenital which could be corrected through a complex medical procedure.
"We have done a lot of investigations about them, physically examined them and we found out that physically they appear to be male but it is very unfortunate when they were given birth at the initial stages their parents thought they are females because they were more prone to female physical appearances, but as they are growing now we can see that from the facial outlook they look like males, they have a beard, their breast is not well developed but when it comes to their genitalia, we found out that they have both vagina and a penis which is well developed per our investigations," He said.
"Our preliminary investigations show that their hormones are more prone to male sex because there have a high level of testosterone in them but the further investigations also show that they have undeveloped uterus and ovaries. They have undescended testicles and well-developed penis and vagina"
He said the condition could be corrected but "In such conditions, we don't need only one doctor, we need a team of doctors before we can do the operation on them. We need a pediatrist neurologist, entrap neurologist, and psychologist to psych their minds and a primary health worker to take care of their day to day activities. They need further hormonal therapy as well as a surgical intervention to assist them to win. These days there can be a reconstructive surgery so that we can reconstruct the penis, reconstruct the undescended testicles and close the vagina".
Dr. Yirenkyi stressed that conditions like this should guide society on policymaking just so laws are not passed to affect them.
"The society needs to be tolerant towards such people because before people may choose to be part of these group, people must really understand them to find out why they are in this situation because I have seen several peoples in such condition and sometimes they are being stigmatized. It is only a few people who can come out and report to the health care personnel so that their problem can be treated. So the LGBTQ+ that we are talking about I think the society needs to help them understand their problems and be tolerant to them and help solve their problem."
Advise to Parents
Dr Frank Yirenkyi advised parents that "as soon as they give birth to their children, they should take a critical look at their genitalia so that they can examine it in the hospital so that if there is anything unusual the health care personnel can investigate it right at the infant stage for it to be corrected to help the parents know the type of name to be given to the child. For instance, if the person is of mixed genitalia, and you give the person a particular name and later you find out that is the opposite direction then that is when the people in the community stigmatize against them."
He said pregnant women must be cautious about the type of drugs they take during pregnancy so that it does not affect the hormones of their children.
"These are hormonal disorders that affect the chromosomes so we need to be careful about the type of medicine or drugs we take in when we are pregnant. All these can affect and their hereditary also so that if we are aware that there is such disorder in a particular family then one has to be careful in choosin
About Author
This project is a combination of full fledged vibes. It  talks about feeling a girl's presence but also recognizing that she is trouble. Wanting her to be yours but all she wants is a "la vida loca"  lifestyle.
This track, "Badder Than" tries to send a message across that although the girl portrayed is  is bad but I am badder than. I hope we correlate that this song/track deserves to be heard not by ourselves alone but also by the rest of the world.
Adefila Oluwatimilehin Emmanuel (a.k.a Timmy Vibez) is a DIY
Nigerian Afro-fusion Artist and a Music Producer based in New
York City. This gifted Singer/Rapper stitched from a mixture of R&
B, Afro-beats, Reggae, Hip-Hop, Pop and Dancehall music,
Started his music "professionally" in 2020 performing in shows,
Dropping is first single titled "Flow" in May of 2023, Followed
by
two singles the same year "Brazy" and "Feelings", With his
new song titled "Badder Than" dropping Aug 2, 2023. Timmy
Vibez have build something of worth through self promotion and
hard work.
by Timmy Vibe
About Author
"People Even Have Sex On Atwea Mountains", Angel Obinim Replies Shatana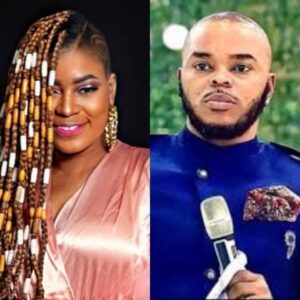 The internet has been full of banters these couple of weeks. One which is fast gaining roots is that of artiste, Shatana and Bishop Obinim's. It has sparked serious concerns outrages on the information super highway.
It has been a week when Shatana alleged that there has been a couple of sex workers plying their trade in front of the House of the Lord, where Bishop Angel Obinim sheperds. When Shatana decided to drive them away from the premises because it is blasphemous, she was met with a mouth gaping  revelation. That Bishop Obinim owned the apartments that housed them (prostitutes), and they had to pay 2000cedis every month or face eviction.
This got to Shatana so much that she released the video and called the Ghanaian christiandom to be up and doing. The video then sparked heavy appeal and reaction.
Bishop Obinim who saw the need to explain the situation because it tarnished his image has responded to the claims made by Shatana. He said indeed he owned the apartments and he has rented it out to girls, some of which are Nigerians, Kenyans, Ghanaians, etc
Bishop Obinim further said although he owned the apartments, he has not given any tenant the power to use it as a brothel. Nonetheless, he explained that he could not control a tenant who decides to use her body for material gains. He also expressed that he has gone to the house to preach to them and pray on countless occasions but to no avail. He further said, people have been desecrating business areas, official and public places, and many more since time immemorial. He gave an example of how once he saw a pastor and his singer having intercourse on Atwea Mountain's Prayer Camp. Lastly, he stated that the said apartments of his was not near the church premises.
Shatana is yet to rebut what Bishop Angel Obinim has said.
Watch the video of what Obinim said and the interview of Shatana explaining how she saw the place.
About Author